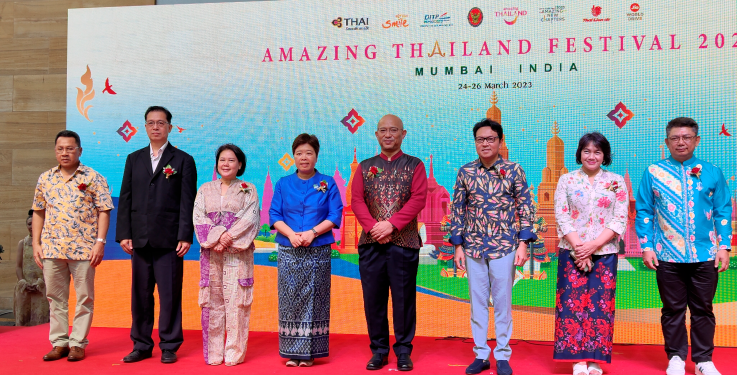 The Festival was inaugurated by distinguished dignitaries and officials from the tourism industry, including:
Mr.TanesPetsuwan, Deputy Governor of International Marketing Asia and South Pacific at the Tourism Authority of Thailand
H.E. Mr.DonnawitPoolsawat, Consul-General of the Royal Thai Consulate-General Mumbai
Mrs.KanchanaPatarachoke, Deputy Director-General, Department of International Organizations, Ministry of Foreign Affairs, Thailand.
Mr.NitheeSeeprae, Deputy Governor for Digitalisation, Research, and Development, Tourism Authority of Thailand
Miss SomradeeChitchong, Deputy Governor for Administration, Tourism Authority of Thailand
Mr.IsadaSaovaros, Director of the Tourism Authority of Thailand – Mumbai Office, among others.
The festival showcased over twenty-five stalls which included live food counters, Thai artefacts, aromatic oils, clothes, jewellery etc. giving visitors a glimpse of the 5F's of Thailand – Food, Fashion, Fight, Film and Festival. There were a plethora of activities which included art sessions for kids, a fashion show, Thai boxing and dances which showcased the rich culture that Thailand has to offer. There were also hotels and airline counters which provided information about the various properties in Thailand and airline bookings.
Mr.IsadaSaovaros, Director of the Tourism Authority of Thailand (Mumbai), stated: "We are immensely thrilled with the overwhelming success of the Amazing Thailand Festival 2023. The incredible turnout throughout the three-day event served as a testament to the immense popularity of Thailand in India. The festival provided a remarkable platform for showcasing Thailand
multifaceted cultural heritage and contemporary offerings to a diverse audience in Mumbai.
The festival's immersive experience also played a vital role in highlighting Thailand's unique offerings and destinations, helping to emphasize their appeal to potential visitors."
BOTT spoke with TanesPetsuwan, Deputy Governor for International Marketing (Asia and South Pacific)-Tourism Authority of Thailand in an exclusive chat in which he shared the significance of the Indian market, weddings and MICE segment.
How important is India to you as a market?
India as a market has played a significant role for the Thai tourism industry. Pre-pandemic, in the year 2019, we welcomed close to 2 million tourists to Thailand. Unfortunately, that number sharply dropped as people could not travel during the pandemic. Ever since Thailand launched the 'Reopen the Country' campaign it seemed to be unbelievable because the number of Indian travellers coming to Thailand has been quite strong. Post Covid we have welcomed around one million tourists which have come back to almost fifty per cent within one year. Not only a year but lesser than that as we had a challenging issue between India and Thailand about the agreement of Aviation which has just been unlocked on the 1st of April. So within less than a year, we welcomed close to a million Indian tourists which reflects the strong demand from these markets. Also, the requirement for RT-PCR test has been lifted because of which there are no restrictions and Indians can travel freely to Thailand. I believe if we track the numbers by the statistics of this month, by the end of this year we will welcome over one million tourists for sure. I have a very high aim and set a target of 1.5 million tourists. We receive very good support from the tour operators and there are many booths in this Thailand festival of airlines and travel agents with whom we have been working and they would be very happy to work with TAT-Tourism Authority of Thailand.
Which is the segment that TAT focuses on?
The MICE market is one of the key segmentation and in Mumbai and Kolkata, we have tour operators that plan to bring the big MICE groups to Thailand. Secondly, we have requested the leading wedding planners to bring the big wedding groups to Thailand. I am sure that MICE incentives and wedding groups are the key segments on which Thailand is focussing. The rest would be FIT. We see a good trend in the young gen of Indian tourists because Indian people enjoy working digitally and for that, we have launched the 'Workation' campaign. It means working from anywhere. One can work and travel at the same time. That is a great match for the characteristics of the Indian people. They can work from anywhere in Thailand be it Bangkok, Phuket or Pattaya and we are recently promoting Chiang Mai which is in the north of Thailand. After the pandemic, we have had hotels being renovated and restaurant co-working spaces have increased a lot which are ready for Digital Nomads who love to work from outside the country. Thailand is now even more ready to welcome Indians back.
What are the challenges that you have faced post-pandemic?
Everywhere in the world, people from the Downtown and big cities have escaped and gone to their hometowns and Thailand has been no exception. A lot of people working in key cities like Bangkok, Phuket, and Pattaya have gone back home and have set up their businesses. As you know in Thailand, tourism plays a very significant role in Thailand's economic structure, the revenue share of tourism is twenty per cent of the GDP of the country. I am talking about over eight million people working in the tourism industry. So once it has been hard hit by the pandemic, eighty per cent of the people in this industry have gone back home and they have been mostly from hotels as chefs, sous chefs, waiters, supervisors etc. Since they have a lot of experience, once they have gotten back home they probably set up their own entrepreneurial business since they also get funding for the loans because having suffered the pandemic. If you visit Thailand's major tourist destination, the beautiful restaurant trend is coffee and cake and chocolate factories that have sprung up everywhere. This is the new check-in area for young gen tourists.
Why should Indian travellers choose Thailand as their next holiday destination?
I think Thailand and India share a lot of common areas such as culture, religion, and community. We are friendly towards each other and we are happy every time we meet Indian tourists. I am sure this Thailand Festival in Mumbai is a kind of reflection of TAT that try to give first-hand information to the Indian people and not just in Mumbai, this has been happening in Delhi as well. We have ticked off the major cities in India and we hope that a million views of this event will be published throughout the country through social media.
Follow BOTT on LinkedIn, Facebook, Twitter & Instagram
Subscribe BOTT Channels on WhatsApp & Telegram to receive real time updates