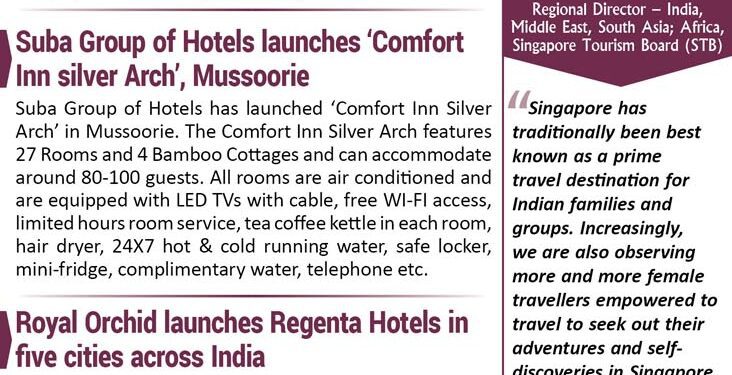 IRCTC To Run Shri Ramayama Yatra Train from April 7
The Indian Railways has decided to operate "Shri Ramayana Yatra" by Bharat Gaurav Deluxe AC Tourist train post-Ram Navami on Friday, April 7, 2023 from Delhi Safdarjung Railway Station.The religious sojourn of 17 Nights and 18 Days covering a total of 7,500 km will take tourists to once in a lifetime journey on the Ramayana Circuit which covers the important places connected to the life of Maryada Purushottam Shri Ram.The first half of this train will be to Ayodhya where tourists will visit Shri Ram Janmabhoomi temple, Hanuman temple, and Saryu aarti. Bharat Mandir at Nandigram follows next.
Suba Group of Hotels launches 'Comfort Inn silver Arch', Mussoorie
Suba Group of Hotels has launched 'Comfort Inn Silver Arch' in Mussoorie. The Comfort Inn Silver Arch features 27 Rooms and 4 Bamboo Cottages and can accommodate around 80-100 guests. All rooms are air conditioned and are equipped with LED TVs with cable, free WI-FI access, limited hours room service, tea coffee kettle in each room, hair dryer, 24X7 hot &cold running water, safe locker, mini-fridge, complimentary water, telephone etc. The facilities at the hotel include 24-hour room service, a travel desk, car parking, and laundry services.
Royal Orchid launches Regenta Hotels in five cities across India
Royal Orchid Hotels recently said it has launched five new Regenta Hotels in five cities across India. The hotel chain launched its Regenta brand in Vadodara, Jhansi, Mohali, Greater Noida, and Bengaluru's Mahadevpura, marking significant growth for the company. The five properties will showcase the new and vibrant Regenta brand across two categories — Regenta Place and Regenta Inn, it said. RegentaFairlak Vadodara is a hotel managed by Royal Orchid Hotels Ltd located in Vasna Bhayli. The hotel offers 81 rooms with five types of accommodation, including executive rooms, club rooms, junior suites, orchid suites, and royal suites, all with modern amenities.
Events & Exhibition Market to register a CAGR of 3.54% during 2023 – 2028
According to a new market research report titled "Events & Exhibition Market – (2023 – 2028)," the market studied is expected to register a CAGR of 3.54%. The market is being driven by the use of geo-cloning by exhibition organizers. Geo-clones have proven to be a valuable tactic, with less risk than a brand-new launch and an existing brand reputation to use as a launchpad and a statement of intent.
#FirstOpinion
"Singapore has traditionally beenbest known as a prime travel destination for Indian families and groups. Increasingly, we are alsoobserving more and more female travellers empowered to travel to seek out their adventures andself-discoveries in Singapore, to experience who they are and fulfil their passions.Singapore's range of experiential offerings to young millennials perfectly caters to the solo femaletravellers as well. With Singapore's exceptional track record for women's safety, such travellers often sharethat they are uniquely able to travel freely on their own terms."
B Srithar, Regional Director – India, MiddleEast, South Asia; Africa, Singapore Tourism Board (STB)
Follow BOTT on LinkedIn, Facebook, Twitter & Instagram
Subscribe BOTT Channels on WhatsApp & Telegram to receive real time updates