There are not many people I know (or even you would know) who can or have stayed loyal to a company for a period spanning over three decades. They don't make men (or women!) like that anymore. So when you do meet such an individual, the respect quotient goes to another altitude completely. Having recently met and interviewed Ms. Meena Bhatia, General Manager and Vice President, Le Meridien, New Delhi, I was yet again assured of the fact that quality deliverance comes with consistency. It is the steady top management at the Le Meridien, New Delhi that has helped it stand through tough storms and excel in its business, year on year. BOTT is happy to feature Ms. Bhatia's journey in its GM Special Series.
Rai Umraopati Ray
As I sat down to interview the veteran lady of the hospitality industry, I couldn't help but notice the warmth with which she treated and spoke to her staff members. Perhaps, this warm nature of hers is the secret behind being the favourite of not just many people in the travel trade but also at the property.
Youngest of the four sisters, Meena was the naughtiest and most talkative of the lot! A people's person from the start, even as a child, she loved playing outside and making new friends. The regular outings during the Summer Vacations was something she looked forward to immensely. After finishing her English (Hons) from Hindu College Delhi University, Meena, through some friends in the hospitality industry, started developing a keen interest in the field. However, the hospitality industry was not something that her father approved of. But fate had other plans. Her father moved to Kolkata and Meena started doing odd jobs. In 1981 she joined the Oberoi Kolkata at the Front Desk for some time before moving on to another hotel in the city.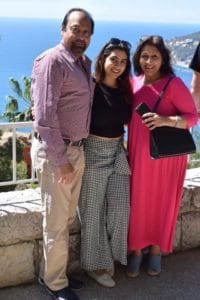 "Though I knew I wanted be in the hotel industry, there was not much seriousness towards the job. In 1983, we came back to Delhi and I did a diploma course in Hotel Management. One day, we were just passing by this beautiful building in central Delhi, which was said to open as Le Meridien and I immediately thought in my mind that one day I am going to work here," she reminisces with a smile.
Hyatt New Delhi was one of the newest hotels in town and Meena got her first serious job at the front desk at the property. "Hyatt had amazing systems, procedures, which were the best not only in that time but even today too. It was a great learning experience and I learned many things during my tenure. I started at the front desk and moved upwards to become the concierge, managing Regency Club Lounge and finally sales. It did not like the "sales" profile immediately, but the management was confident of the same. Becoming Assistant Manager Sales was a Because of my nature, I had a wealth of friends in the industry and great knowledge experience for me and since the team at Hyatt was outstanding, I learned from the best! I always shared a great relationship with my clients. Unknowingly, I had made a name for myself. Back then, hotel industry was much personalised and guests too treated the hotel staff differently as there were less gadgets to keep them absorbed. Taking feedback was a constructive way of building relations," the lady recalls.
In 1991, the owner at Le Meridien New Delhi were putting a new team in place to take the hotel to the height it deserved and it was then that Ms. Meena Bhatia was appointed as head of sales. She took up the challenge, put in a lot of hard work, set-up systems and procedures in place. Putting together big events became its USP and soon the hotel received world-wide publicity for cutting the tallest cake ever on its 10th anniversary. An important move made by the team was to renovate the property, which was a herculean task. However, she gives the credit to Mr. Tarun Thakral for carrying out the drill amazing well. "A lot of credit regarding the success of this hotel goes to Mr. Thakral for his zealous efforts and relentless endeavours in ensuring we stay ahead of our competitors," adds Meena. Renovations carried out form 2004 – 2010 in a very phased manner and none of the hotel guests left because of construction noise etc., as it was all taken care of. Says a lot about the commitment of the staff.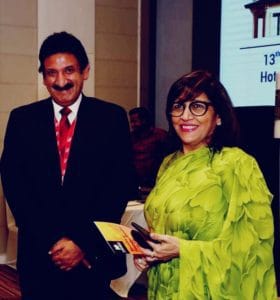 As Meena Bhatia looks back upon it all, she is a contended soul, happy with all that she has achieved. Married in 1993, she made two things clear to her husband right from the start – that she will be a career woman always and she will take care of her mother. "In 1994, my daughter Ratna was born and my husband and family were extremely supportive during that time. My husband helped me a lot with the baby as I juggled between home and work and I would take my daughter with me on my travel trips," Meena adds with a smile.
Professionally, it's been an inspiring journey for the veteran lady. From sales head to Resident Manager to now the General Manager and Vice President – it has all been a beautiful ride. There have been periods of boom, of depression caused by spurt in competition, but the property – Le Meridien New Delhi has remained consistent and reliable in its delivery and performance. Eventually, as more Meridiens opened across the country, the awareness and brand loyalty of the customers also increased. However, what also evolved over the period of time are the challenges that the hotels in India face. "The biggest challenge is manpower. Realising this, we started moving to campus recruitment and recruiting young staff, many of whom have stayed back with us. Those who don't, we don't fret over it. It's okay. We accept the change and take it as a compliment that the staff trained by us in being picked by bigger hotel chains," she says with her effervescent smile with not a trace of malice to anyone.
Concluding the interview with the quintessential questions of what made her hang-on to her job for 35 years she says, "I didn't move out because of my sense of commitment to the owners. My profile was always challenging enough so I never felt the need to go out and look for another opportunity to inspire me professionally or motivate me personally. Innovation was the key word at our hotel and that is something that kept me going always. Still do," she completes.