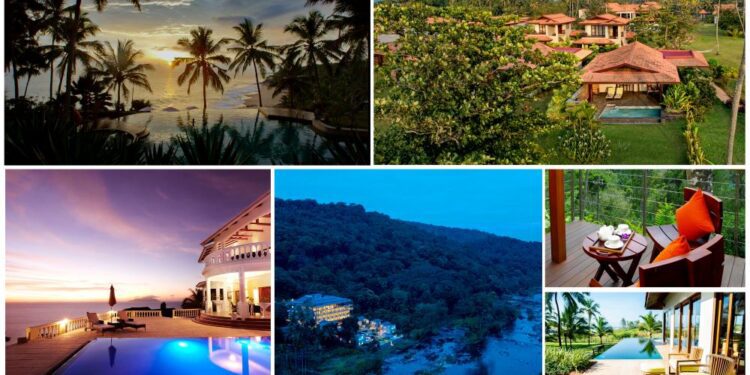 Niraamaya's team of renowned experts ensure exceptional service that has always been considered the benchmark in the industry.
The retreats and private residences are situated in picturesque locations across Indian and foreign shores that include Kovalam, Kumarakom, Thekkady, Athirappilly, Kohima, Goa, Chikmagalur, Bangalore, and Seychelles, allowing guests to indulge in awe-inspiring scenery, wellbeing, and rich culture. As the company expands its offerings, it continues to focus on bespoke service, gourmet cuisine and celebrating the traditions of the region while maintaining its commitment to responsible tourism and sustainability, making it a preferred option for discerning travellers seeking a premium luxury wellness and leisure experience.
Niraamaya has a successful track record of managing properties and has earned a reputation for providing unmatched services and escapades. They have a proven ability to create and deliver unique and customized offerings to guests, and their commitment to maintaining the highest standards is unparalleled. By collaborating with Niraamaya, property owners can anticipate establishing a distinguished reputation and a prominent presence in the hospitality industry. Niraamaya's core competence includes providing in-depth wellness consulting, a complete end-to-end management and operational support as well as ensuring maximum profitability in the joint venture. Their skilled team takes care of every aspect of running a successful enterprise, making them the perfect partner for those seeking to elevate their property and create an indelible experience for their guests.
"My vision is to take the company through higher growth, transforming it into a global wellness and luxury powerhouse with a worldwide footprint. Expansion into the key markets both domestic and international is going to be our driving strategy for the next few years. We are exploring various opportunities in Europe, Southeast Asia, Maldives, Sri Lanka; and within India plan to increase our footprint in Kerala, Rajasthan, Tamil Nadu, Maharashtra, and other key markets," said Allen Machado, CEO of Niraamaya Retreats and Business Group, "I want to position the organization as a one-stop-shop for wellbeing and to elevate the brand in a way that when people think about their wellness journey, the first name that comes to their mind should be Niraamaya. I want them to live and experience the Niraamaya Life."
For more information, please contact +91 8105139358 or write to ba.ceo@niraamaya.com
About Niraamaya Wellness Retreats
Niraamaya Retreats and Private Residences present a collection of splendid havens, ensconced in the tranquil embrace of nature and meticulously curated in the most enchanting enclaves. These retreats & residences offer guests a voyage of discovery, unveiling the genuine essence of exceptional hospitality and personalized well-being by unlocking the destination's unique cultural identity and showcasing its splendid legacy through delectable culinary experiences. The acclaimed Niraamaya Spa and Wellness Centre, recipient of multiple accolades, offers a spectrum of revitalizing therapies, including time-honored Ayurveda and Yoga, to renew and rejuvenate the mind, body, and soul.
Niraamaya Wellness Retreats:
Niraamaya Private Residences:
Website Link: https://www.niraamaya.com/
Image Link: https://bit.ly/3lpxOKS
Follow BOTT on LinkedIn, Facebook, Twitter & Instagram
Subscribe BOTT Channels on WhatsApp & Telegram to receive real time updates