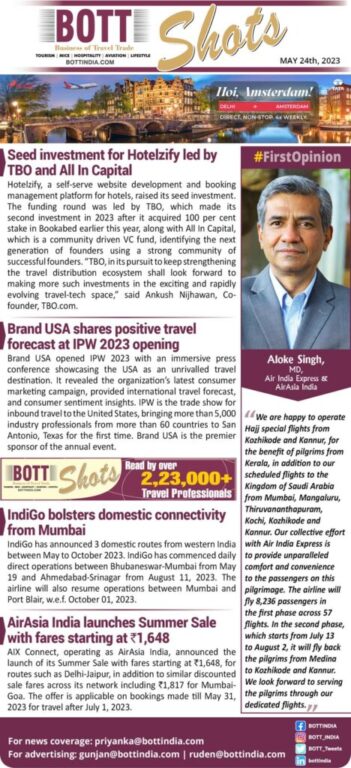 Seed investment for Hotelzify led by TBO and All In Capital
Hotelzify, a self-serve website development and booking management platform for hotels, raised its seed investment. The funding round was led by TBO, which made its second investment in 2023 after it acquired 100 per cent stake in Bookabed earlier this year, along with All In Capital, which is a community-driven VC fund, identifying the next generation of founders using a strong community of successful founders. "TBO, in its pursuit to keep strengthening the travel distribution ecosystem shall look forward to making more such investments in the exciting and rapidly evolving travel-tech space," said AnkushNijhawan, Co-founder, TBO.com.
Brand USA shares positive travel forecast at IPW 2023 opening
Brand USA opened IPW 2023 with an immersive press conference showcasing the USA as an unrivalled travel destination. It revealed the organization's latest consumer marketing campaign, and provided international travel forecast, and consumer sentiment insights. IPW is the trade show for inbound travel to the United States, bringing more than 5,000 industry professionals from more than 60 countries to San Antonio, Texas for the first time. Brand USA is the premier sponsor of the annual event.
IndiGo bolsters domestic connectivity from Mumbai
IndiGo has announced 3 domestic routes from western India between May to October 2023. IndiGo has commenced daily direct operations between Bhubaneswar-Mumbai from May 19 and Ahmedabad-Srinagar from August 11, 2023. The airline will also resume operations between Mumbai and Port Blair, w.e.f. October 01, 2023.
AirAsia India launches Summer Sale with fares starting at `1,648
AIX Connect, operating as AirAsia India, announced the launch of its Summer Sale with fares starting at `1,648, for routes such as Delhi-Jaipur, in addition to similar discounted sale fares across its network including `1,817 for Mumbai-Goa. The offer is applicable on bookings made till May 31, 2023 for travel after July 1, 2023.
FIRST OPINION
"We are happy to operate Hajj special flights from Kozhikode and Kannur, for the benefit of pilgrims from Kerala, in addition to our scheduled flights to the Kingdom of Saudi Arabia from Mumbai, Mangaluru, Thiruvananthapuram, Kochi, Kozhikode and Kannur. Our collective effort with Air India Express is to provide unparalleled comfort and convenience to the passengers on this pilgrimage. The airline will fly 8,236 passengers in the first phase across 57 flights. In the second phase, which starts from July 13 to August 2, it will fly back the pilgrims from Medina to Kozhikode and Kannur. We look forward to serving the pilgrims through our dedicated flights."
Aloke Singh, MD, Air India Express & AirAsia India
Follow BOTT on LinkedIn, Facebook, Twitter & Instagram
Subscribe BOTT Channels on WhatsApp & Telegram to receive real time updates