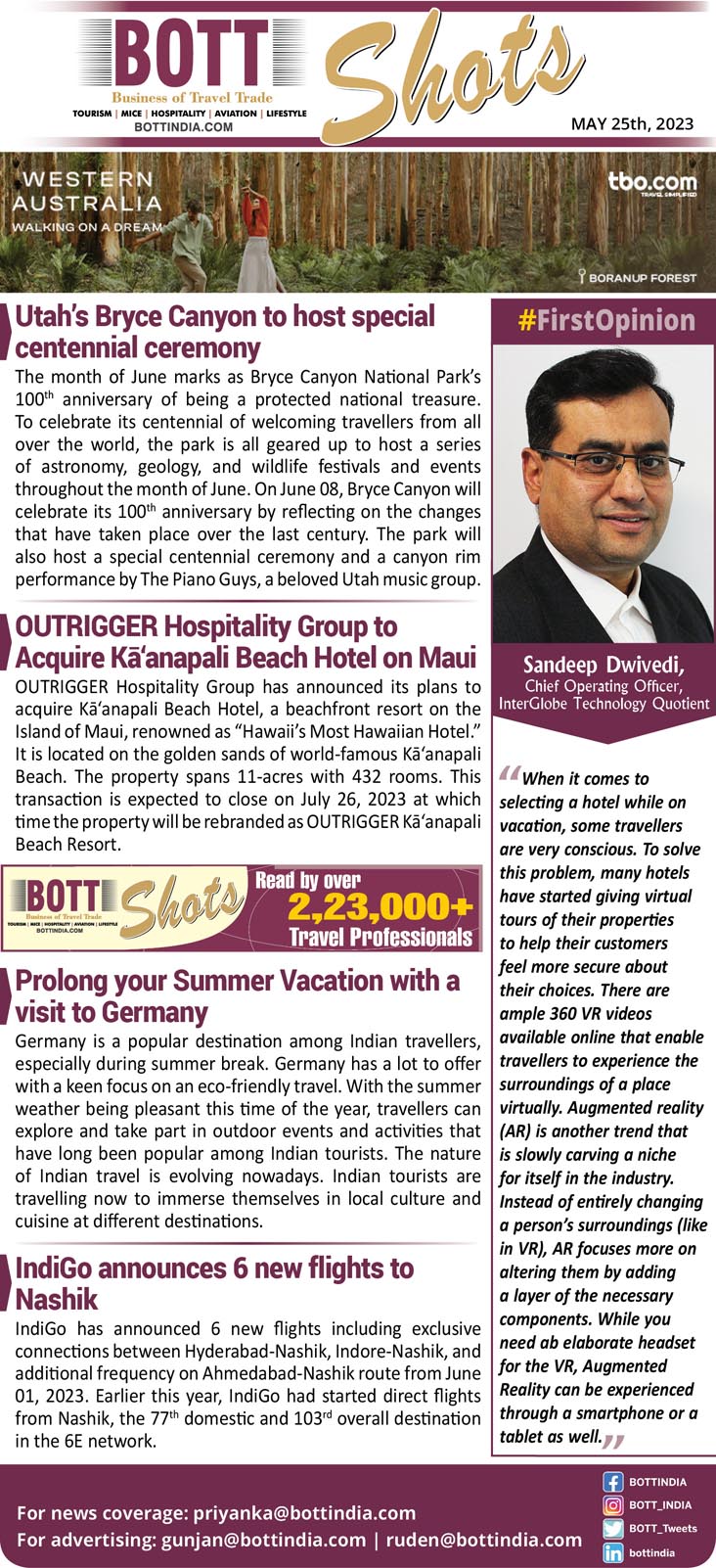 Utah's Bryce Canyon to host special centennial ceremony
The month of June marks as Bryce Canyon National Park's 100th anniversary of being a protected national treasure. To celebrate its centennial of welcoming travellers from all over the world, the park is all geared up to host a series of astronomy, geology, and wildlife festivals and events throughout the month of June. On June 08, Bryce Canyon will celebrate its 100th anniversary by reflecting on the changes that have taken place over the last century. The park will also host a special centennial ceremony and a canyon rim performance by The Piano Guys, a beloved Utah music group.
OUTRIGGER Hospitality Group to Acquire Kā'anapali Beach Hotel on Maui
OUTRIGGER Hospitality Group has announced its plans to acquire Kā'anapali Beach Hotel, a beachfront resort on the Island of Maui, renowned as "Hawaii's Most Hawaiian Hotel." It is located on the golden sands of world-famous Kā'anapali Beach. The property spans 11-acres with 432 rooms. This transaction is expected to close on July 26, 2023 at which time the property will be rebranded as OUTRIGGER Kā'anapali Beach Resort.
Prolong your Summer Vacation with a visit to Germany
Germany is a popular destination among Indian travellers, especially during summer break. Germany has a lot to offer with a keen focus on eco-friendly travel. With the summer weather being pleasant this time of the year, travellers can explore and take part in outdoor events and activities that have long been popular among Indian tourists. The nature of Indian travel is evolving nowadays. Indian tourists are travelling now to immerse themselves in local culture and cuisine at different destinations.
IndiGo announces 6 new flights to Nashik
IndiGo has announced 6 new flights including exclusive connections between Hyderabad-Nashik, Indore-Nashik, and additional frequency on Ahmedabad-Nashik route from June 01, 2023. Earlier this year, IndiGo had started direct flights from Nashik, the 77th domestic and 103rd overall destination in the 6E network.
FIRST OPINION
"When it comes to selecting a hotel while on vacation, some travellers are very conscious. To solve this problem, many hotels have started giving virtual tours of their properties to help their customers feel more secure about their choices. There are ample 360 VR videos available online that enable travellers to experience the surroundings of a place virtually. Augmented reality (AR) is another trend that is slowly carving a niche for itself in the industry. Instead of entirely changing a person's surroundings (like in VR), AR focuses more on altering them by adding a layer of the necessary components. While you need ab elaborate headset for the VR, Augmented Reality can be experienced through a smartphone or a tablet as well."
– Sandeep Dwivedi, Chief Operating Officer, InterGlobe Technology Quotient 
Follow BOTT on LinkedIn, Facebook, Twitter & Instagram
Subscribe BOTT Channels on WhatsApp & Telegram to receive real time updates