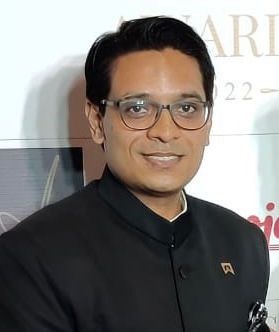 An enthusiastic person by nature, rightly perceived by his colleagues, clients and esteemed guests he believes in bringing out the best in every endeavour he takes in.
His journey in the Food & Beverage vertical has been quite inspiring as he achieved in capturing milestones from being a management trainee, from the Welcomgroup Management Institute, Gurgaon (2010-2011) to kick-starting his career as an Assistant F & B Support Manager in the 'ITC hotels group in Chennai' to a Banquets Manager in the ITChotels group in Mumbai and now spearheading the department of F & B in the ITC hotel located right in the heart of South Mumbai.
In his leisure time, he chooses to unwind by engaging in outdoor activities such as swimming and cycling. He purely believes in activating endorphins in daily life, by maintaining a healthy work-life balance and quite often enriches his knowledge on health and lifestyle by listening to various podcasts available online.
Blessed with green-fingers he also enjoys gardening and passionately works on cultivating indoor plants.
Further, he adds on by sharing that the F & B industry is a continuously evolving division, as the customer demands are diverse and there is a plethora of opportunities for one to learn and keep delivering creatively as per guest satisfaction.
ITC Grand Central hotel in Parel, Mumbai is a part of the responsible luxury brand ITC Hotels group, which practices beautiful concepts such as local love, one bite wonders, green banqueting, slow food movement, Sathvik food and many such sustainable, yet creative and regionally inspired indigenous F & B methods.
Mr. Dubey's aspirations are to scale professional heights leading larger operations and diverse portfolios, whilst living up to the essence of being a better human every day.
He adds on with this message to the young blood fielding to grow in the hospitality industry 'It is great to carry virtues of being talented in your professional life but, nothing can ever substitute hard work'.
Follow BOTT on LinkedIn, Facebook, Twitter & Instagram
Subscribe BOTT Channels on WhatsApp & Telegram to receive real time updates