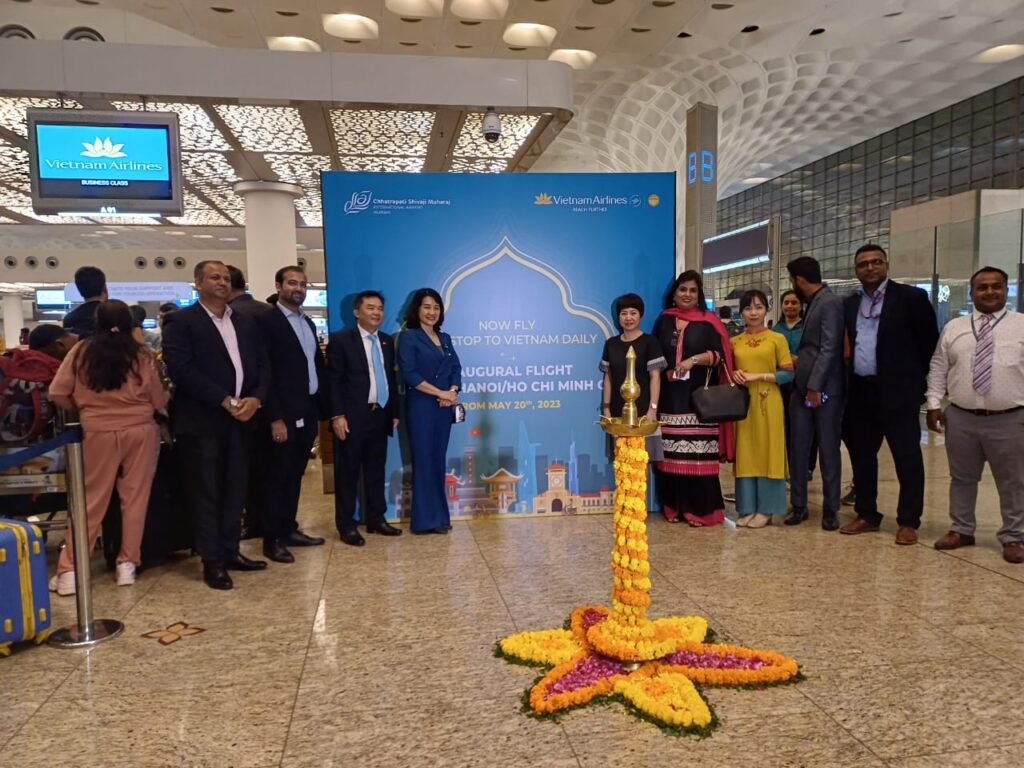 This is the second route of Vietnam Airlines connecting Vietnam and India, after the capital New Delhi.
Mr. Hoang Tung, Consul General of Vietnam in Mumbai, Mrs Tran Phuong Anh, Vice Consul of Vietnam in Mumbai, and representatives of Vietnam Airlines and Chhatrapati Shivaji Maharaj Airport attended the traditional lamp lighting ceremony and ribbon-cutting ceremony to celebrate this memorable event. Passengers were given flowers and took photos with the crew as well as other representatives.
Vietnam Airlines Deputy CEO Trinh Ngoc Thanh said: "With a new route connecting to Mumbai – India's important financial, commercial and cultural center, Vietnam Airlines demonstrates its commitment to constantly expanding its network, giving passengers better flexibility and connectivity when traveling for business as well as tourism. We hope this new route will help to strengthen the bilateral relationship between the two countries and the economies."
Earlier, at Noi Bai airport, Vietnam Airlines welcomed passengers with flowers and souvenirs departing the first flight VN973 from Hanoi to Mumbai. The flight took off at 6:20 pm carrying 190 passengers and landed in Mumbai at 21:22 (local time) on the same day.
Vietnam Airlines will operate Mumbai flights with a frequency of 4 flights per week from Hanoi on Tuesdays, Thursdays, Saturdays, Sundays and 3 flights per week from Ho Chi Minh City on Mondays, Wednesdays and Fridays. Previously, the airline launched a direct route connecting Vietnam and New Delhi from June 2022 with a frequency of 3 flights per week from Hanoi on Mondays, Wednesdays and Fridays; 2 flights per week from Ho Chi Minh City on Thursdays and Saturdays. Flights are operated by Airbus A321.
The total number of visitors between India and Vietnam in 2019 (pre-epidemic period) reached 319,000 arrivals, an increase of 35% over the same period last year. India is one of Vietnam's top trade partners, while Vietnam is also India's 15th largest trade partner and fourth among Southeast Asian countries. The new Hanoi – Mumbai route will make an important contribution to enhancing trade, cultural and social exchanges between the two countries.
Follow BOTT on LinkedIn, Facebook, Twitter & Instagram
Subscribe BOTT Channels on WhatsApp & Telegram to receive real time updates