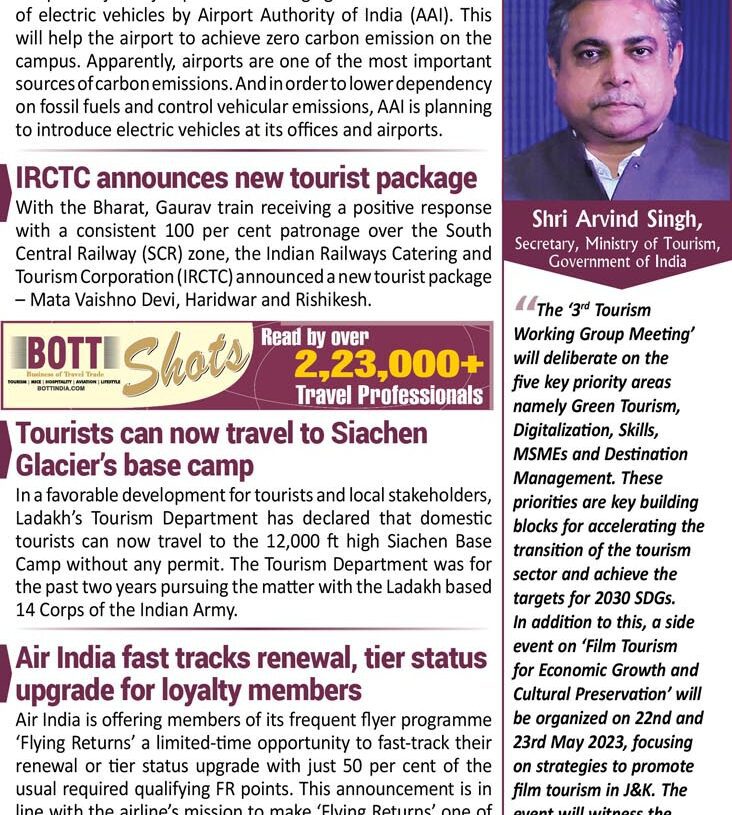 Bhopal's Raja Bhoj Airport all set to go green!
Bhopal's Raja Bhoj Airport is all set to go green with the launch of electric vehicles by Airport Authority of India (AAI). This will help the airport to achieve zero carbon emission on the campus. Apparently, airports are one of the most important sources of carbon emissions. And in order to lower dependency on fossil fuels and control vehicular emissions, AAI is planning to introduce electric vehicles at its offices and airports.
IRCTC announces new tourist package
With the Bharat, Gaurav train receiving a positive response with a consistent 100 per cent patronage over the South Central Railway (SCR) zone, the Indian Railways Catering and Tourism Corporation (IRCTC) announced a new tourist package – Mata Vaishno Devi, Haridwar and Rishikesh.
Tourists can now travel to Siachen Glacier's base camp
In a favorable development for tourists and local stakeholders, Ladakh's Tourism Department has declared that domestic tourists can now travel to the 12,000 ft high Siachen Base Camp without any permit. The Tourism Department was for the past two years pursuing the matter with the Ladakh based 14 Corps of the Indian Army.
Air India fast tracks renewal, tier status upgrade for loyalty members
Air India is offering members of its frequent flyer programme 'Flying Returns' a limited-time opportunity to fast-track their renewal or tier status upgrade with just 50 per cent of the usual required qualifying FR points. This announcement is in line with the airline's mission to make 'Flying Returns' one of the most rewarding loyalty programmes globally, Air India said in a statement.
AirAsia India, Praj and IOCL join hands to fly first commercial flight in India
India's first commercial passenger flight using an indigenously produced Sustainable Aviation Fuel (SAF) blend was successfully flown recently. AirAsia India flight i5-767 departed from Pune to New Delhi using a blend of indigenous Sustainable Aviation Fuel (SAF) supplied by Indian Oil Corporation Ltd. (IOCL) in partnership with Praj Industries Ltd. (Praj).
FIRST OPINION
"The '3rd Tourism Working Group Meeting' will deliberate on the five key priority areas namely Green Tourism, Digitalization, Skills, MSMEs and Destination Management. These priorities are key building blocks for accelerating the transition of the tourism sector and achieve the targets for 2030 SDGs. In addition to this, a side event on 'Film Tourism for Economic Growth and Cultural Preservation' will be organized on 22nd and 23rd May 2023, focusing on strategies to promote film tourism in J&K. The event will witness the participation of G20 member countries, invited countries, international organizations, and industry stakeholders. Also, a draft 'National Strategy on Film Tourism' will also be unveiled to provide a roadmap for harnessing the role of films in promoting tourist destinations."
Shri Arvind Singh, Secretary, Ministry of Tourism, Government of India
Follow BOTT on LinkedIn, Facebook, Twitter & Instagram
Subscribe BOTT Channels on WhatsApp & Telegram to receive real time updates