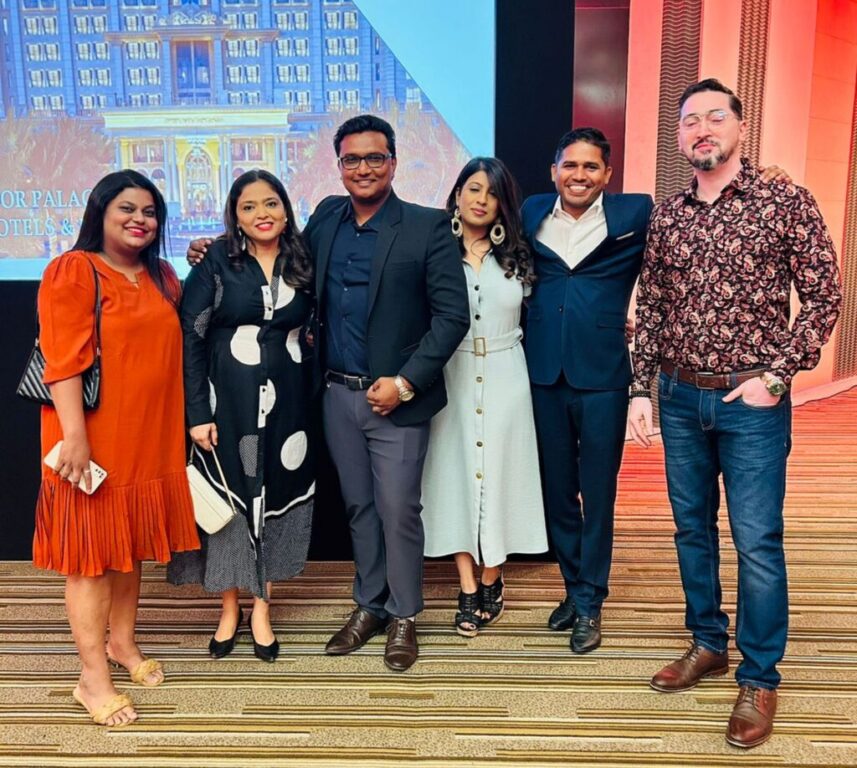 The event provided a remarkable opportunity for attendees to discover the exquisite offerings of Al Habtoor City Hotel, where bespoke hospitality, tantalizing flavors, and unparalleled amenities await the most discerning travelers.
Under the theme "The City of Dreams," the event highlighted the exciting opportunities available for incentive travel, MICE business, luxury travel, wedding destinations, and leisure travel at Al Habtoor City Hotel Collection, Dubai. Guests were treated to an immersive video presentation showcasing the destination and its three luxurious hotels, each designed to surprise and delight.
The event commenced with engaging presentations by Al Habtoor City's expert team, showcasing the exceptional facilities and services tailored for incentive travel and MICE business. Hilton Dubai Al Habtoor City and V Hotel Dubai were the center of attention, emphasizing their outstanding offerings and benefits for corporate travelers.
For those seeking the epitome of luxury, the spotlight shone on Habtoor Palace Dubai, the crown jewel of Al Habtoor City Hotel Collection. The audience was captivated by the exquisite accommodations and world-class amenities that define the ultimate in luxury travel. Guests that want to inject fun in their travel, V Hotel Dubai is the place to be, with the refurbished rooms an suites and the newly introduced V Hub, which consists of the check in pods, where guests can sip on a tantalizing cocktail from V Lounge while checking in or relish in worldly cuisines at Level 7. Guests can also beat the summer heat at V Deck.
The event also emphasized Al Habtoor City Hotel Collection's status as a prime wedding destination, with stunning venues and tailored packages that bring couples' dream of fairytale-like weddings to life. From lavish outdoor spaces for pheras and mehendi to grand ballrooms for sangeet and receptions, every detail is meticulously arranged by our in-house wedding specialist, ensuring an unforgettable celebration.
Leisure travelers were not left out, as the event boasted of a wide range of exciting activities and attractions available in Al Habtoor City. The awe-inspiring La Perle show, a spectacular water-themed extravaganza, left attendees in awe and eager to experience more.
During the event, we unveiled the exclusive Stay More Pay Less offer across all three hotels at Al Habtoor City Hotel Collection, allowing guests to pay for 3 nights and stay for 5 nights. This enticing offer provides an opportunity to immerse oneself in the unparalleled hospitality and luxury that Al Habtoor City Hotel Collection offers. As the evening progressed, guests were invited to enjoy a delightful cocktail and dinner experience, further immersing themselves in the world of Al Habtoor City.
"The Meet & Greet event was a tremendous success, and we are thrilled to have had the opportunity to showcase the exceptional offerings of Al Habtoor City Hotel Collection," said Farah Bootwala – Marketing and PR, Al Habtoor City Hotel Collection. "We are committed to providing our guests with unforgettable experiences, whether they are traveling for business, seeking a luxurious getaway, planning their dream wedding, or simply looking for a memorable leisure escape."
Follow BOTT on LinkedIn, Facebook, Twitter & Instagram
Subscribe BOTT Channels on WhatsApp & Telegram to receive real time updates