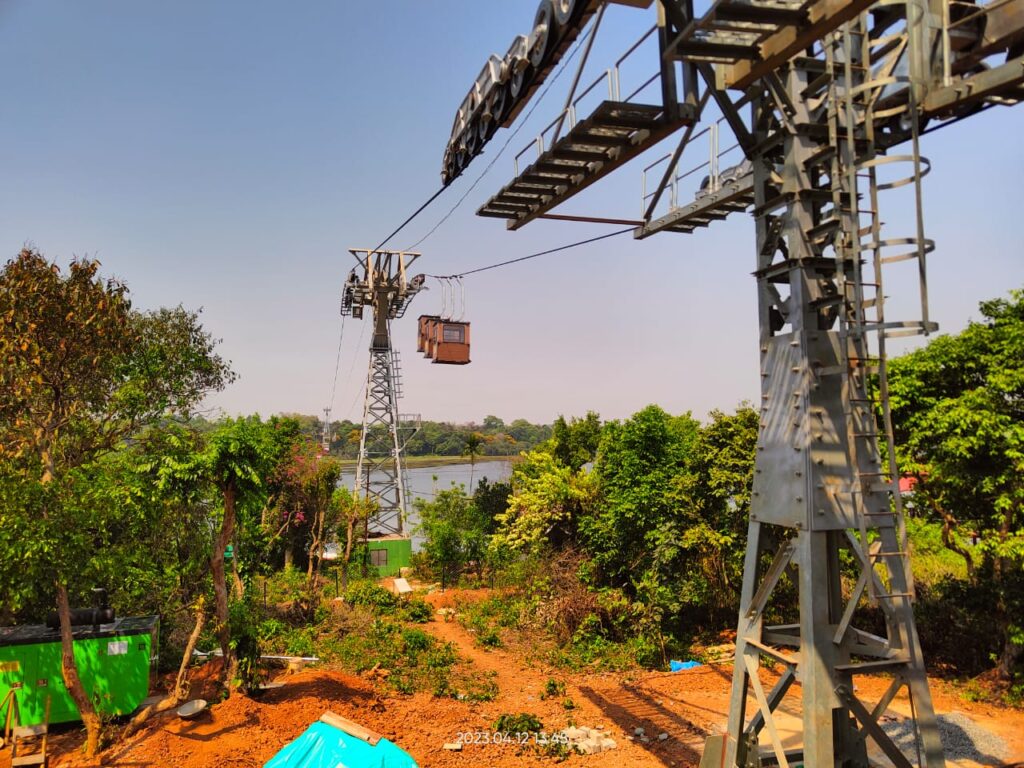 The soon-to-be-inaugurated ropeway will entice visitors with its unique artistic vision that incorporates local flora & fauna. It finds its inspiration in the local tribal art designed by budding digital designer, Sidhant Chamaria. The Nandankanan ropeway has been developed around the 'jungle theme.' It features intricate tribal art from the region and highlights the natural flora and fauna. The massive digital art is the centerpiece. It blends the outline forms of the animals from the Nandankanan Zoological Park and has drawn gaping admiration.
This Ropeway will help in boosting tourism as this ropeway starts within Nandankanan Zoological Park and ends at Botanical Garden. The total length of the ropeway is 628 m, and its carrying capacity is 400 persons per hour. The system consists of two towers and 12 cabins. Each cabin has a capacity of six persons.
Even the cabins are given a wooden finish to fit into nature and its beauty. The cabins have some openable windows and air vents to help with air circulation. The wooden look cabins have a luxurious rose gold edging to give a hint of luxury while staying firmly in touch with its natural surroundings. The cabins are adorned with colourful tribal art-inspired digital art, representing different animals that inhabit Nandankanan Park.
"Overall, the Nandankanan Ropeway project not only provides visitors with a thrilling ride over the jungle but also offers an immersive experience that showcases Odisha's art and culture. The project's use of local materials, art, and iconography will also popularise local arts and crafts, thus promoting the local economy and boosting employment opportunities for the region's artisans and craftspersons," says Aditya Chamaria, MD, Damodar Ropeways.
Damodar Ropeways is India's leading ropeway construction and operation company with a pan-India presence. Some of its major projects installations are located across many states in India, including in the states of Madhya Pradesh, Jammu & Kashmir, Rajasthan, West Bengal, Sikkim, Assam, Odisha, etc. DRIL is conducting successful operations in Guwahati (Assam), Hanumandhara (Chitrakut, Madhya Pradesh), Vaishno Devi (Jammu), Dongargarh (Chhattisgarh), Pushkar (Rajasthan) and Darjeeling (West Bengal).
The company is presently building four ropeways on ground, besides the just completed Nandankanan Ropeway. The company is the premier ropeway company in India with a market share of over 60% and is continuing to invest in R&D and the best practices in the sector.
Follow BOTT on LinkedIn, Facebook, Twitter & Instagram
Subscribe BOTT Channels on WhatsApp & Telegram to receive real time updates