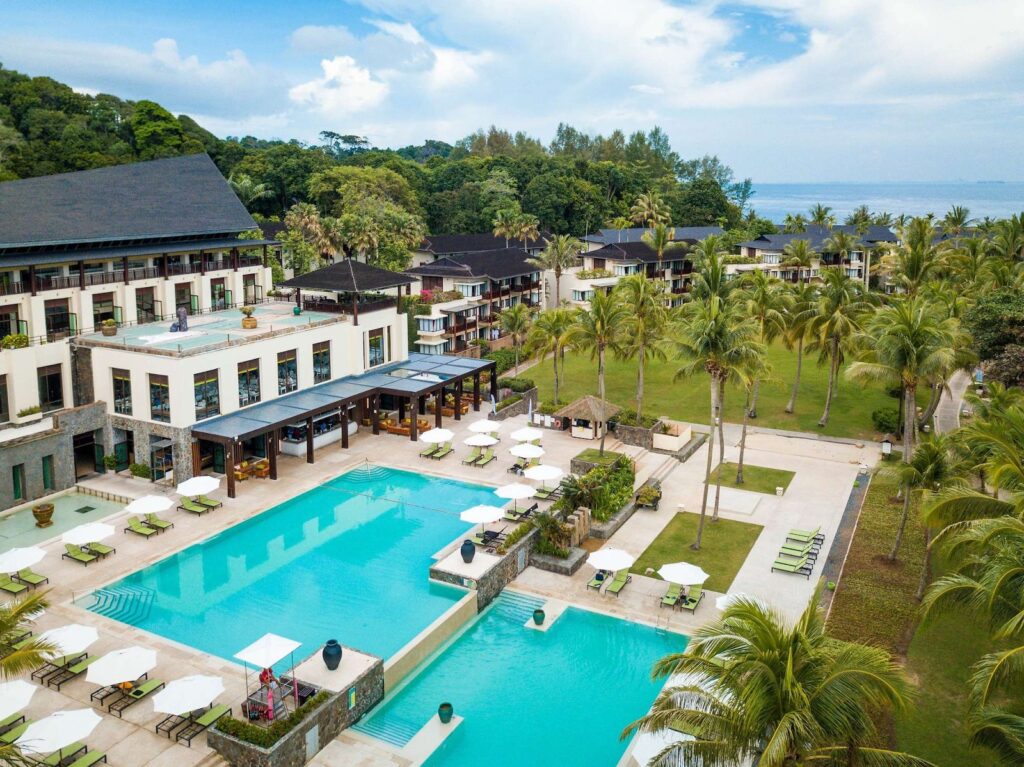 If you're looking to make your summer vacation in 2023 truly unforgettable – look no further than these three remarkable properties, each offering a unique and luxurious getaway experience: 
1. Club Med Bintan Island – Experience the Ultimate Holistic Wellness Retreat
Nestled on the beautiful island in the Riau Archipelago of Indonesia and just a short 55-minute ferry ride away from Singapore, lies an oasis of calm and tranquility. Overlooking the South China Sea, Club Med Bintan Island is an award-winning resort ideally situated for families to enjoy a short getaway from the hustle and bustle of Singapore. At Club Med Bintan Island, your ultimate wellness getaway awaits. 
With an array of energizing activities, wellness pursuits and culinary experiences, Club Med Bintan Island is an all-inclusive resort that offers a wholesome holiday journey for the whole family. The moment guests step foot on to the island, they will be greeted by the calming sound of the lapping waves, lush greenery and the picturesque views of the sapphire-blue South China Sea. 
Explore New Activities Everyday
Known as the world's widest reaching Sports Academy, Club Med Bintan Island is home to the greatest number of activities for all the guests staying there. Take flight and unleash your inner acrobat on the flying trapeze or enjoy other thrilling sports available including archery, paddle boarding and tennis. The resort offers young guests from all age groups ample fun and enriching activities during their holiday. Parents can be rest assured that their children will be in the good hands of the well-trained and professional G.Os.
Recharge in Spa Haven
Immerse in total relaxation by pampering yourself with an array of special treatments at the Asmara Spa.  Nestled on a hilltop, guests can gaze at panoramic views of the white sandy beach set against a breathtaking canvas of lush greenery. Each spa treatment is inspired by the traditional Indonesian 'mandi lulur' that will leave guests unwound and rejuvenated. Other unique wellness treatments include the Exotic Coconut treat, Yang Sheng or even your own customized spa treatment during your stay to make you feel like you're walking on air.  
Refuel in Healthy Goodness
Experience local delicacies with the true taste of Indonesia and a wide selection of international dishes served at the resort's main restaurants – The Waterfall and The Terrasse. Indulge to your hearts delight with peace of mind knowing that all dietary requirements are well taken care of. Each restaurant offers a myriad of local specialties and international dishes including Japanese, Indian, Italian and French cuisine as well as low calorie dishes from The Healthy Corner for those watching their weight. 
2.  Baale Resort Goa – Indulge in extravagant luxury 
 If you are looking to just lay back and relax at extremely luxurious villas in the heart of North Goa, we have got just the right place for you.
Baale Resort Goa – a bespoke private pool villa resort situated in the charming village of Arpora, North Goa.
As Goa's first private pool villa resort, Baale offers surreal luxury that is tailored to deliver personalized experiences to its guests.  In addition to a treasury of seven fully-serviced artisanal luxury villas each with an attached private swimming pool, it offers a host of recreational facilities; all combined with personalized services and dining experiences. 
The Gong Bar features a selection of fine wines, cigars and hand-crafted cocktails and world cuisine restaurant – Mandala, offers a handcrafted menu featuring a selection of gourmet fare and home-style meals. Furthermore, you can enjoy private chef services and personalized dining experiences from the comfort of your villa. 
3. Atmantan Wellness Centre – Your Wellness Journey Begins Here
We have got you covered if you are looking for a one-stop destination to revitalize your body and refresh your mind at one of India's finest wellness retreat in Mulshi, amidst the plush greenery of the Western Ghats. 
Atmantan Wellness Center  is a 42 acre property, overlooking the pristine Mulshi Lake, land of crystals which are contributory to the Pranic Healing and Chakra cleansing. It is one of India's most luxurious and result oriented integrated wellness destinations that provides lifestyle enhancement, disease reversal and notable transformations to all its guests.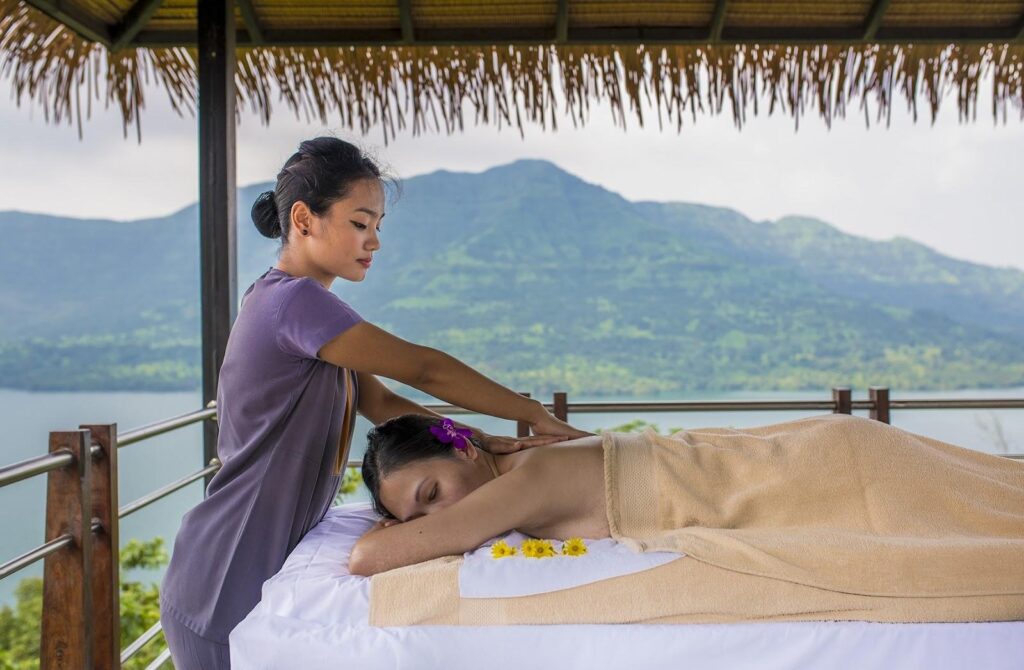 'Atmantan' in its name and essence is the holistic amalgamation of atma (soul), mana (mind) & tan (body). It is a perfect blend of relaxing in luxury and attaining peace – mentally, physically and emotionally.
Ayurveda is one of the world's oldest holistic healing systems developed more than 3,000 years ago in India. Atmantan offers you a unique blend of traditional skills, practices passed on by generations, and modern high-end prosperity, making it the perfect choice for an enriching holiday with the benefits of Ayurveda, Yoga, and Meditation.
In addition to vacations, holistic wellness breaks are now being taken seriously and have gained immense popularity. Therefore, taking into consideration how demanding our entertainment industry can get you could benefit from the retreat and experience the lavish range of programs to achieve your wellness goals while nourishing your soul, mind, and body!    
Club Med, founded in 1950 by Gérard Blitz, invented the all-inclusive holiday club concept, adding in activities, especially for children with the creation of the Mini Club in 1967. Led by its pioneering spirit, Club Med seeks out exceptional destinations and sites. Today, Club Med is the world's leading provider of upscale, all-inclusive holiday packages with a French touch for families and working couples. Club Med operates nearly 70 resorts, of which 85% are rated Premium & Exclusive Collection. Present in 30 countries around the world, the Group employs more than 23,000 Gentils Organisateurs (GOs) and Gentils Employés (GEs), representing 110 nationalities.
Baale Resort Goa is a bespoke private pool villa resort situated in the charming village of Arpora, North Goa. As Goa's first-ever private pool villa resort, Baale offers surreal luxury that is tailored to deliver personalized experiences to its guests. Situated in the charming village of Arpora, it is in close proximity to the popular nightlife and local happenings of North Goa. For those striving for an uber-luxury holiday, this villa resort with its unique offerings makes up for an ultimate getaway.
Nestled in the lush hills of the Western Ghats, overlooking the majestic Sahyadri range, this NABH (National Accreditation Board of Hospitals & Healthcare Providers of India) certified wellness retreat is the ultimate destination for revitalizing your body and refreshing your mind. At Atmantan, with transformation at its core and a key focus on result-oriented wellness, the Atmantan way of living as we call it, has successfully transformed all guests and relieved them of their lifestyle issues, and enhanced their way of being, holistically. It would be great if you could include the above-mentioned properties in your listings or articles. We would be happy to explore other opportunities as well.
Follow BOTT on LinkedIn, Facebook, Twitter & Instagram
Subscribe BOTT Channels on WhatsApp & Telegram to receive real time updates