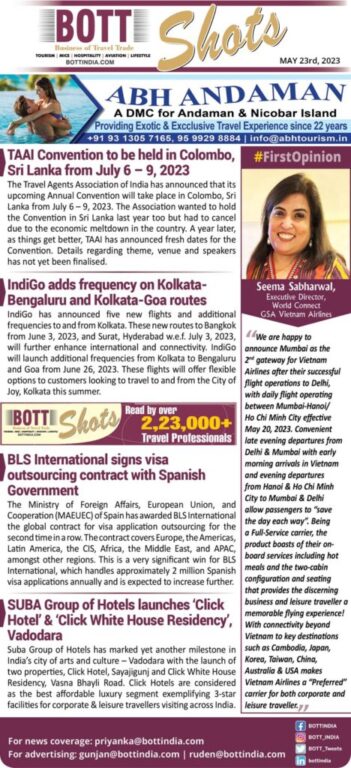 TAAI Convention to be held in Colombo, Sri Lanka from July 6 – 9, 2023
The Travel Agents Association of India has announced that its upcoming Annual Convention will take place in Colombo, Sri Lanka from July 6 – 9, 2023. The Association wanted to hold the Convention in Sri Lanka last year too but had to cancel due to the economic meltdown in the country. A year later, as things get better, TAAI has announced fresh dates for the Convention. Details regarding theme, venue and speakers has not yet been finalised.
IndiGo adds frequency on Kolkata-Bengaluru and Kolkata-Goa routes
IndiGo has announced five new flights and additional frequencies to and from Kolkata. These new routes to Bangkok from June 3, 2023, and Surat, Hyderabad w.e.f. July 3, 2023, will further enhance international and connectivity. IndiGo will launch additional frequencies from Kolkata to Bengaluru and Goa from June 26, 2023. These flights will offer flexible options to customers looking to travel to and from the City of Joy, Kolkata this summer.
BLS International signs visa outsourcing contract with Spanish Government
The Ministry of Foreign Affairs, European Union, and Cooperation (MAEUEC) of Spain has awarded BLS International the global contract for visa application outsourcing for the second time in a row. The contract covers Europe, the Americas, Latin America, the CIS, Africa, the Middle East, and APAC, amongst other regions. This is a very significant win for BLS International, which handles approximately 2 million Spanish visa applications annually and is expected to increase further.
SUBA Group of Hotels launches 'Click Hotel' & 'Click White House Residency', Vadodara
Suba Group of Hotels has marked yet another milestone in India's city of arts and culture – Vadodara with the launch of two properties, Click Hotel, Sayajigunj and Click White House Residency, VasnaBhayli Road. Click Hotels are considered as the best affordable luxury segment exemplifying 3-star facilities for corporate & leisure travellers visiting across India.
FIRST OPINION
"We are happy to announce Mumbai as the 2nd gateway for Vietnam Airlines after their successful flight operations to Delhi, with daily flight operating between Mumbai-Hanoi/Ho Chi Minh City effective May 20, 2023. Convenient late evening departures from Delhi & Mumbai with early morning arrivals in Vietnam and evening departures from Hanoi & Ho Chi Minh City to Mumbai & Delhi allow passengers to "save the day each way". Being a Full-Service carrier, the product boasts of their on-board services including hot meals and the two-cabin configuration and seating that provides the discerning business and leisure traveller a memorable flying experience! With connectivity beyond Vietnam to key destinations such as Cambodia, Japan, Korea, Taiwan, China, Australia & USA makes Vietnam Airlines a "Preferred" carrier for both corporate and leisure traveller."
– Seema Sabharwal, Executive Director, World Connect GSA Vietnam Airlines
Follow BOTT on LinkedIn, Facebook, Twitter & Instagram
Subscribe BOTT Channels on WhatsApp & Telegram to receive real time updates