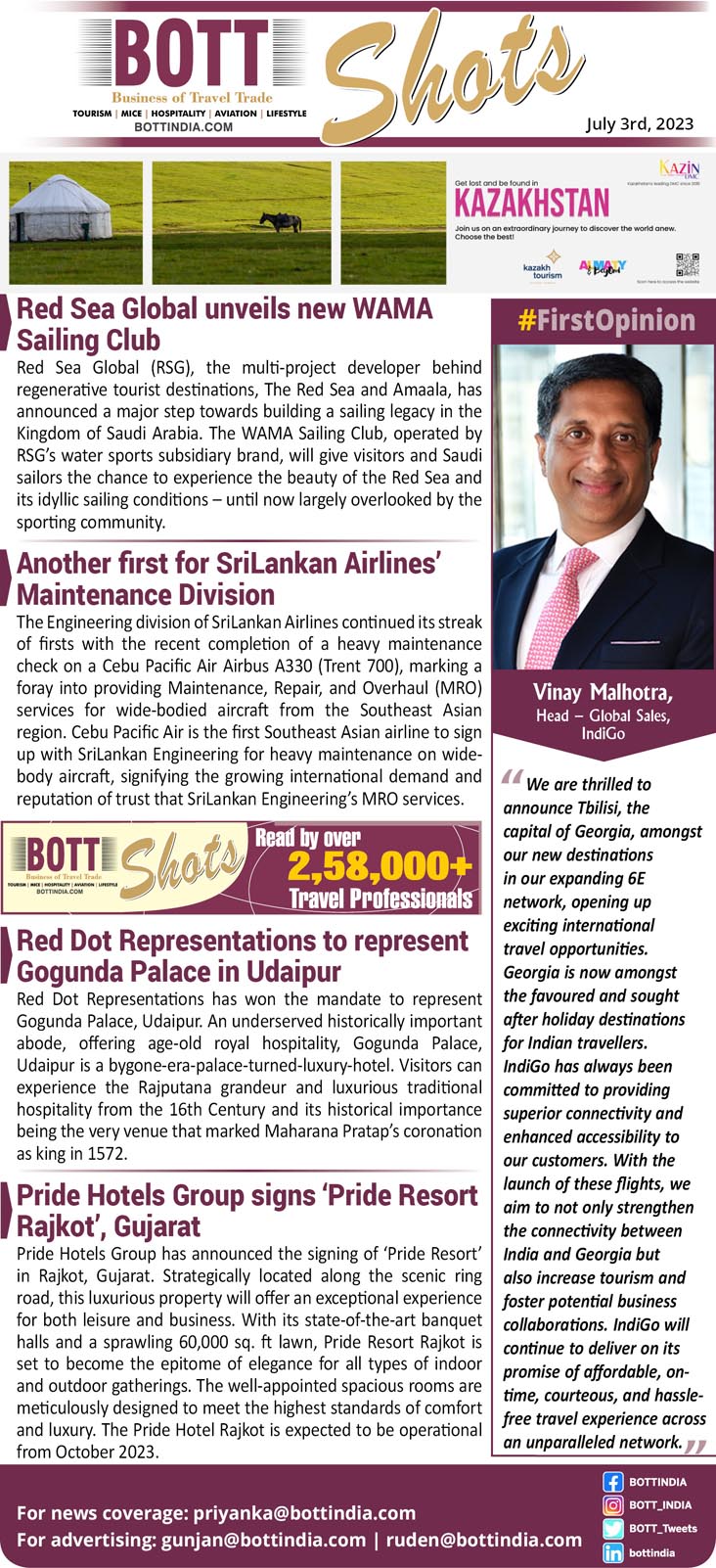 Red Sea Global unveils new WAMA Sailing Club
Red Sea Global (RSG), the multi-project developer behind regenerative tourist destinations, The Red Sea and Amaala, has announced a major step towards building a sailing legacy in the Kingdom of Saudi Arabia. The WAMA Sailing Club, operated by RSG's water sports subsidiary brand, will give visitors and Saudi sailors the chance to experience the beauty of the Red Sea and its idyllic sailing conditions – until now largely overlooked by the sporting community.
Another first for SriLankan Airlines' Maintenance Division
The Engineering division of SriLankan Airlines continued its streak of firsts with the recent completion of a heavy maintenance check on a Cebu Pacific Air Airbus A330 (Trent 700), marking a foray into providing Maintenance, Repair, and Overhaul (MRO) services for wide-bodied aircraft from the Southeast Asian region. Cebu Pacific Air is the first Southeast Asian airline to sign up with SriLankan Engineering for heavy maintenance on wide-body aircraft, signifying the growing international demand and reputation of trust that SriLankan Engineering's MRO services.
Red Dot Representations to represent Gogunda Palace in Udaipur
Red Dot Representations has won the mandate to represent Gogunda Palace, Udaipur. An underserved historically important abode, offering age-old royal hospitality, Gogunda Palace, Udaipur is a bygone-era-palace-turned-luxury-hotel. Visitors can experience the Rajputana grandeur and luxurious traditional hospitality from the 16th century and its historical importance being the very venue that marked MaharanaPratap's coronation as king in 1572.
Pride Hotels Group signs 'Pride Resort Rajkot', Gujarat
Pride Hotels Group has announced the signing of 'Pride Resort' in Rajkot, Gujarat. Strategically located along the scenic ring road, this luxurious property will offer an exceptional experience for both leisure and business. With its state-of-the-art banquet halls and a sprawling 60,000 sq.ft lawn, Pride Resort Rajkot is set to become the epitome of elegance for all types of indoor and outdoor gatherings. The well-appointed spacious rooms are meticulously designed to meet the highest standards of comfort and luxury. The Pride Hotel Rajkot is expected to be operational from October 2023.
#FirstOpinion
"We are thrilled to announce Tbilisi, the capital of Georgia, amongst our new destinations in our expanding 6E network, opening up exciting international travel opportunities. Georgia is now amongst the favoured and sought after holiday destinations for Indian travellers. IndiGo has always been committed to providing superior connectivity and enhanced accessibility to our customers. With the launch of these flights, we aim to not only strengthen the connectivity between India and Georgia but also increase tourism and foster potential business collaborations. IndiGo will continue to deliver on its promise of affordable, on-time, courteous, and hassle-free travel experience across an unparalleled network."
Vinay Malhotra,  Head – Global Sales, IndiGo
Follow BOTT on LinkedIn, Facebook, Twitter & Instagram
Subscribe BOTT Channels on WhatsApp & Telegram to receive real time updates