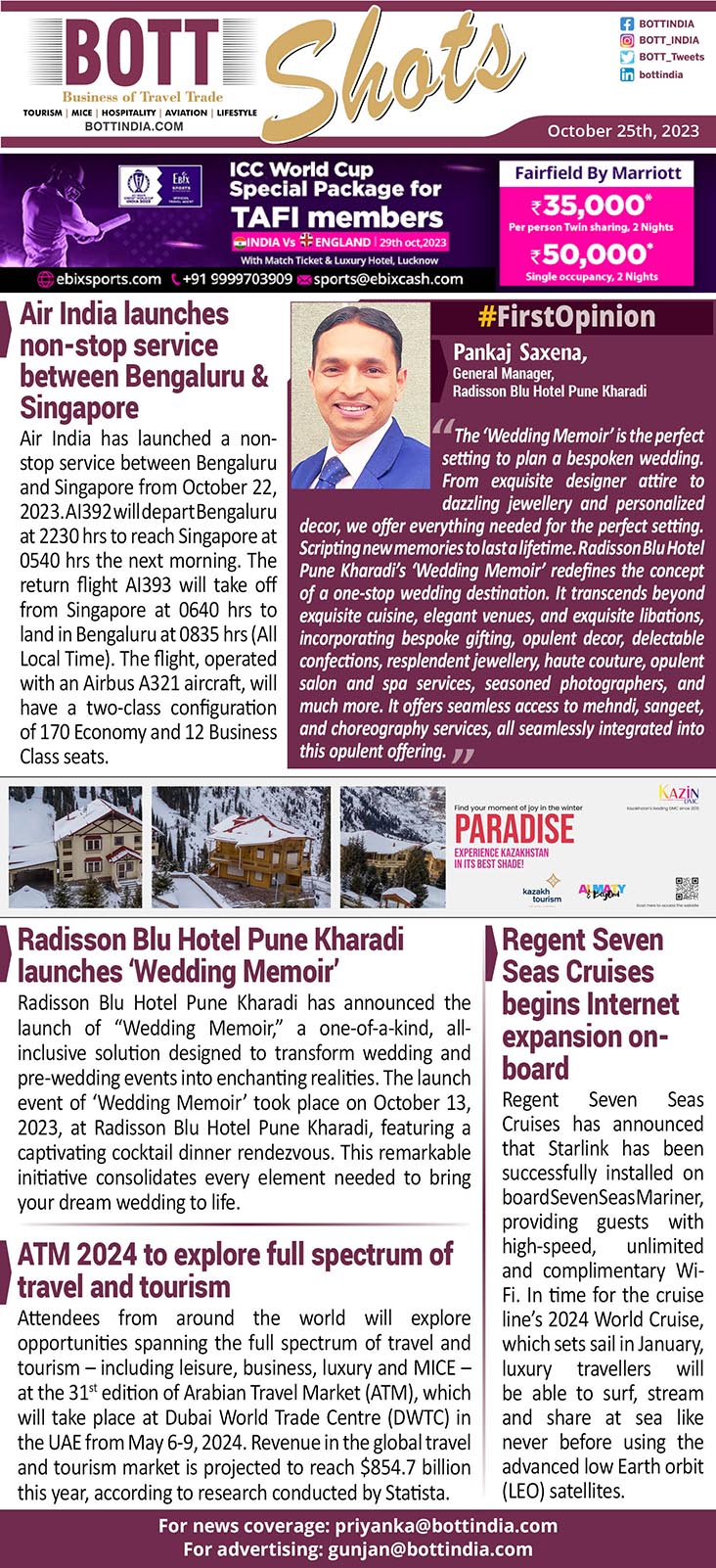 Air India launches non-stop service between Bengaluru & Singapore
Air India has launched a non-stop service between Bengaluru and Singapore from October 22, 2023. AI392 will depart Bengaluru at 2230 hrs to reach Singapore at 0540 hrs the next morning. The return flight AI393 will take off from Singapore at 0640 hrs to land in Bengaluru at 0835 hrs (All Local Time). The flight, operated with an Airbus A321 aircraft, will have a two-class configuration of 170 Economy and 12 Business Class seats.
Radisson Blu Hotel Pune Kharadi launches 'Wedding Memoir'
Radisson Blu Hotel Pune Kharadi has announced the launch of "Wedding Memoir," a one-of-a-kind, all-inclusive solution designed to transform wedding and pre-wedding events into enchanting realities. The launch event of 'Wedding Memoir' took place on October 13, 2023, at Radisson Blu Hotel Pune Kharadi, featuring a captivating cocktail dinner rendezvous. This remarkable initiative consolidates every element needed to bring your dream wedding to life.
Regent Seven Seas Cruises begins Internet expansion on-board
Regent Seven Seas Cruises has announced that Starlink has been successfully installed on board Seven Seas Mariner, providing guests with high-speed, unlimited and complimentary Wi-Fi. In time for the cruise line's 2024 World Cruise, which sets sail in January, luxury travellers will be able to surf, stream and share at sea like never beforeusing the advanced low Earth orbit (LEO) satellites.
ATM 2024 to explore full spectrum of travel and tourism
Attendees from around the world will explore opportunities spanning the full spectrum of travel and tourism – including leisure, business, luxury and MICE – at the 31st edition of Arabian Travel Market (ATM), which will take place at Dubai World Trade Centre (DWTC) in the UAE from May 6 – 9, 2024. Revenue in the global travel and tourism market is projected to reach $854.7 billion this year, according to research conducted by Statista.
#FirstOpinion
"The 'Wedding Memoir' is the perfect setting to plan a bespoke wedding. From exquisite designer attire to dazzling jewellery and personalized decor, we offer everything needed for the perfect setting. Scripting new memories to last a lifetime. Radisson Blu Hotel Pune Kharadi's 'Wedding Memoir' redefines the concept of a one-stop wedding destination. It transcends beyond exquisite cuisine, elegant venues, and exquisite libations, incorporating bespoke gifting, opulent decor, delectable confections, resplendent jewellery, haute couture, opulent salon and spa services, seasoned photographers, and much more. It offers seamless access to mehndi, sangeet, and choreography services, all seamlessly integrated into this opulent offering."
Pankaj Saxena,
General Manager, Radisson Blu Hotel Pune Kharadi
Follow BOTT on LinkedIn, Facebook, Twitter & Instagram
Subscribe BOTT Channels on WhatsApp & Telegram to receive real time updates