Following its impressive recent successes, including being named as the 2023 Global Hotel of the Year in the World Luxury Awards, and third Best Resorts in Thailand in the Condé Nast Traveler 2023 Readers Choice Awards, this is the perfect time to experience this one-of-a-kind luxury resort and celebrate a truly unforgettable Christmas and New Year in paradise.
Blessed Christmas Rituals & Dining Journeys
The season of joy commences on 22nd December, to coincide with the resort's 14th anniversary, with a gracious Buddhist ceremony and blessing by monks. Then, as the sun sets, diners are invited to embark on a highly immersive culinary journey with a 14-course Thai-fusion tasting menu, expertly crafted by the resort's new Michelin-starred Executive Chef, Christian Herrgesell.
Then on Christmas Eve (24th December), amid sustainable Christmas trees created by sourcing coconut shells, recycled bottles and driftwood from the resort's sandy beach, Santa Claus will arrive by traditional long-tail boat to usher in an enchanting evening with carol singing and a fire dance performance. To crown this exquisite occasion, a sensational six-course Christmas menu will ensure that guests can savour the finest flavours of the festive season.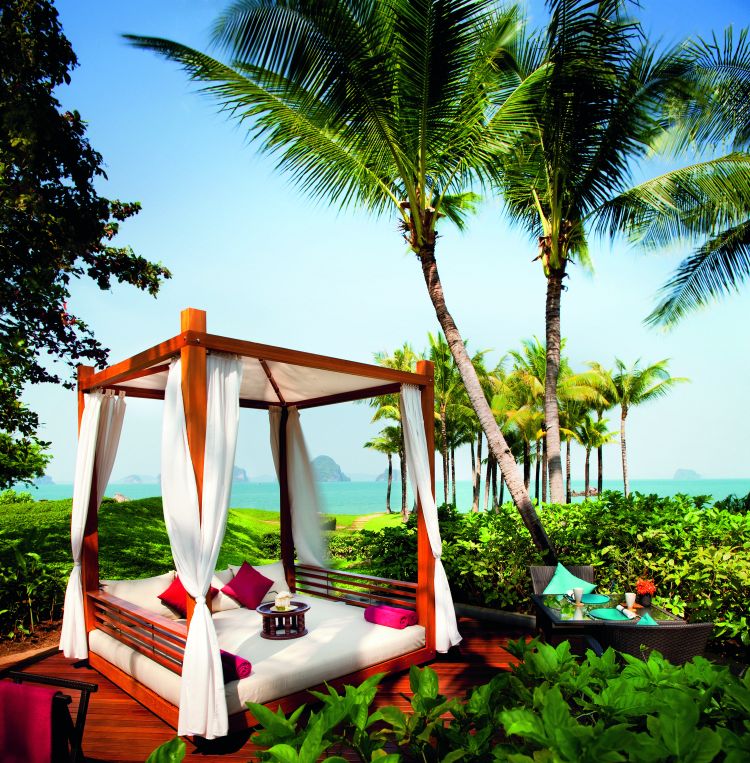 Sparkling New Year Celebrations
As the curtain comes down on 2023, Phulay Bay is gearing up for a 12-hour gastronomic extravaganza on New Year's Eve (31st December). This glittering gathering will start at sunset with cocktails, canapés and a live band at Pool Lawn, followed by the sparkling opening ceremony at Tarn Court, which will be adorned with twinkling lights and stars.
Following a dazzling opening show and a Champagne toast, guests will be warmly welcomed into Sala Srichan, the gala pavilion, where Chef Christian and his highly-skilled team will craft a multi-course fine-dining menu, filled with premium local, seasonal and imported ingredients. This sophisticated evening will be accompanied by a live performance from TangmoWalayupath, the iconic Thai singer, and a traditional southern Thai dance performance depicting classical folk tales. Visitors will also be able to enter lucky draws to win amazing stays at Ritz-Carlton and Bulgari hotels and resorts around the world.
As the clock ticks down to 2024, the celebrations move to Chomtawan Bar, the chic beachside venue, for an upbeat countdown party with a live DJ, cool drinks and canapés, and fireworks display to light up the sky at the Andaman seashore.
Having danced late into the night, guests can come together on 1st January and raise a glass to 2024 with a New Year's Day Brunch at Jampoon, including an opportunity to experience Thai tradition to present alms to Buddhist monks and make merit – a wonderfully auspicious way to start the New Year.
Indulgent Festive Pampering& Idyllic Excursions
festive season is a wonderful time to indulge in some well-deserved pampering, and spa treatments don't get any more luxurious than Golden Glow,which uses real gold to enhance the body, mind and soul. This opulent two-hour therapy at The SPA at Phulay Bay combines a golden body scrub to refresh the complexion, a mesmerizing massage to soothe the muscles, and a facial to leave you shining with radiance.
For a truly innovative spa session, the Luxury Signature Body Massage is the world's first wellness journey that uses the guest's individual blood type to personalize the treatment. The resort's highly trained therapists use each blood type to curate a program of natural spa treatments and dietary options to achieve holistic well-being.
Travellers who want to explore this exotic region can head out on a Sands & Sea Excursion to the beautiful beaches and tranquil lagoons of the Andaman Sea, with a sailing trip and snorkelling adventure in the pristine Phi Phi Islands. A complimentary daily long-tail boat service to Hong Island is also available for guests who want to swim and snorkel in the emerald waters.
Nestled between the mountains and the sea on the secluded coast of Krabi province, Southern Thailand, Phulay Bay features a captivating collection of luxury villas, private pavilions, soothing spa therapies, culinary experiences and cultural encounters.
Phulay Bay, a Ritz-Carlton Reserve – Krabi, Thailand
Phulay Bay, the world's first Ritz-Carlton Reserve property, is located in Krabi, Thailand set along the scenic shores of the Andaman Sea. Phulay Bay represents a departure from the ordinary and is designed for travellers seeking rare, exotic and authentic experiences in the most remote corners of the world. The property features 54 spacious villas with private plunge pools, rainforest showers, indoor and outdoor baths and showcases scenic tropical garden or ocean views. Amenities include an 11-room treatment spa, a selection of formal and casual dining options, infinity pool, 1,400 square-foot meeting and event space, and an array of local attractions, including white-sand beaches, coral reefs, lush rainforests, caves, waterfalls and exploration of the nearby Phi Phi Islands. Please visit www.ritzcarlton.com/en/hotels/phulay-bay.
About The Ritz-Carlton Hotel Company, LLC
The Ritz-Carlton Hotel Company, LLC currently operates more than 110 hotels in 35 countries and territories. For more information or reservations, visit the company web site at www.ritzcarlton.com, for the latest company updates, visit news.marriott.com and to join the live conversation, use #RCMemories and follow along on Facebook, Twitter, and Instagram. The Ritz-Carlton Hotel Company, L.L.C. is a wholly-owned subsidiary of Marriott International, Inc. (NASDAQ:MAR). The Ritz-Carlton is proud to participate in Marriott Bonvoy®, the global travel program from Marriott International. The program offers members an extraordinary portfolio of global brands, exclusive experiences on Marriott Bonvoy Moments and unparalleled benefits including complimentary nights and Elite status recognition. To enrol for free or for more information about the program, visit marriottbonvoy.com.
Follow BOTT on LinkedIn, Facebook, Twitter & Instagram
Subscribe BOTT Channels on WhatsApp & Telegram to receive real time updates