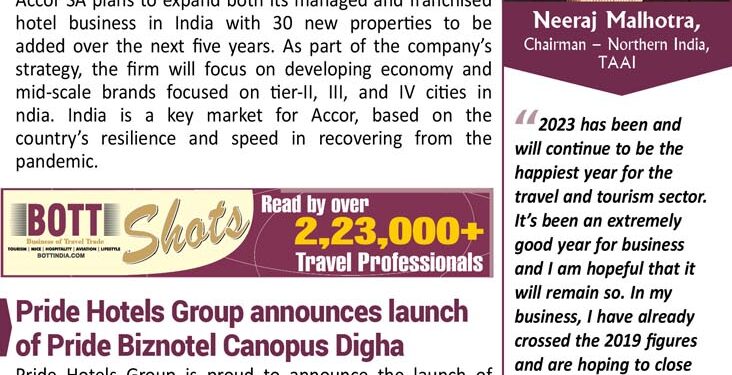 PM Modi to inaugurate mega International Museum Expo in Delhi
Prime Minister Narendra Modi will inaugurate a three-day international museum exposition in Delhi on May 18 during which a host of cultural activities will be organised, said Union Culture Minister G Kishan Reddy. The event will be held from May 18-20 and will also commemorate the International Museum Day that falls on May 18.
Accor Group to add 30 more hotel properties in India
Accor SA plans to expand both its managed and franchised hotel business in India with 30 new properties to be added over the next five years. As part of the company's strategy, the firm will focus on developing economy and mid-scale brands focused on tier-II, III, and IV cities in India. India is a key market for Accor, based on the country's resilience and speed in recovering from the pandemic.
Pride Hotels Group announces launch of Pride Biznotel Canopus Digha
Pride Hotels Group is proud to announce the launch of Pride Biznotel Canopus Digha, located in the coastal town of Digha. The Pride Biznotel Canopus Digha is a sophisticated hotel that offers comfortable accommodations in a prime location with an array of amenities that make it the perfect destination for both business and leisure travelers. The hotel is conveniently located near the beach and close to several of Digha's popular attractions, including the famous Digha Convention Centre.
Air India celebrates Mother's Day with a unique creative initiative
Air India released a short film to celebrate Mother's Day with a unique artistic tribute to mothers around the world, and the things they do for their loved ones. The innovative self-shot film beautifully and authentically captures the strong emotional bond shared between a mother and her child. Every journey is made sweeter by a mother's care and affection.  The film is self-shot by different creators from countries around the world and this lends a distinctly "original" touch to the production.
2023 has been and will continue to be the happiest year for the travel and tourism sector. It's been an extremely good year for business and I am hopeful that it will remain so. In my business, I have already crossed the 2019 figures and are hoping to close the year with much better business figures than what we have registered in the past. People today are travelling like never before the pent-up demand, the craving for a holiday is not going down with time, rather, it is rather, it is increasing only. However, developments such as the recent GoFirst crisis creates unwanted restlessness amongst the travellers and brings to light some negative elements. Common people – the travellers become the sufferers along with small-scale agents.
–Neeraj Malhotra, Chairman – Northern India, TAAI
Follow BOTT on LinkedIn, Facebook, Twitter & Instagram
Subscribe BOTT Channels on WhatsApp & Telegram to receive real time updates