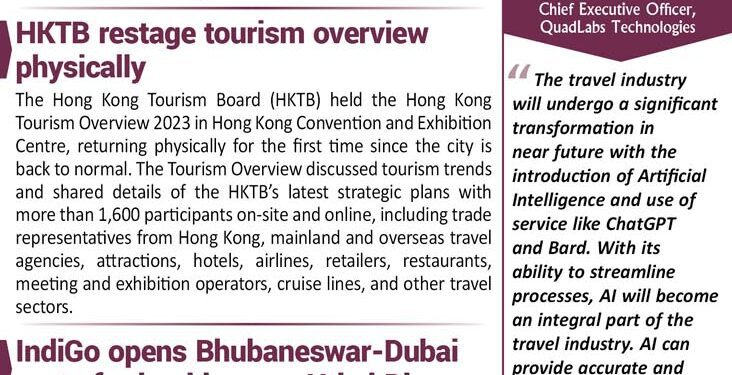 The 2ndG-20 TWG Meeting kickstarts in Siliguri and Darjeeling
The 2nd G-20 Tourism Working Group Meeting which is being held in Siliguri and Darjeeling is a golden opportunity to showcase India's spiritual, cultural and natural heritage to the world, stated the Union Minister for Tourism, Culture and Development of North Eastern Region, Shri G Kishan Reddy at the inaugural session. Shri Reddy said, the vision of the 2nd G-20 TWG Meeting is to project domestic tourism in mission mode. It will also make India maximize its potential in the tourism sector. In order to give boost to the tourism sector, this year, he remarked that the Government is observing "Vision India-2023".
HKTB restage tourism overview physically
The Hong Kong Tourism Board (HKTB) held the Hong Kong Tourism Overview 2023 in Hong Kong Convention and Exhibition Centre, returning physically for the first time since the city is back to normal. The Tourism Overview discussed tourism trends and shared details of the HKTB's latest strategic plans with more than 1,600 participants on-site and online, including trade representatives from Hong Kong, mainland and overseas travel agencies, attractions, hotels, airlines, retailers, restaurants, meeting and exhibition operators, cruise lines, and other travel sectors.
IndiGo opens Bhubaneswar-Dubai route for bookings on Utkal Divas
On the occasion of Utkal Divas, IndiGo announced and opened booking for flights between Bhubaneswar and Dubai. The maiden international flight from Bhubaneswar will take off from Biju Patnaik International Airport on May 15, 2023. IndiGo is working in close collaboration with the Odisha government to commence international operations from Bhubaneswar, strengthening connectivity from the state. International flight operations will also commence from Bhubaneswar to two more destinations – Singapore and Bangkok for which slots and other operational requirements are being finalized.
Think Strawberries bags 'Effective Tourism Representation' award at ICONIC 2023
Think Strawberries has been recognised as the finest travel and tourism representation company in India at the recently held event. Leading destination consulting and representation company Think Strawberries has been presented with the 'Iconic Effective Tourism Representation Award' at the prestigious ICONIC 2023 for its outstanding and path-breaking work in promoting global tourism brands and destinations.
#FirstOpinion
"The travel industry will undergo a significant transformation in near future with the introduction of Artificial Intelligence and use of service like ChatGPTand Bard. With its ability to streamline processes, AI will become an integral part of the travel industry. AI can provide accurate and timely information on tourism destinations, travel suggestions, and booking services, thereby enhancing the entire user experience. As evident from current trends, AI is poised to transform the travel industry's management and services, benefiting both companies and travellers alike. We see a big opportunity for our travel agencies and airline customers to make their people smarter by adopting automation tool in their day-to-day operations."
Gaurav Chiripal, CEO, QuadlabsTechnologies  
Follow BOTT on LinkedIn, Facebook, Twitter & Instagram
Subscribe BOTT Channels on WhatsApp & Telegram to receive real time updates