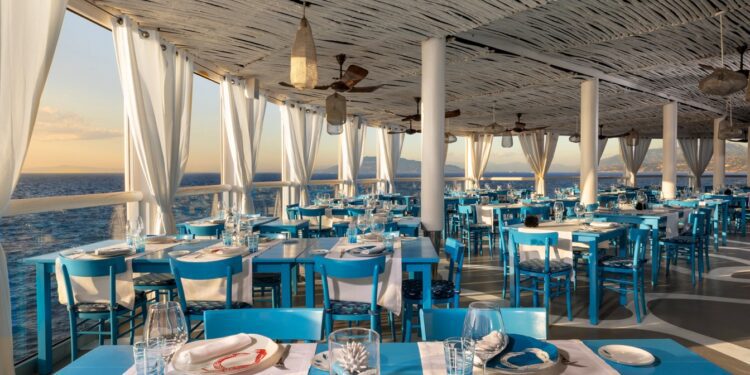 Offering stylish, contemporary spaces with breathtaking Mediterranean views, Jumeirah'sluxurious escapes offer the perfect island getaway this season.
Jumeirah Port Sóller Hotel & Spa
Crowning the cliffs of Port de Sóller, laying between the UNESCO World Heritage site of Tramuntana Mountains and the Mediterranean Sea on the unspoilt northwest coast of Mallorca, Jumeirah Port Sóller Hotel & Spa brings Jumeirah's signature service and guest experience to the alluring Spanish island.
Updated for 2023, the hotel has newly renovated several of its Junior Suites, allowing guests to enjoy extended, glass-fronted terraces with the unique benefit of private sun loungers, providing exceptional panoramic views over the Mediterranean Sea and its crystal blue colours.
The hotel recently remodelled its panoramic Sunset Lounge, the most exclusive spot on the island to witness the magical Mediterranean sunset. With its new extended glass balcony, guests feel as though they are transported across the glistening sea while enjoying delicacies inspired by Peruvian and Japanese cuisine. Seafood lovers can also indulge in fresh seasonal produce sourced directly from the Mediterranean Seaplusseveral types of paella, served with awe-inspiring views at Cap Roig Brasserie. Committed to creating authentic guest experiences and connections to place, Jumeirah Port Sóller Hotel & Spa is also working with local truffle farmers to enhance the hotel's signature dishes, specially curated by executive chef Javier López.
Further enhancing its roster of local partnerships for 2023, Jumeirah Port Sóller Hotel & Spa is again collaborating with Lolo Garner, a well-known local artist, to create two bespoke lobby sculptures, specially created to reflect the essence of the island. Additionally, the hotel will showcase a collection of paintings by Dutch artist, Carla Raads, inspired by the captivating Port de Sóller sunsets following her stay in 2022.
Guests can also unwind and re-energise at Jumeirah's world-class Talise Spa, boasting ten treatment rooms offering a range of treatments centred on products using local ingredients such as citrus, almond and olives, plus a thermal area including a sauna and hammam suite.
Prices start from €450 per night for a Superior room during low season and €940 in peak season, with suite guests receiving tailored transfers, and in-room breakfast. Jumeirah Port Sóllerwill be open until 31 October 2023. Please visit jumeirah.com/Mallorcaor contact jpsreservations@jumeirah.comfor more information and bookings.
Capri Palace Jumeirah
Peacefully nestled in Anacapri, the most authentic, exclusive and unspoilt part of the fabled Blue Island,Capri Palace Jumeirah is the perfect embodiment of the Italian Dolce Vita, providing a stunning retreat on the glamorous island of Capri.
Delivering a perfect blend of traditional palazzo architecture and contemporary spaces, with light and airy interiors framed by arches, vaults and columns, every space is designed to create a distinct ambience. From elegant Capritouch rooms, bathed in serene whites and rich blue hues, to art-inspired suites lined with tributes to the works of Mirò, Magritte and Warhol, art and design sit at the heart of the hotel. This passion for art continues in The White Museum, a private collection of contemporary works dispersed throughout the hotel, including pieces by De Chirico, Keith Haring, and Pomodoro, among others, providing the ultimate aesthetic experience for guests.
Boasting the only two Michelin Starred restaurants on the island, L'Olivo, and celebrity hotspot Il Riccio Restaurant & Beach Club, located just moments from the fabled Blue Grotto, Capri Palace Jumeirah also delivers the definitive experience in exquisite gastronomy. With delectable dishes and well-stocked cellars, guests can savour the most authentic flavours of the Mediterranean tradition, reinterpreted by Executive Chefs Andrea Migliaccio and Salvatore Elefante.
Those seeking the ultimate wellness experience can also enjoy an array of patented therapies at Capri Medical Spa – one of Europe's most highly renowned health and beauty centres. Dedicated to the well-being of body and mind, Capri Palace Jumeirah has recently partnered with Balance Holidays, the leading curator of luxury well-being travel experiences, for a special retreat, running from 22-29 May 2023.
Prices start from €725 per night for a Classic room in low season and €1500 in high season. Assistance with private transfers by speedboat or helicopter leaving from Naples or Sorrento can be arranged. Capri Palace Jumeirah will be open from 27 April to 16 October 2023. Please visit jumeirah.com/capripalace for more information and bookings.
Follow BOTT on LinkedIn, Facebook, Twitter & Instagram
Subscribe BOTT Channels on WhatsApp & Telegram to receive real time updates