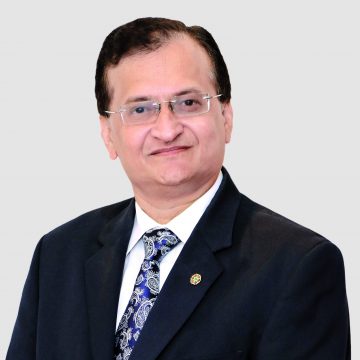 Beejal joined IHCL in 2011 as Vice President – Legal & Company Secretary and carries the rich cross-functional experience of 38 years across diversified sectors and renowned organizations. During his 12-year tenure with the organization, Beejal has been the custodian of Legal, Secretarial, Corporate Governance, Corporate Affairs and Compliance.
He has effectively guided the organization with his deep and sound understanding and execution of statutory, legal and regulatory requirements. He has pioneered digitization of various legal and compliance projects within the organization.
· Beejal has been recognized with several National and International awards, notably Best Company Secretary – Leisure & Hospitality – Asia 2019 by Ethical Boardroom, London.
· He was conferred a certificate of excellence in Corporate Governance from the Institute of the Company Secretaries of India in 2017 and 2022.
· Under his leadership, the organization has received noteworthy recognitions such as the Best Corporate Governance in India and Asia from Ethical Board, London for two consecutive years in 2018 and 2019 and the Golden Peacock Award for Excellence in Corporate Governance – 2019 and 2022 by Institute of Directors, London.
A food connoisseur, who loves exploring nature, Beejal is a sports enthusiast, who enjoys a good game of cricket and tennis
Follow BOTT on LinkedIn, Facebook, Twitter & Instagram
Subscribe BOTT Channels on WhatsApp & Telegram to receive real time updates