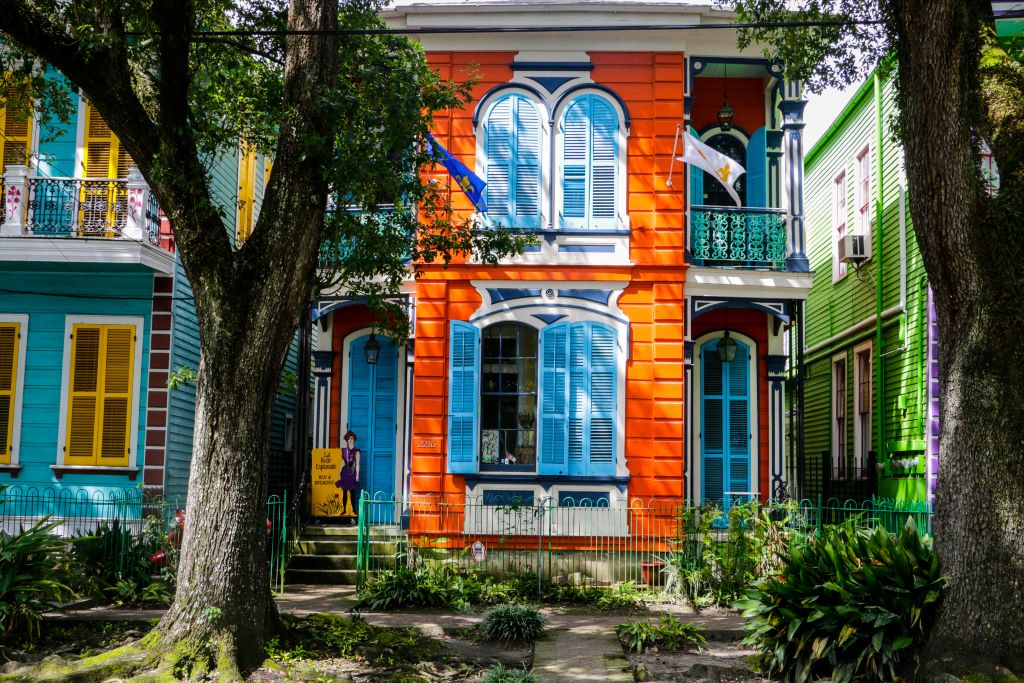 Music fills the air in this multicultural and unique city, festivals add to life's joys, and cuisine is an art form. Every bite in New Orleans tells a story, from Café du Monde's sugar-dusted beignets to the rich flavors of gumbo and jambalaya. Music transcends being just an art form; it's life itself. Any day here, the city pulses with live music, from jazz to blues and everything in between.
New Orleans boasts diverse neighborhoods, each with its own charm. Stroll through the city admiring the architecture that tells the city's rich history.
French Quarter: The French Quarter of New Orleans is a historic neighborhood that effortlessly blends the old-world charm of its French origins with contemporary excitement. This iconic district is steeped in history, its narrow streets and ornate architecture echoing tales of a bygone era.
Central Business District: The Central Business District of New Orleans is not only a business epicenter, with its impressive skyscrapers, but also a vibrant entertainment destination. The district comes alive during game days, offering a thrilling experience of sports events and festivities.
Warehouse District: This district is where art, culture, and cuisine converge, creating an urban oasis of art galleries, museums and trendy restaurants. With its sleek and modern atmosphere, the Warehouse District captures the essence of New Orleans.
Uptown and Garden District: Uptown is the belle of the family with its stunning neighborhoods, including the Garden District, Irish Channel, Riverside, the Black Pearl, and Carrollton, that embodies the city's unique blend of Southern elegance and vibrant culture. The iconic St. Charles Streetcar winds its way through this district, offering a picturesque mode of transportation.
Marigny / Bywater: This district of New Orleans is renowned for its shotgun homes and charming Creole cottages. Frenchmen Street fills the air with the soulful melodies of live music, while the St. Claude Arts District showcases the innovative spirit of local artists. Amidst this bohemian residential vibe, Bywater welcomes all to immerse themselves in its unique blend of history, art, and music.
Mid-City: Mid-City is renowned for its above-ground cemeteries, where ornate tombs and crypts tell stories of the past. For family-friendly fun, City Park provides a sprawling oasis with playgrounds, gardens, and the renowned New Orleans Museum of Art and Sculpture Gardens.
Treme: As the oldest African-American neighborhood in the United States, Treme exudes historical significance at every corner. Its residential streets are a delightful testament to the city's architectural heritage. Amidst the vibrant streets, the Treme Mural and the Carver Theater serve as symbolic touchstones, celebrating both the neighborhood's enduring spirit and its pivotal role in shaping New Orleans' cultural identity.
New Orleans boasts one major commercial airport: Louis Armstrong New Orleans International Airport (MSY). Are you ready to embark on a journey into the heart of New Orleans, where culture, history, and flavor intertwine? Visit the website at www.neworleans.com to plan your itinerary and dive in the wholesome energy that defines this enchanting city!
Follow BOTT on LinkedIn, Facebook, Twitter & Instagram
Subscribe BOTT Channels on WhatsApp & Telegram to receive real time updates