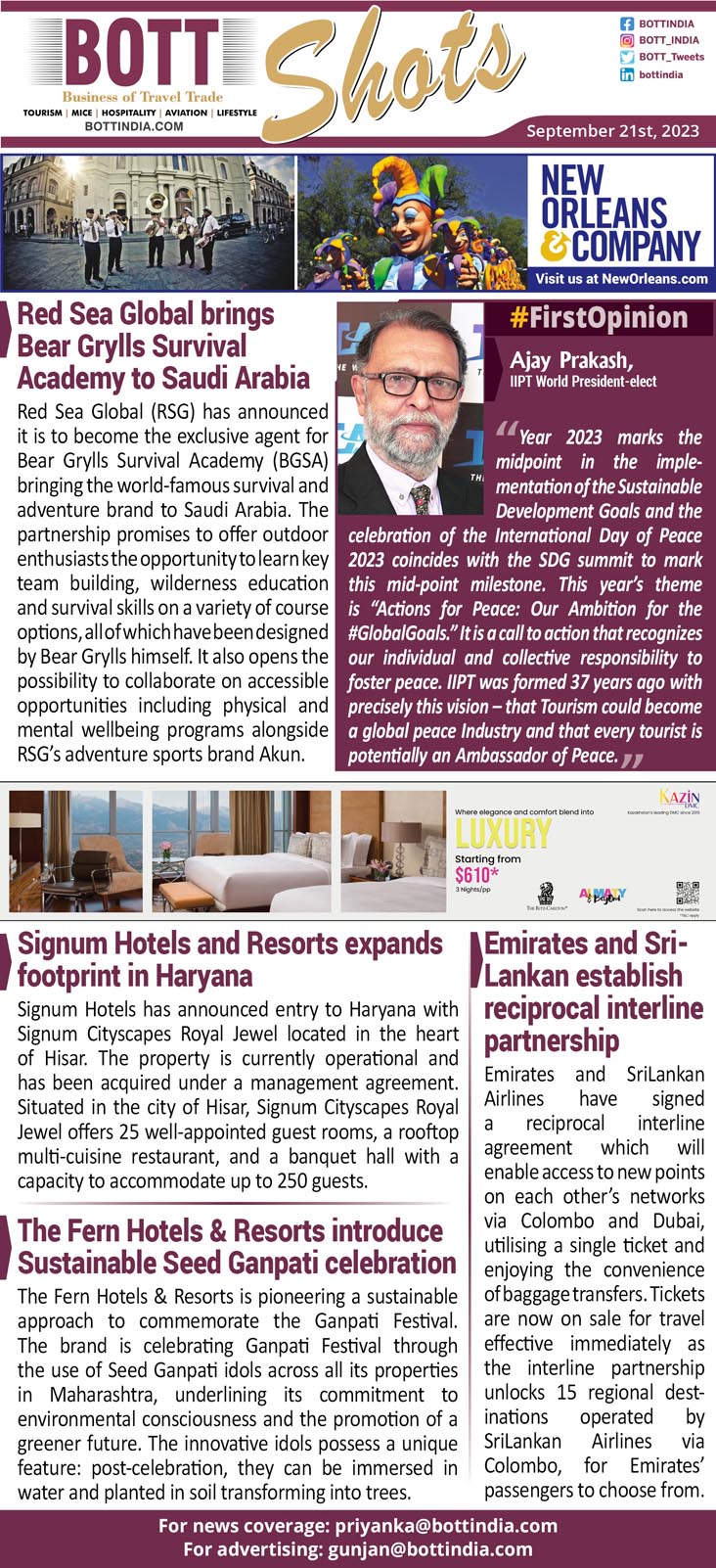 Red Sea Global brings Bear Grylls Survival Academy to Saudi Arabia
Red Sea Global (RSG) has announced it is to become the exclusive agent for Bear Grylls Survival Academy (BGSA) bringing the world-famous survival and adventure brand to Saudi Arabia. The partnership promises to offer outdoor enthusiasts the opportunity to learn key team building, wilderness education and survival skills on a variety of course options, all of which have been designed by Bear Grylls himself. It also opens the possibility to collaborate on accessible opportunities including physical and mental wellbeing programs alongside RSG's adventure sports brand Akun.
Signum Hotels and Resorts expands footprint in Haryana
Signum Hotels has announced entry to Haryana with Signum Cityscapes Royal Jewel located in the heart of Hisar. The property is currently operational and has been acquired under a management agreement. Situated in the city of Hisar, Signum Cityscapes Royal Jewel offers 25 well-appointed guest rooms, a rooftop multi-cuisine restaurant, and a banquet hall with a capacity to accommodate up to 250 guests.
The Fern Hotels & Resorts introduce Sustainable Seed Ganpati celebration
The Fern Hotels & Resorts is pioneering a sustainable approach to commemorate the Ganpati Festival. The brand is celebrating Ganpati Festival through the use of Seed Ganpati idols across all its properties in Maharashtra, underlining its commitment to environmental consciousness and the promotion of a greener future. The innovative idols possess a unique feature: post-celebration, they can be immersed in water and planted in soil transforming into trees.
Emirates and SriLankan establish reciprocal interline partnership
Emirates and SriLankan Airlines have signed a reciprocal interline agreement which will enable access to new points on each other's networks via Colombo and Dubai, utilising a single ticket and enjoying the convenience of baggage transfers. Tickets are now on sale for travel effective immediately as the interline partnership unlocks 15 regional destinations operated by SriLankan Airlines via Colombo, for Emirates' passengers to choose from.
#FirstOpinion
"Year 2023 marks the midpoint in the implementation of the Sustainable Development Goals and the celebration of the International Day of Peace 2023 coincides with the SDG summit to mark this mid-point milestone. This year's theme is "Actions for Peace: Our Ambition for the #GlobalGoals." It is a call to action that recognizes our individual and collective responsibility to foster peace. IIPT was formed 37 years ago with precisely this vision – that Tourism could become a global peace Industry and that every tourist is potentially an Ambassador of Peace."
Ajay Prakash,
IIPT World President-elect
Follow BOTT on LinkedIn, Facebook, Twitter & Instagram
Subscribe BOTT Channels on WhatsApp & Telegram to receive real time updates