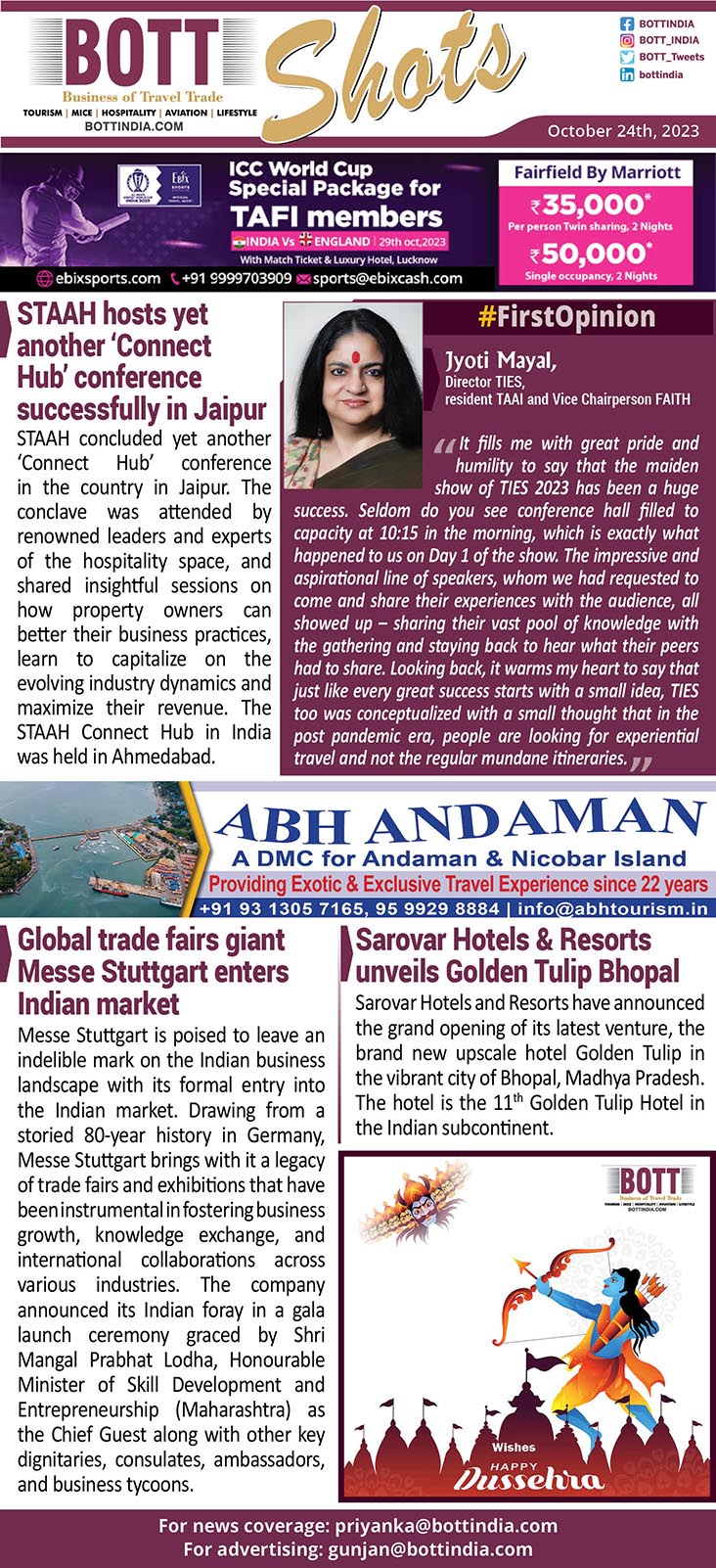 STAAH hosts yet another 'Connect Hub' conference successfully in Jaipur
STAAH concluded yet another 'Connect Hub' conference in the country in Jaipur. The conclave was attended by renowned leaders and experts of the hospitality space, and shared insightful sessions on how property owners can better their business practices, learn to capitalize on the evolving industry dynamics and maximize their revenue. The STAAH Connect Hub in India was held in Ahmedabad.
Sarovar Hotels & Resorts unveils Golden Tulip Bhopa
Sarovar Hotels and Resorts have announced the grand opening of its latest venture, the brand new upscale hotel Golden Tulip in the vibrant city of Bhopal, Madhya Pradesh. The hotel is the 11th Golden Tulip Hotel in the Indian subcontinent.
Global trade fairs giant Messe Stuttgart enters Indian market
Messe Stuttgart is poised to leave an indelible mark on the Indian business landscape with its formal entry into the Indian market. Drawing from a storied 80-year history in Germany, Messe Stuttgart brings with it a legacy of trade fairs and exhibitions that have been instrumental in fostering business growth, knowledge exchange, and international collaborations across various industries. The company announced its Indian foray in a gala launch ceremony graced by Shri Mangal Prabhat Lodha, Honourable Minister of Skill Development and Entrepreneurship (Maharashtra) as the Chief Guest along with other key dignitaries, consulates, ambassadors, and business tycoons.
#First Opinion
"It fills me with great pride and humility to say that the maiden show of TIES 2023 has been a huge success. Seldom do you see conference hall filled to capacity at 10:15 in the morning, which is exactly what happened to us on Day 1 of the show. The impressive and aspirational line of speakers, whom we had requested to come and share their experiences with the audience, all showed up – sharing their vast pool of knowledge with the gathering and staying back to hear what their peers had to share. Looking back, it warms my heart to say that just like every great success starts with a small idea, TIES too was conceptualized with a small thought that in the post pandemic era, people are looking for experiential travel and not the regular mundane itineraries. "
Jyoti Mayal,
Director TIES, President TAAI and Vice Chairperson FAITH
Follow BOTT on LinkedIn, Facebook, Twitter & Instagram
Subscribe BOTT Channels on WhatsApp & Telegram to receive real time updates