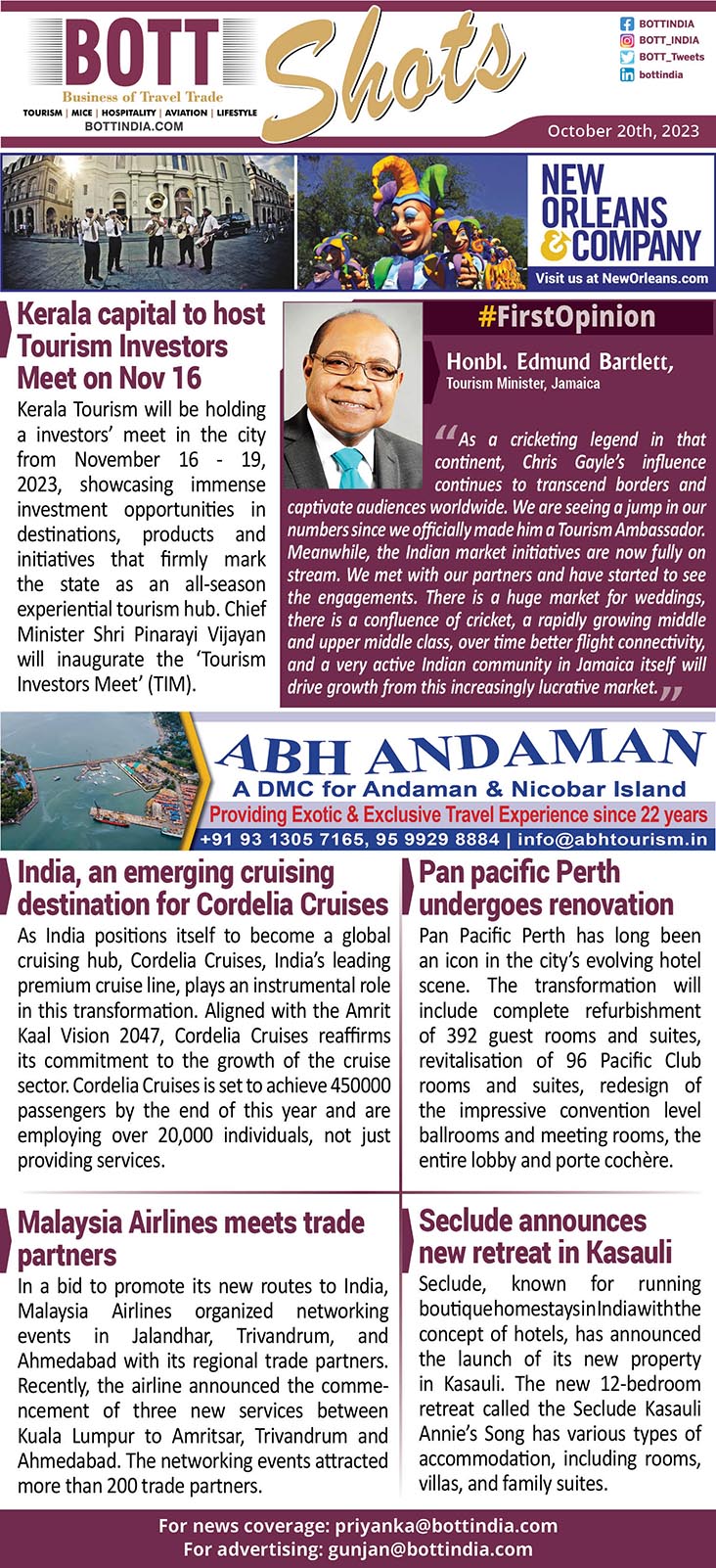 Kerala capital to host Tourism Investors Meet on Nov 16
Kerala Tourism will be holding a investors' meet in the city from November 16 – 19, 2023, showcasing immense investment opportunities in destinations, products and initiatives that firmly mark the state as an all-season experiential tourism hub. Chief Minister Shri Pinarayi Vijayan will inaugurate the 'Tourism Investors Meet' (TIM).
India, an emerging cruising destination for Cordelia Cruises
As India positions itself to become a global cruising hub, Cordelia Cruises, India's leading premium cruise line, plays an instrumental role in this transformation. Aligned with the Amrit Kaal Vision 2047, Cordelia Cruises reaffirms its commitment to the growth of the cruise sector. Cordelia Cruises is set to achieve 450000 passengers by the end of this year and are employing over 20,000 individuals, not just providing services.
Malaysia Airlines meets trade partners
In a bid to promote its new routes to India, Malaysia Airlines organized networking events in Jalandhar, Trivandrum, and Ahmedabad with its regional trade partners. Recently, the airline announced the commencement of three new services between Kuala Lumpur to Amritsar, Trivandrum and Ahmedabad. The networking events attracted more than 200 trade partners.
Pan pacific Perth undergoes renovation
Pan Pacific Perth has long been an icon in the city's evolving hotel scene. The transformation will include complete refurbishment of 392 guest rooms and suites, revitalisation of 96 Pacific Club rooms and suites, redesign of the impressive convention level ballrooms and meeting rooms, the entire lobby and portecochère..
Seclude announces new retreat in Kasaul
Seclude, known for running boutique homestays in India with the concept of hotels, has announced the launch of its new property in Kasauli. The new 12-bedroom retreat called the Seclude Kasauli Annie's Song has various types of accommodation, including rooms, villas, and family suites.
#FirstOpinion
"As a cricketing legend in that continent, Chris Gayle's influence continues to transcend borders and captivate audiences worldwide. We are seeing a jump in our numbers since we officially made him a Tourism Ambassador. Meanwhile, the Indian market initiatives are now fully on stream. We met with our partners and have started to see the engagements. There is a huge market for weddings, there is a confluence of cricket, a rapidly growing middle and upper middle class, over time better flight connectivity, and a very active Indian community in Jamaica itself will drive growth from this increasingly lucrative market."
Honourable Edmund Bartlett,
Tourism Minister, Jamaica
Follow BOTT on LinkedIn, Facebook, Twitter & Instagram
Subscribe BOTT Channels on WhatsApp & Telegram to receive real time updates