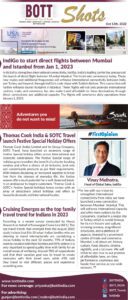 IndiGo to start direct flights between Mumbai and Istanbul from Jan 1,
2023
In its bid to strengthen international connectivity, IndiGo, India's leading carrier has
announced the launch of a direct flights between Mumbai-Istanbul. The ticket sale commences
today. These new routes and additional frequencies will enhance international connectivity
between India and Turkey and beyond, through IndiGo's code share with Turkish Airlines.
This connection will further enhance tourist footprint in Istanbul. These flights will not only
promote international tourism, trade, and commerce, but also make travel affordable to these
destinations through direct connections and additional capacity. The flights will commence
daily operations from January 1, 2023.
Thomas Cook India & SOTC Travel launch Festive Special Holiday
Offers
Thomas Cook (India) Limited and its Group Company, SOTC Travel, have launched an
extensive range of Festive Special holiday offers across International and Domestic
destinations. The Festive Special range of holidays gives travellers the benefit of a shorter
booking window and offers a choice of air-inclusive, land-only and customizable products as
per their requirements. With Indians displaying an increased appetite to break free from the
stresses of everyday life, the festive season offers much potential for a well-deserved break.
In an endeavour to inspire customers, Thomas Cook & SOTC's Festive Special holidays
hence comes with an array of attractively priced holidays and offers to favourite domestic and
international locales.
Cruising Emerges as the top family travel trend for Indians in 2023
According to a recent survey conducted by Hansa Research on behalf of Norwegian Cruise
Line (NCL). The top travel trends that emerged from the August 2022 study include that 8 in
10 urban Indian families who are planning to travel internationally are considering a cruise
holiday in the next 12 months; 79% of Indians want to vacation with their families and 89%
believe it is very important to spend quality time with family for an overall sense of
wellbeing. Around 78% of respondents said that their vacation goal was to travel to create
memories with their loved ones, while 65% said they travel to visit different places and
experience something new.
#FirstOpinion
"In line with our vision to strengthen international connectivity from India, we have launched
a new connection between Mumbai- Istanbul. This will enhance international capacity and
offer more options to the consumers. Istanbul is a major city in Turkey which is world-
famous for its rich history and culture, stunning scenery, magnificent structures, and a
plethora of aspects. Istanbul is a prominent centre of trade and commerce. Mumbai is all
about art, history, culture, food, theatre, cinema, nightlife, and a lot more. We will strive to
stay true to our promise of affordable fares, on-time performance, courteous and hassle-free
service across wide network."
– Vinay Malhotra, Head of Global Sales, IndiGo
Follow BOTT on LinkedIn, Facebook, Twitter & Instagram
Subscribe BOTT Channels on WhatsApp & Telegram to receive real time updates