The elections will be held under the watchful eye of Returning Officer Mr. Sanjeev Jyoti – a Senior Advocate. Mr. P.P. Khanna who is standing for the post of President has no opposition. He is joined by Mr. Dalip Gupta for the post of Secretary; Mr. Ved Khanna for the post of Treasurer and Mr. Manoj Varshney for the post of Jt. Secretary who are all contesting the elections with no opposition.
The upcoming ADTOI elections are much in talks for selecting the right candidate for the post of Senior Vice President and Vice President. The candidates contesting them includes – Mr. Rajat Sawhney (for Sr. Vice President); Mr. Ashish Chander Sehgal (for Vice President); Mr. Rajeev Sobti (for Sr. Vice President) and Mr. Rajesh Arya (for Vice President).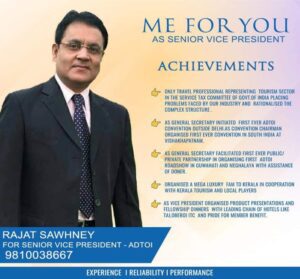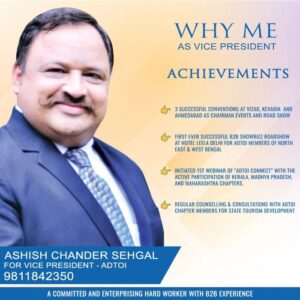 "I am looking forward to the election and having a strong team at ADTOI so that together we can take Domestic Tourism in our country to new heights. The potential and scope for growth of domestic tourism in India is huge and government too realises this now. With the new team in place post-October 14, 2022, we will come out with a detailed action plan to meet our set targets. For now, my best wishes are with all members contesting for the posts of Sr. Vice President and President. May the best man win!," says Mr. Khanna.
Follow BOTT on LinkedIn, Facebook, Twitter & Instagram
Subscribe BOTT Channels on WhatsApp & Telegram to receive real time updates