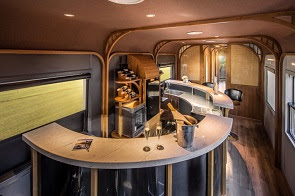 Connecting Anantara Hoi An Resort and Anantara Quy Nhon Resort in Central Vietnam, The Vietage is a luxurious carriage designed to offer the country's most exclusive railway experience. The journey itself is inspired by the beauty of Vietnam and taps into renewed popularity of a classic railroad experience as travellers are rediscovering the mystique and romance of trains.
Mixing history with nature, beauty with luxury, and excitement with serenity, The Vietage evokes the past yet holds a contemporary appeal. The six-hour journey that links historic Hoi An to the shimmering coastline of Quy Nhon includes an unhurried gourmet meal served as guests gaze out of the window soaking up bucolic countryside vistas, as well as mini spa treatments and craft cocktails.
With only 12 seats, The Vietage's six spacious booths are beautifully designed for maximum privacy as well as featuring a fully stocked sit-up bar, private restroom and a spa area. The journey is not exclusive to Anantara guests and is open to all adventurers who want to travel deeper and see more than what lies on the surface. The Vietage experience starts from USD 400 per person.
Follow BOTT on LinkedIn, Facebook, Twitter & Instagram
Subscribe BOTT Channels on WhatsApp & Telegram to receive real time updates