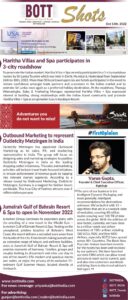 Haritha Villas and Spa participates in 3-city roadshow
To penetrate the Indian market, Haritha Villas + Spa recently participated in a 3-city roadshow hosted by Sri Lanka Tourism which was held in Delhi, Mumbai & Hyderabad from September 26th to 30th, 2022. More than 50 local travel agencies and hotels participated in the event to restore confidence amongst trade partners and customers in the Indian market and to promote Sri Lanka once again as a preferred holiday destination. At the roadshow, Thanuja Weerasinghe, Sales & Marketing Manager, represented Haritha Villas + Spa expressed interest in building strong relationships with the Indian travel community and promote Haritha Villas + Spa as an upmarket luxury boutique Resort.
Outbound Marketing to represent Outletcity Metzingen in India
Outletcity Metzingen has appointed Outbound Marketing as its sales, PR, and marketing representative in India. The group will focus on designing sales and marketing strategies to position Outletcity Metzingen in India as the leading shopping outlet in Germany. The sales and marketing activities will include travel trade focused initiatives to ensure achievement of revenue goals by tapping into relevant market segments. According to a release issued by Outbound Marketing, Outletcity Metzingen, Germany is a magnet for fashion lovers worldwide. This true City of Fashion attracts over 4 million visitors per year.
Jumeirah Gulf of Bahrain Resort & Spa to open in November 2022
Jumeirah Group continues its expansion plans with the unveiling of a new resort in the Middle East – Jumeirah Gulf of Bahrain Resort & Spa.Resting on the unexplored, pristine beaches of Bahrain's West Coast, the resort delivers a secluded oasis away from the hustle of the city. From breath-taking sunsets and an extensive range of leisure and wellness facilities, stays at Jumeirah Gulf of Bahrain Resort & Spa will promise moments of harmony. Families, groups and couples looking to disconnect and relax can stay in one of the resort's 196 modern and spacious rooms and suites, or enjoy the privacy of its exclusive 11-bedroom Gulf Summer House, located directly at the beach.
#FirstOpinion
"The core of our business is the Intelligent Dynamic Packaging and more generally, intelligent recommendations for destinations unknown. We've built it with 15 + algorithms that are in a constant state of evolution, covering 40 million routes scouring over 100 TB of data across the globe. With the addition of new hotels, currently, we have close to a million hotels andairfare inventory of 750+ airlines including 180 LCCs, NDC and Non-NDC Airlines, especially SOTO fares spread across 80+ Countries. The Book Now Pay Later feature launched recently for the hotels has been well received by our partners. We have launched our mini-CRM which can allow travel advisors to reach out to current, past and also new customers seamlessly and bring them to the travel advisor's fold again."
Varun Gupta, Founder & Chief Executive Officer, Pathfndr
Follow BOTT on LinkedIn, Facebook, Twitter & Instagram
Subscribe BOTT Channels on WhatsApp & Telegram to receive real time updates