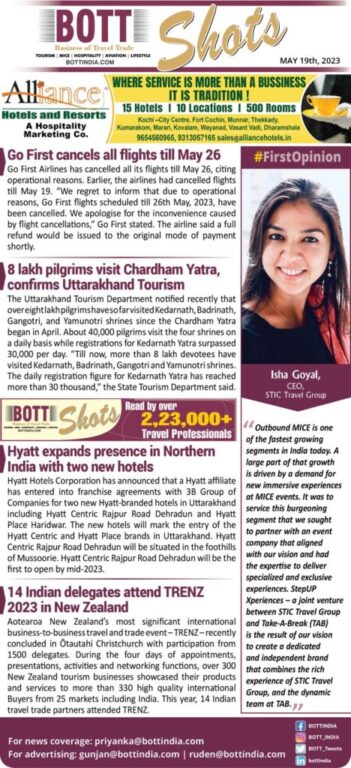 Go First cancels all flights till May 26
Go First Airlines has cancelled all its flights till May 26, citing operational reasons. Earlier, the airlines had cancelled flights till May 19. "We regret to inform that due to operational reasons, Go First flights scheduled till 26th May, 2023, have been cancelled. We apologise for the inconvenience caused by flight cancellations," Go First stated. The airline said a full refund would be issued to the original mode of payment shortly.
8 lakh pilgrims visit ChardhamYatra, confirms Uttarakhand Tourism
The Uttarakhand Tourism Department notified recently that over eight lakh pilgrims have so far visited Kedarnath, Badrinath, Gangotri, and Yamunotri shrines since the ChardhamYatra began in April. About 40,000 pilgrims visit the four shrines on a daily basis while registrations for KedarnathYatra surpassed 30,000 per day. "Till now, more than 8 lakh devotees have visited Kedarnath, Badrinath, Gangotri and Yamunotri shrines. The daily registration figure for KedarnathYatra has reached more than 30 thousand," the State Tourism Department said.
Hyatt expands presence in Northern India with two new hotels
Hyatt Hotels Corporation has announced that a Hyatt affiliate has entered into franchise agreements with 3B Group of Companies for two new Hyatt-branded hotels in Uttarakhand including Hyatt Centric Rajpur Road Dehradun and Hyatt Place Haridwar. The new hotels will mark the entry of the Hyatt Centric and Hyatt Place brands in Uttarakhand. Hyatt Centric Rajpur Road Dehradun will be situated in the foothills of Mussoorie. Hyatt Centric Rajpur Road Dehradun will be the first to open by mid-2023.
14 Indian delegates attend TRENZ 2023 in New Zealand
Aotearoa New Zealand's most significant international business-to-business travel and trade event – TRENZ – recently concluded in Ōtautahi Christchurch with participation from 1500 delegates. During the four days of appointments, presentations, activities and networking functions, over 300 New Zealand tourism businesses showcased their products and services to more than 330 high quality international Buyers from 25 markets including India. This year, 14 Indian travel trade partners attended TRENZ.
#FirstOpinion
"Outbound MICE is one of the fastest growing segments in India today. A large part of that growth is driven by a demand for new immersive experiences at MICE events. It was to service this burgeoning segment that we sought to partner with an event company that aligned with our vision and had the expertise to deliver specialized and exclusive experiences. StepUPXperiences – a joint venture between STIC Travel Group and Take-A-Break (TAB) is the result of our vision to create a dedicated and independent brand that combines the rich experience of STIC Travel Group, and the dynamic team at TAB."
Isha Goyal,CEO, STIC Travel Group
Follow BOTT on LinkedIn, Facebook, Twitter & Instagram
Subscribe BOTT Channels on WhatsApp & Telegram to receive real time updates