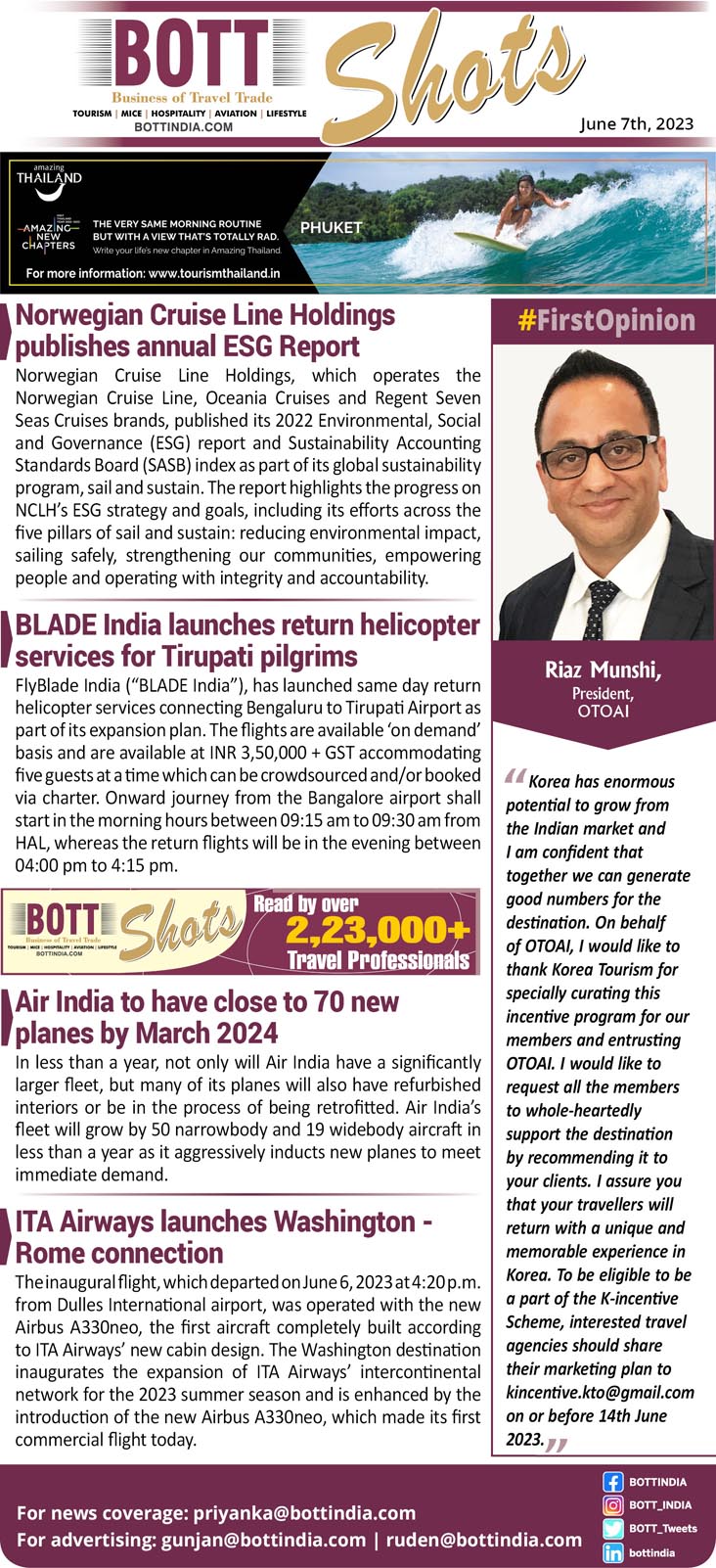 Norwegian Cruise Line Holdings publishes annual ESG Report
Norwegian Cruise Line Holdings, which operates the Norwegian Cruise Line, Oceania Cruises and Regent Seven Seas Cruises brands, published its 2022 Environmental, Social and Governance (ESG) report and Sustainability Accounting Standards Board (SASB) index as part of its global sustainability program, sail and sustain. The report highlights the progress on NCLH's ESG strategy and goals, including its efforts across the five pillars of sail and sustains: reducing environmental impact, sailing safely, strengthening our communities, empowering people and operating with integrity and accountability.
BLADE India launches return helicopter services for Tirupati pilgrims
FlyBlade India ("BLADE India"), has launched same day return helicopter services connecting Bengaluru to Tirupati Airport as part of its expansion plan. The flights are available 'on demand' basis and are available at INR 3,50,000 + GST accommodating five guests at a time which can be crowdsourced and/or booked via charter. Onward journey from the Bangalore airport shall start in the morning hours between 09:15 am to 09:30 am from HAL, whereas the return flights will be in the evening between 04:00 pm to 4:15 pm.
Air India to have close to 70 new planes by March 2024
In less than a year, not only will Air India have a significantly larger fleet, but many of its planes will also have refurbished interiors or be in the process of being retrofitted. Air India's fleet will grow by 50 narrowbody and 19 widebody aircraft in less than a year as it aggressively inducts new planes to meet immediate demand.
ITA Airways launches Washington – Rome connection
The inaugural flight, which departed on June 6, 2023 at 4:20 p.m. from Dulles International airport, was operated with the new Airbus A330neo, the first aircraft completely built according to ITA Airways' new cabin design.The Washington destination inaugurates the expansion of ITA Airways' intercontinental network for the 2023 summer season and is enhanced by the introduction of the new Airbus A330neo, which made its first commercial flight today.
#FirstOpinion
"Korea has enormous potential to grow from the Indian market and I am confident that together we can generate good numbers for the destination. On behalf of OTOAI, I would like to thank Korea Tourism for specially curating this incentive program for our members and entrusting OTOAI. I would like to request all the members to whole-heartedly support the destination by recommending it to your clients. I assure you that your travellers will return with a unique and memorable experience in Korea. To be eligible to be a part of the K-incentive Scheme, interested travel agencies should share their marketing plan to kincentive.kto@gmail.com on or before 14th June 2023."
-RiazMunshi, President, OTOAI
Follow BOTT on LinkedIn, Facebook, Twitter & Instagram
Subscribe BOTT Channels on WhatsApp & Telegram to receive real time updates