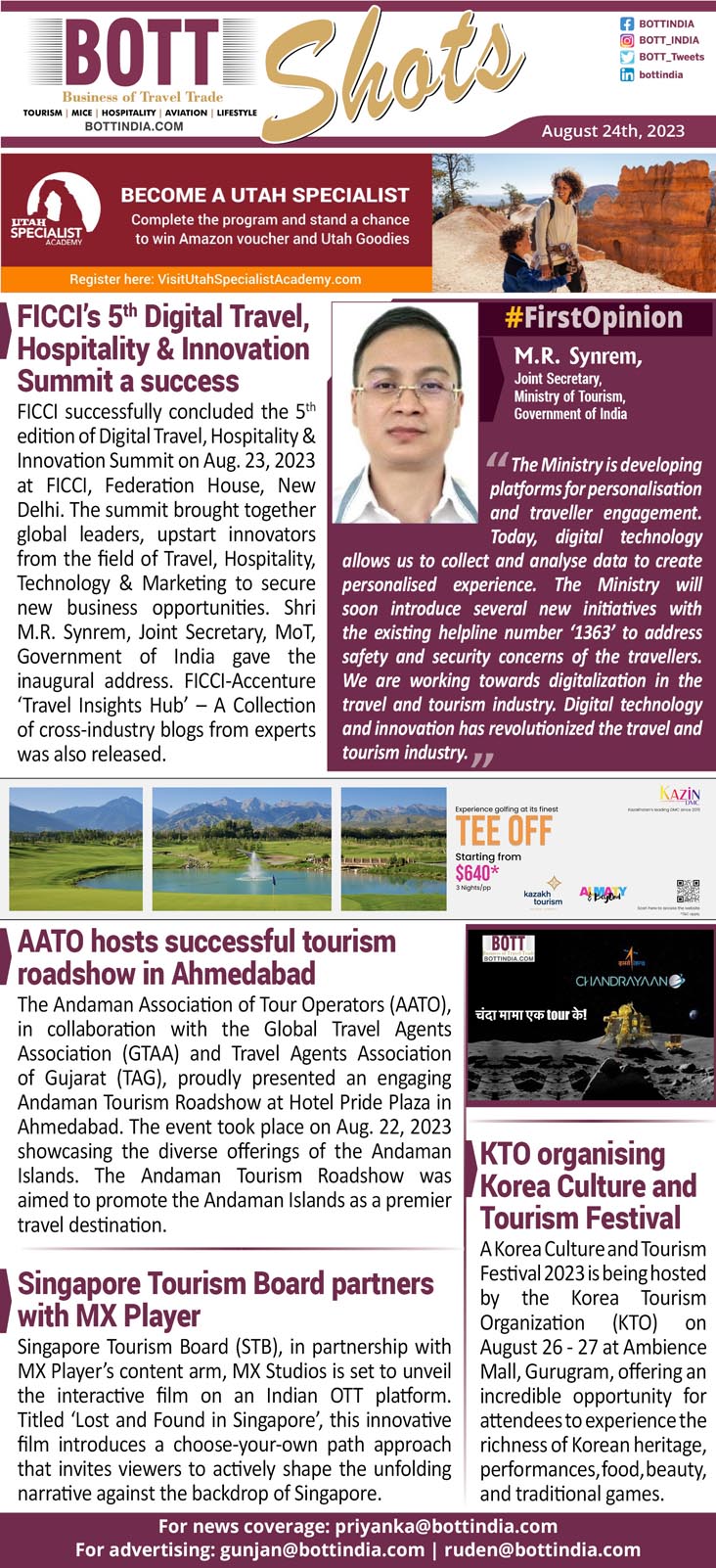 FICCI's 5th Digital Travel, Hospitality & Innovation Summit a success
FICCI successfully concluded the 5th edition of Digital Travel, Hospitality & Innovation Summit on Aug. 23, 2023 at FICCI, Federation House, New Delhi. The summit brought together global leaders, upstart innovators from the field of Travel, Hospitality, Technology& Marketing to secure new business opportunities. Shri M.R. Synrem, Joint Secretary, MoT, Government of India gave the inaugural address. FICCI-Accenture 'Travel Insights Hub' – A Collection of cross-industry blogs from experts was also released.
AATO hosts successful tourism roadshow in Ahmedabad
The Andaman Association of Tour Operators (AATO), in collaboration with the Global Travel Agents Association (GTAA) and Travel Agents Association of Gujarat (TAG), proudly presented an engaging Andaman Tourism Roadshow at Hotel Pride Plaza in Ahmedabad. The event took place on Aug. 22, 2023 showcasing the diverse offerings of the Andaman Islands. The Andaman Tourism Roadshow was aimed to promote the Andaman Islands as a premier travel destination.
Singapore Tourism Board partners with MX Player
Singapore Tourism Board (STB), in partnership with MX Player's content arm, MX Studios is set to unveil the interactive film on an Indian OTT platform. Titled 'Lost and Found in Singapore', this innovative film introduces a choose-your-own path approach that invites viewers to actively shape the unfolding narrative against the backdrop of Singapore. A first-of-its-kind initiative by an NTO in India, this film captures and blends the elements that define Singapore's character, creating an immersive exploration.
KTO organising Korea Culture and Tourism Festival
A Korea Culture and Tourism Festival 2023 is being hosted by the Korea Tourism Organization (KTO) on August 26 – 27 at Ambience Mall, Gurugram, offering an incredible opportunity for attendees to experience the richness of Korean heritage, performances, food, beauty, and traditional games.
#FirstOpinion
"The Ministry is developing platforms for personalisation and traveller engagement. Today, digital technology allows us to collect and analyse data to create personalised experience. The Ministry will soon introduce several new initiatives with the existing helpline number '1363' to address safety and security concerns of the travellers. We are working towards digitalization in the travel and tourism industry.Digital technology and innovation have revolutionized the travel and tourism industry."
M.R.Synrem, Joint Secretary,
Ministry of Tourism, Government of India
Follow BOTT on LinkedIn, Facebook, Twitter & Instagram
Subscribe BOTT Channels on WhatsApp & Telegram to receive real time updates