Priyanka Saxena Ray
Setting up the Context for the day ahead, the Summit started with the address by Ankush Nijhawan, Chairman, FICCI Outbound Tourism Committee & Co-Founder, TBO.com & MD, Nijhawan Group. Not only did he share some amazing figures and numbers indicating the upward growth in outbound tourism from India but he also seemed extremely positive of the trend maintain its escalating graph. "In 2022 almost 20 million Indians have travelled overseas. We are expected to reach the pre pandemic levels this year and full recovery is expected by 2024. India outbound is growing much faster than any other country. However, to achieve anything, it is important for stakeholders to work together to nurture and maximise the benefits of outbound tourism," he said.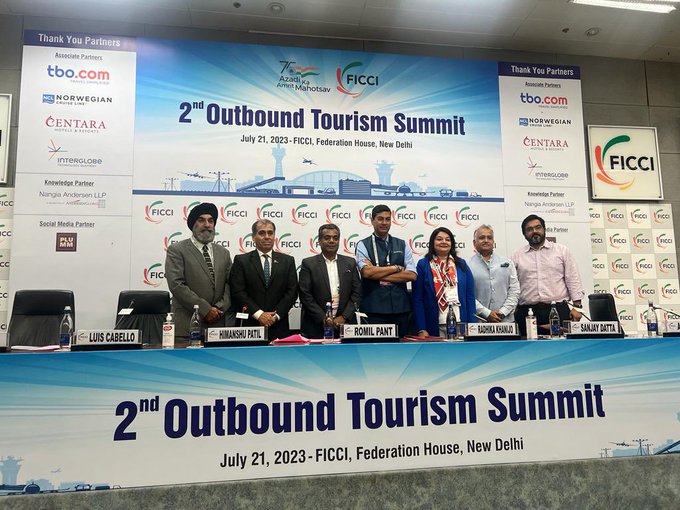 The Keynote Adress by given by Dipak Deva, Chairman, FICCI Tourism & Culture Committee & Managing Director, SITA, TCI & Distant Frontier, which was followed by the release of FICCI-Nangia Andersen Knowledge Paper and presentation by Poonam Kaura, Partner – Government& Public Sector Advisory, NangiaAndersen. The Hon'ble Ambassador of Indonesia to New Delhi, IndiaH.E. Ms. Ina HagniningtyasKrisnamurthi addressed the gathering through a video message and stressed upon the importance of India market for their country in tourism. Manab Majumdar, Deputy Secretary General, FICCI presented the Note of Thanks.
The first session of the day saw an eclectic mix of professionals from the outbound sector who had gathered to discuss the Opportunities and Challenges in India becoming one of the largest Outbound sources markets. The Session was Moderated by Guldeep Sahni, Managing Director -Weldon Tours and Travels & Co Chairman FICCI Outbound Tourism Committee. The Panellists included Luis Cabello, Trade and Tourism -Counsellor of Peru in India; Himanshu Patil, Director – Kesari Tours; Romil Pant, Executive Vice President & Head of Holidays – ThomasCook India; Radhika Khanijo, Founder & Managing Director – WelgrowTravels; Sanjay Datta, Past President, Skal International Asia & Delhi, CMD- Airborne Travels & Holidays and Akash Dahiya, Co-Founder & CEO, Sankash.
The second session of the Summit focussed on 'The Big Opportunity: Tapping the Indian Niche Tourism Market Globally'. A panel of experts were invited to discuss the various International Niche Tourism opportunities and growing Travel Trend Internationally catering to Indian Tourists be it Wedding Tourism, Sports Tourism, Cruise Tourism, Events etc. This session was Moderated by Priyanka Saxena Ray, Founder Editor, Business of Travel Trade (BOTT) and the panellists included Chetan Vohra, Managing Director – WeddinglineEvents and Hospitality; Ratna Chadha, Co-Founder & Chairperson, TIRUN Travel Marketing; Neha Mehrotra, Founder & Director – ForeignWedding Planners and Gaurav Chauhan, Managing Director – GCEvents.
The tone and discussions during the Summit clearly defined that the Indian travellers today are not just crossing borders; they are blurring them, turning the globe into their playground, and in the process, redefining the contours of the tourism industry.
Follow BOTT on LinkedIn, Facebook, Twitter & Instagram
Subscribe BOTT Channels on WhatsApp & Telegram to receive real time updates