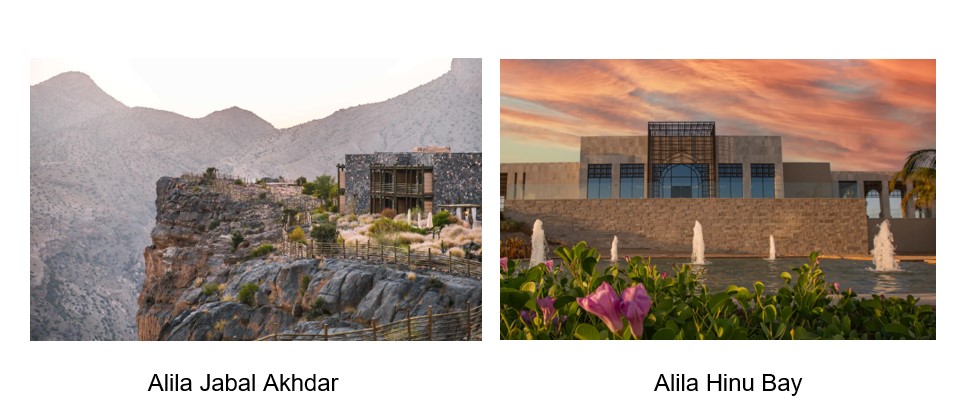 Alila Hotels – is a globally renowned collection of luxury hotels and resorts, spread across Asia, Middle East and USA. Alila Hinu Bay and Alila Jabal Akhdar in Omanarea testament to the brand's commitment towards sustainability and are an exceptional blend of modern architecture with traditional elements, reflecting the unique aspects of the destinations Dhofar and Al Hajar, respectively.
By partnering up with THRS, India's leading representation company for luxury hospitality and tourism brands, the two remarkable hotels plan to build awareness, strategic visibility and enhance their market share in the Indian subcontinent.
Nestled in a secluded spot along the serene southwest coast of Oman, Alila Hinu Bay presents the ultimate seaside sanctuary with a selection of villas and rooms that offer unobstructed views of the desert, lagoon or the mighty Arabian Sea. Here one can uncover the remarkable wildlife, cultural treasures of Mirbat, archaeological ruins of Sumhuram and more. Alila Jabal Akhdar, perched high amidst the majestic mountains of Al Hajar, offers a breathtaking retreat for nature enthusiasts, with a range of luxurious rooms and suites that showcase panoramic views of the stunning rugged landscape. Travellers here can indulge in a myriad of experiences like guided treks along the picturesque trails, exhilarating cliff edge dining and beyond.
While addressing the alliance with THRS, ­­­­­­­Mr. Joakim Velinder, Cluster Director, Alila Hotels, said "We are thrilled to have THRS as our representation partner for Alila Hinu Bay and Alila Jabal Akhdar in the Indian subcontinent. With their extensive network and deep understanding of the region, we are confident that THRS will effectively position our hotels in Oman amongst the right audience creating distinct visibility. We are looking forward to showcasing the unmatched experiences that await Indian travellers at these unexplored destinations."
Yeishan Goel, Group CEO, of THRS, said, "THRS is honoured to be chosen as the exclusive representation partner for Alila Hinu Bay and Alila Jabal Akhdar in India. We are stoked to showcase these exceptional properties to discerning Indian travellers who are continuously seeking significant experiential journeys and introduce them to the stunning landscapes of Oman. This partnership perfectly aligns with our commitment to promote unique and culturally rich destinations. We are confident that our strategic representation will maximize Alila's market presence and contribute to their continued success."
The Indian outbound travel market is experiencing rapid growth and luxury tourism plays a pivotal role in driving this expansion. Over recent years, there is an increased demand for experiential luxury travel amongst discerning Indian travellers. This has not only contributed to the country's economy but has also established India as a key market in the global travel and tourism industry, attracting attention from global luxury hospitality brands.
About Hyatt Hotels Corporation
Hyatt Hotels Corporation, headquartered in Chicago, is a leading global hospitality company guided by its purpose – to care for people so they can be their best. As of March 31, 2023, the Company's portfolio included more than 1,250 hotels and all-inclusive properties in 75 countries across six continents. The Company's offering includes brands in the Timeless Collection, including Park Hyatt®, Grand Hyatt®, Hyatt Regency®, Hyatt®, Hyatt Residence Club®, Hyatt Place®, Hyatt House®, Hyatt Studios, and UrCove; the Boundless Collection, including Miraval®, Alila®, Andaz®, Thompson Hotels®, Dream® Hotels, Hyatt Centric®, and Caption by Hyatt®; the Independent Collection, including The Unbound Collection by Hyatt®, Destination by Hyatt®, and JdV by Hyatt®; and the Inclusive Collection, including Hyatt Ziva®, Hyatt Zilara®, Zoëtry® Wellness & Spa Resorts, Secrets® Resorts & Spas, Breathless Resorts & Spas®, Dreams® Resorts & Spas, Hyatt Vivid Hotels & Resorts, Alua Hotels & Resorts®, and Sunscape® Resorts & Spas. Subsidiaries of the Company operate the World of Hyatt® loyalty program, ALG Vacations®, Unlimited Vacation Club®, Amstar DMC destination management services, and Trisept Solutions® technology services. For more information, please visit www.hyatt.com.
About Alila
The hallmark of Alila Hotels is the combination of innovative design and luxury in unique locations, set apart by an unprecedented level of private space, crafted artisanship, personalized hospitality, and bespoke journeys. Alila means "Surprise" in Sanskrit, which suitably describes the refreshing character of our properties and the impressions of our guests when they stay with us. In support of sustainable tourism, Alila hotels adopt EarthCheck operating standards, integrating the natural, physical and cultural elements of their environments. To stay at any Alila hotel and resorts is to embark on a destination experience – be it in recreating the flavours of the local cuisine, enhancing your well-being through ancient healing arts or the thrill of adventure sports, you will re-discover the luxury of living at Alila hotels.
Follow BOTT on LinkedIn, Facebook, Twitter & Instagram
Subscribe BOTT Channels on WhatsApp & Telegram to receive real time updates