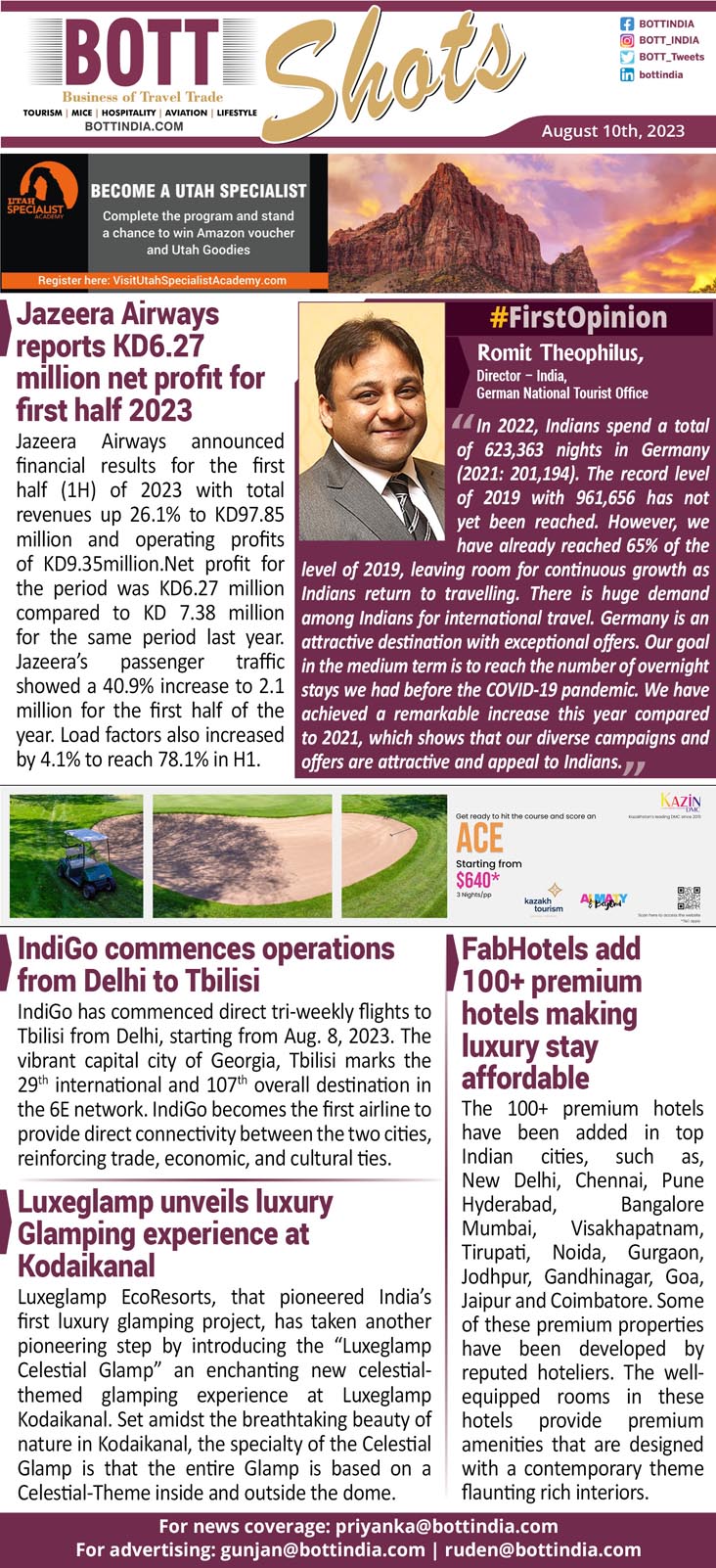 Jazeera Airways reports KD6.27 million net profit for first half 2023
Jazeera Airways announced financial results for the first half (1H) of 2023 with total revenues up 26.1% to KD97.85 million and operating profits of KD9.35million.Net profit for the period was KD6.27 million compared to KD 7.38 million for the same period last year. Jazeera's passenger traffic showed a 40.9% increase to 2.1 million for the first half of the year. Load factors also increased by 4.1% to reach 78.1% in H1.
IndiGo commences operations from Delhi to Tbilisi
IndiGo has commenced direct tri-weekly flights to Tbilisi from Delhi, starting from August 8, 2023. The vibrant capital city of Georgia, Tbilisi marks the 29th international and 107th overall destination in the 6E network. IndiGo becomes the first airline to provide direct connectivity between the two cities, reinforcing trade, economic, and cultural ties.
Luxeglamp unveils luxury Glamping experience at Kodaikanal
LuxeglampEcoResorts, that pioneered India's first luxury glamping project, has taken another pioneering step by introducing the "Luxeglamp Celestial Glamp" an enchanting new celestial-themed glamping experience at Luxeglamp Kodaikanal. Set amidst the breathtaking beauty of nature in Kodaikanal, the speciality of the Celestial Glamp is that the entire Glamp is based on a Celestial-Theme inside and outside the dome.
FabHotels add 100+ premium hotels making luxury stay affordable
The 100+ premium hotels have been added in top Indian cities, such as, New Delhi, Chennai, Pune Hyderabad, Bangalore Mumbai, Visakhapatnam, Tirupati, Noida, Gurgaon, Jodhpur, Gandhinagar, Goa, Jaipur and Coimbatore. Some of these premium properties have been developed by reputed hoteliers. The well-equipped rooms in these hotels provide premium amenities that are designed with a contemporary theme flaunting rich interiors.
#FirstOpinion
"In 2022, Indians spend a total of 623,363 nights in Germany (2021: 201,194). The record level of 2019 with 961,656 has not yet been reached. However, we have already reached 65% of the level of 2019, leaving room for continuous growth as Indians return to travelling. There is huge demand among Indians for international travel. Germany is an attractive destination with exceptional offers. Our goal in the medium term is to reach the number of overnight stays we had before the COVID-19 pandemic. We have achieved a remarkable increase this year compared to 2021, which shows that our diverse campaigns and offers are attractive and appeal to Indians."
Romit Theophilus, Director – India, German National Tourist Office
Follow BOTT on LinkedIn, Facebook, Twitter & Instagram
Subscribe BOTT Channels on WhatsApp & Telegram to receive real time updates