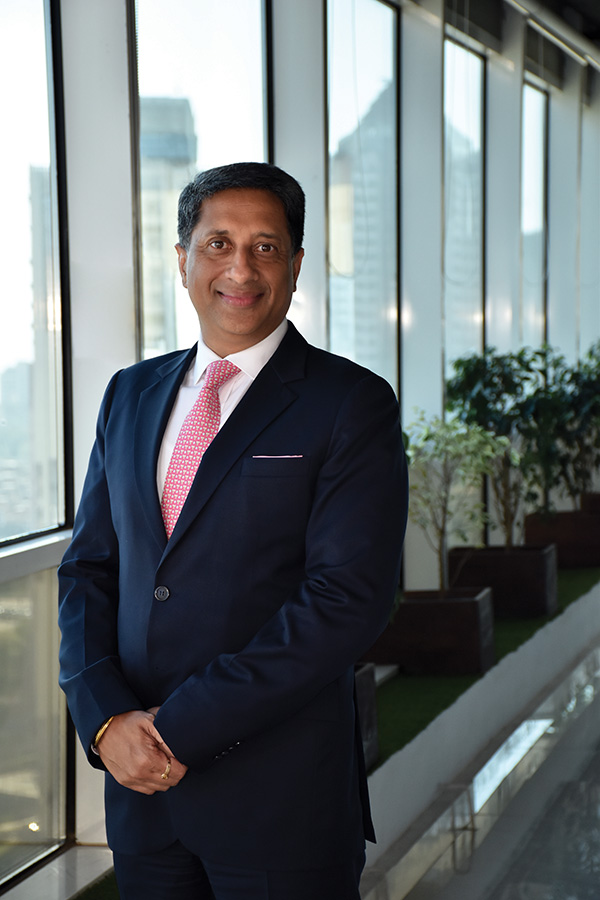 What are IndiGo's strategic goals for the next 5 years?
We have defined three strategic pillars of Reassure, Develop and Create to support our growth plans as we are looking to double in size and scale by the end of this decade. We will continue to develop on the domestic network and ensure unparalleled connectivity – with a goal to extensively serve India – this is part of our purpose of giving wings to the nation, by connecting people and aspirations, something that we have lived by since our inception and which we at IndiGo will continue going forward. Wherever you go in India you can go by IndiGo and that's our philosophy – India by IndiGo.
While Indian aviation has grown at an impressive (passenger) CAGR of around 13 percent in the 7 years pre covid we are still a highly underpenetrated country currently in terms of both domestic and international air travel. In order to bridge this gap, IndiGo has expanded its presence already to 81 destinations in India and 32 destinations overseas.
Another important part of our future is Internationalization which falls under the "create" pillar. We fly to a diverse set of destinations—Srinagar in the North, Cochin in the South, Jodhpur in the West and Silchar in the East. The sheer size of India and the demographics, in combination with the unparalleled network of IndiGo, allows us to have a very rich international scope.
How has the G20 Presidency and the G20 Summit been a boon for the Indian Travel, Tourism and Aviation Industry?
India is one of the most vibrant aviation markets and is steadily increasing its global footprint. As India assumed the G20 presidency this year, both business and tourism experienced significant growth, primarily driven by the aviation & hospitality sector. This growth also increased India's visibility on the world stage and created numerous opportunities.
The Indian economy is expected to further grow from being the world's 5th largest today to being the 3rd largest before the end of this decade. For aviation specifically, the Honourable Prime Minister Modi has stated his mission to ensure that by 2030 India comes into her own on the world stage of aviation leadership by building cutting-edge infrastructure and developing India into a global aviation hub.
The Indian aviation market holds an immense untapped potential. Both domestic and international markets are projected to experience robust growth in the coming years. Currently, the percentage of Indian consumers flying, both domestically and internationally, remains relatively low, signifying ample room for market development. The G20 presidency provides a crucial opportunity to leverage this potential, further accelerating the growth of the aviation sector in India.
How does the company plan to expand its route network domestically and internationally? Are there any new aircraft acquisitions or fleet expansion plans in the pipeline?
IndiGo is taking a massive step in its international expansion strategy with the addition of six new destinations across Asia, and Africa. These exciting destinations are Nairobi, Jakarta, Tbilisi & Baku. On September 22 and 23, we commence flights to Tashkent and Almaty respectively.
IndiGo continues to add new destinations, routes, and frequencies, catering to the rising demand for international travel from, to and via India. IndiGo will also be resuming operations daily services from Delhi to Hong Kong in early October, further enhancing travel options for passengers. Our number of international destinations will grow from 26 to 32 and many other international routes are in the pipeline.
IndiGo has also been strengthening connectivity through its codeshare connections via Turkish Airlines, American Airlines, Air France, Lufthansa, Qatar Airways, Virgin Atlantic, Qantas and now also British Airways. IndiGo currently offers connectivity to 33 destinations in Europe, 5 destinations in the US and 1 in North Africa via Istanbul. Recently, IndiGo and British Airways have also signed a codeshare agreement to further boost connections between India and the UK.
With respect to fleet expansion, we have a proven financial model that has helped us achieve this stature. The new aircraft order's deliveries start only in 2030, allowing us plenty of time to evaluate all options and modalities on the financing of this order.
Currently, we have two Boeing 777 aircraft on damp lease operating on the Delhi-Istanbul and Mumbai-Istanbul sectors. We have pending orders of approximately 480 aircraft, which will be delivered between today and the end of this decade. In addition, we recently placed a firm order for 500 Airbus A320 Family aircraft. With this addition, IndiGo's order book has almost 1000 aircraft yet to be delivered well into the next decade. Our pending order book, structural cost advantages and our long-term relationships with our supply chain partners are our key assets. We continue to remain very bullish about our future and this is reflected in our fleet order.
In what ways is IndiGo working to improve the overall passenger experience, from booking to disembarkation?
Our primary goal is to unlock the full potential of air travel by improving accessibility and offering affordable fares. As India's leading carrier, we have always strived to provide hassle-free connectivity to even the remotest areas of the country at an affordable cost. With the adoption of DigiYatra at Kolkata, Delhi, Bengaluru and Varanasi, we're helping usher Indian aviation in to a digital first era.
Besides, IndiGo has also been granted Less Paper Cockpit (LPC) approval by the Directorate General of Civil Aviation (DGCA). This approval allows IndiGo to remove Technical Paper Manuals weighing almost 40 kgs from each aircraft cockpit of its Airbus fleet. Earlier this year, we introduced sensor technology for faster and accurate scanning of life vests on the aircraft. These vests require periodic checks to ensure adequate numbers are available on board, and that they are in serviceable condition.
Last year, IndiGo introduced a new revolutionary Three Point Disembarkation process which enables our customers to exit the aircraft faster than ever before. The new Three Point Disembarkation process serves from two forward and one rear exit ramp, making IndiGo the first airline in the world to use this process. We also launched 'Digital e-logbook' in 2022 to provide direct flight data transfer service to pilots from IndiGo systems to eGCA logbooks.
IndiGo is also the first airline in Asia to land its aircraft using the indigenous navigation system GAGAN. This is a huge leap for Indian Civil Aviation and a firm step toward Aatmanirbhar Bharat, as India becomes the third country in the world to have its own SBAS system after the USA and Japan.
What specific sustainability initiatives is IndiGo currently undertaking to reduce its environmental impact?
IndiGo is committed to an ESG strategy that balances ambition and the practical limitations of the aviation sector. Our core target for 2023 has been related to emissions from jet fuel. IndiGo is working towards achieving its target to reduce the emissions intensity from jet aviation fuel consumption by 18% between FY 2015 and FY 2023. The decarbonization plan has been focused on cutting fuel emissions and implementing carbon offsetting measures. IndiGo has already been recognized as being the airline with the youngest fleet in the listing of airlines with more than 100 aircraft across the world.
Flight operations are also taking a number of initiatives to achieve this including single-engine taxi, reduced flap landing and takeoff, descent profile optimization, weight reduction due to reduction in hold fuel and route saving among others.
As mentioned earlier, IndiGo has been granted Less Paper Cockpit (LPC) approval by the Directorate General of Civil Aviation (DGCA). This approval allows IndiGo to remove Technical Paper Manuals weighing 40 kgs from each aircraft cockpit of its Airbus fleet. As part of strengthening sustainable operations at Hyderabad, IndiGo has also deployed 7 new electric buses with zero carbon emissions at Hyderabad airport.
Follow BOTT on LinkedIn, Facebook, Twitter & Instagram
Subscribe BOTT Channels on WhatsApp & Telegram to receive real time updates