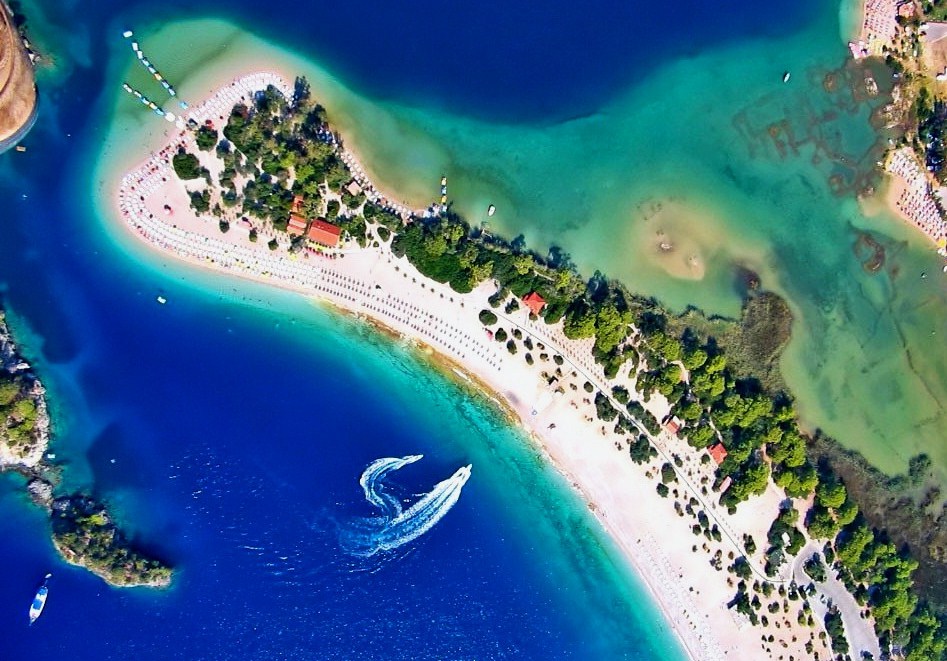 These pristine beaches are not only a sun-seeker's paradise, but also an open book showing ancient civilizations' footprints, home to tantalizing gastronomic experiences, vineyard routes, and delectable Turkish wines. Most importantly, these stunning coastlines are all wonderful options for unforgettable honeymoons.
Çanakkale: The Green Paradise in North Aegean
The North Aegean region is a beautiful attraction for summer visitors, and Çanakkale's Asos shores offer a captivating experience with their slightly cooler yet inviting emerald waters. Two renowned beaches in the region, Asos Sokakağzı Beach and Kadırga Bay, are cocooned by ancient olive trees. Beyond Çanakkale, Bozcaada and Gökçeada are the two enchanting Turkaegean islands. Bozcaada's Ayazma Beach, with its silky sands and azure waters, stands as one of the Aegean's most stunning spots. On Gökçeada, Türkiye's largest island, Aydıncık Beach attracts surfers with its pristine sands.
İzmir: Heart of Turkeagean
Traveling south from Çanakkale brings you to İzmir, the 'Pearl of the Turkaegean.' As a well-known tourist spot, Çeşme takes the spotlight. Çeşme, İzmir's pride, is home to the Ilca and Alaçatı beaches. Alaçatı Beach is famed for its cool and calm water and is located around 13 kilometres from the centre of Çeşme, offering a peaceful sunbathing heaven. Ilca Beach in the Ilca district attracts visitors with its hot spring waters that gently warm the crystal-clear Aegean seas, making it a swimming and relaxing paradise.
A Journey to the Thousand and One Shades of Blue
Bodrum, world-renowned as a paradise for tourists in the Turkaegean, delights with its transparent waters, golden shores, and picturesque coastline. Gümbet Beach, close to Bodrum's heart, is enchanting with a sea that displays a spectrum of blue tones. Boat tours, water sports, and diving clubs add to the allure. Bitez Beach, renowned for swimming and water activities, offers expansive sandy shores and panoramic views, accompanied by numerous cafes and restaurants. Göltürkbükü Beach, nestled in the heart of Türkbükü, one of Bodrum's favorite holiday spots, entices with its alluring beach clubs and promises of opulent experiences.
Turkish Riviera: Dream Vacations and Weddings
Antalya, nestled in the heart of the Turkish Riviera, emerges as another top holiday choice, with its wealth of historical sites like Aspendos, Myra, Side, and Perge. The long coastline, serene bays, turquoise waters, and abundant sporting activities make it irresistible. Antalya boasts an astonishing 231 Blue Flag-certified beaches. These range from lengthy expanses to hidden gems concealed within mountains and coves. One such gem is Kaputaş, situated on the Kaş-Kalkan Road, with its pristine white sands and turquoise sea, earning a place among the world's 50 most beautiful beaches. Andrea Doria Bay, named after the Genoese Admiral Andrea Doria, is a captivating beach nestled between the Finike-Demre road, framed by rocky landscapes, majestic vegetation, and wild olive trees. This picturesque heaven is frequented by sea turtles and Mediterranean monk seals. Patara Beach, Türkiye's second-longest at 14 kilometers, holds significance as a sea turtle (Caretta Caretta) nesting area.
You can also plan your dream wedding in these stunning locations where all the beauties of history and nature meet. Antalya offers romantic hotels and beautiful beaches that include limitless options of culture, history, nature, hospitality, gastronomy, and elegance that guarantee a once-in-a-lifetime celebration of your dream 'Big Day'. Türkiye invites travelers to embrace its coastal treasures intertwined with the harmonious blend of nature, history, and culture. Here, a truly unforgettable getaway beckons, promising an enriching experience like no other.
About Türkiye
Located in the Mediterranean and connecting Asia and European continents that are separated by the famous Bosphorus, Türkiye is a destination that welcomes tourists from all around the world. The country that has always been a hub for cultural interaction and home to varying climates inspires visitors today with its history, nature, and gastronomy that reflect the diversity of civilizations for centuries. Located at the crossroads of cultures, Türkiye has a distinctive understanding of art and fashion, which is the synthesis of tradition and modernity, and its extremely dynamic shopping and entertainment life also attracts visitors from all over the world. For more about Türkiye please visit: https://www.goTürkiye.com/
Follow BOTT on LinkedIn, Facebook, Twitter & Instagram
Subscribe BOTT Channels on WhatsApp & Telegram to receive real time updates