By Rai Umraopati Ray
Samarkand, Uzbekistan: The Affiliate Members of the World Tourism Organization convened in Samarkand to strengthen public-private collaboration for mutual tourism goals during the 44th Affiliate Members Plenary Session, held within the 25th UNWTO General Assembly.
Under the theme "Enhancing tourism through public-private cooperation," over 100 Affiliate Members gathered to discuss the status of Affiliate Membership, highlight achievements since the previous session, assess the ongoing expansion strategy for a balanced and quality-oriented Membership, and propose future projects and collaborations.
During the event, the UNWTO Programme of Work for 2024-2025 was presented, showcasing over 50 contributions from selected Affiliate Members. They outlined their forthcoming projects and initiatives, set to be supported by the Affiliate Members Department and UNWTO.
The session featured an Award Ceremony honouring long-standing Affiliate Members, with 12 recognised in the bronze category (over 30 years of Membership), 14 in the silver category (over 40 years), and one in the gold category (50 years).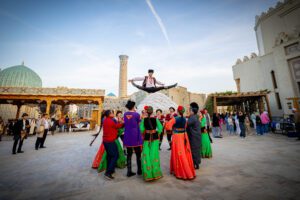 Affiliate Members were also introduced to an upgraded platform to be launched by the Affiliate Members Department, enhancing interactivity and networking opportunities within the Affiliate Members' network.
The Plenary Session emphasised Affiliate Members' engagement with UNWTO on vital topics, including education and tourist protection, facilitating their integration into the UNWTO agenda.
This meeting underlines the commitment of the Affiliate Members in advancing global tourism by fostering strong public-private cooperation.
Follow BOTT on LinkedIn, Facebook, Twitter & Instagram
Subscribe BOTT Channels on WhatsApp & Telegram to receive real time updates