By BOTT Desk
Mumbai: The Korea Tourism Organization (KTO) successfully organised a MICE roadshow in Mumbai, India, showcasing the diverse and dynamic offerings for business events and corporate travel in Korea. The occasion united prominent figures in the world of tourism and hospitality, with participation from 7 Destination Management Companies (DMCs), 2 Airlines, 1 Regional Tourism Organization (RTO), and 1 Shopping representative.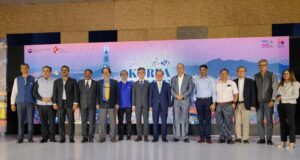 The MICE roadshow acted as a bridge, cementing robust connections between Korean tourism stakeholders and the Mumbai business and tourism community. It put a spotlight on the distinctive venues and resources available for hosting successful MICE events in Korea, offering attendees a unique chance to interact with representatives from various sectors and gain insight into Korea's role as a premier MICE destination.
The participating DMCs showcased their expertise in crafting immersive experiences, accentuating Korea's cultural diversity, modern infrastructure, and varied landscapes. The two Airlines present underlined the ease of travel to and within Korea, emphasising its accessibility and allure as a destination for international events.
The Ulsan Culture & Tourism Foundation, as the RTO representative, shared valuable insights into regional attractions and collaborative opportunities, encouraging attendees to venture beyond the confines of convention halls. In addition, Lotte Duty-Free shared the country's distinctive retail scene, offering a unique blend of unparalleled shopping experiences.
Myong Kil Yun, Regional Director India & SAARC Countries at the Korea Tourism Organization, shared his excitement regarding the event, saying, "We are elated to have had the opportunity to introduce Korea's MICE offerings to Mumbai. The roadshow allowed us to connect with key stakeholders and demonstrate why Korea is an ideal destination for hosting memorable and successful business events."
As the global MICE tourism landscape evolves, Korea steadfastly asserts itself as a leading destination, offering a harmonious fusion of modern infrastructure, cultural diversity, and distinctive experiences. The Mumbai roadshow stands as a significant stride toward establishing Korea as the preferred choice for corporate events and business travel.
Follow BOTT on LinkedIn, Facebook, Twitter & Instagram
Subscribe BOTT Channels on WhatsApp & Telegram to receive real time updates