Priyanka Saxena Ray
They say that what makes a holiday special is the company and the place, but if you ask me, what makes a holiday special, especially one that is limited to a resort, is the staff – the people who take care of you through your stay and that's exactly what made our stay at the Adaaran Select Hudhuran Fushi truly unique.
Adaaran, a home grown Sri Lankan brand, is well known in the hospitality circles and Adaaran Select Hudhuran Fushi truly lives up to its expectations and delivers so much more. Located in a peaceful seclusion in the North Malé Atoll, the resort is well known for its waves, making it the ideal holiday for surfers and adrenaline junkies. The mature island featuring beautiful greenery along with the inescapable sun, sea and sand is also ideal for families seeking respite. Surfing at Adaaran Select Hudhuran Fushi Adaaran Select Hudhuran Fushi is one of the best surf holiday resorts in the Maldives with a perfect left breaking down one side of the island and six other world class waves just a short boat ride away.
Located at a mere distance of 19 km from Malé International Airport (MLE), the resort is easily accessible via speedboat and it normally takes anything between 20 – 30 minutes to reach there. Once at the resort, the magnanimity of the resort just takes you by surprise. Spread over a vast area of 80+ acres, there are various accommodation options to choose from and a mix and match of them allows you to experience everything that the resort offers!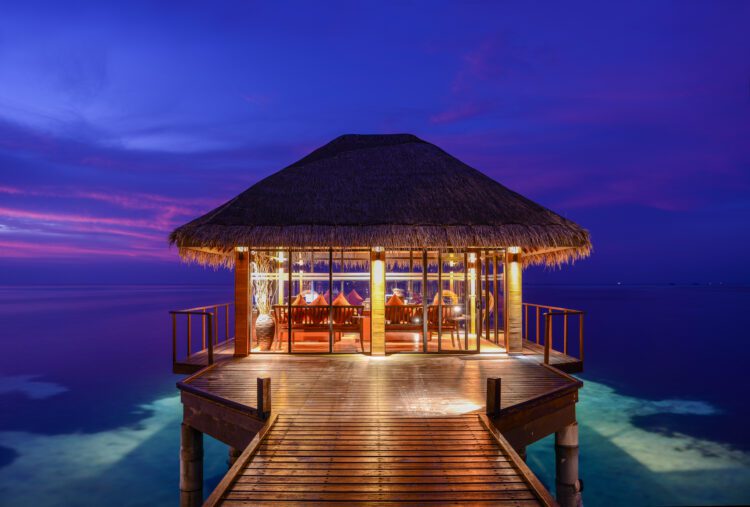 Its Accommodation Options includes 20 Garden Villas, 18 Lohis Villas, 46 Beach Villas, 45 Deluxe Beach Villas, 10 Sunset Beach Villas, 5 Family Beach Villas, 8 Sunset Family Beach Villas, 20 Sunrise Ocean Villas and 20 Sunset Ocean Villas.
Dining Options
The main restaurant at the resort is the Banyan Restaurant that dishes out delicious Buffet meals with International cuisine. Within it there is the Indian Pavilion that serves authentic North and South Indian cuisine. For the surfers, who want to remain undisturbed, there is the Lohis Wave that serves International buffet for breakfast and lunch during surf season only for surfers (March-November) and special oven-baked pizza all through the day. The Beach Grill is another dining option that serves amazing snack menu. The one with the best view is the Sunset Restaurant that offers International cuisine, with continental, Indian, Chinese and Arabic favourites exclusively for ocean villa guests. Dining can be enjoyed through prior reservations for non-ocean villa guests also. Besides this – the Hiyala Bar and the Tiki Bar are ideal for enjoying the Signature Cocktails and shisha.
Resort Activities (box)
Table tennis
Volleyball
Tennis
Badminton
Beach volleyball
Football
Pool table
Animation activities
Water Sports that can be enjoyed (box)
Diving
Surfing (seasonal)
Scuba diving
Fly boarding
Water skiing
Kite surfing
Jet skiing
Parasailing
Morning snorkelling excursion (with equipment)
Snorkelling throughout the day (with equipment)
Canoeing
Windsurfing (License is required)
Catamaran sailing (License is required)
Stand up peddle board
Rejuvenate your senses @ Spa
The Spa at Adaaran Select Hudhuran Fushi presents traditional therapeutic methods to naturally purify both body and mind with a holistic spa experience. Spa services ranges from traditional aromatherapy massages to result-driven Elemis face and body treatments, using dynamic with medical grade formulas that offer scientific solutions to every skin, body and lifestyle concern.
Destination Weddings and Vow Renewal
Hear the harmonious tunes of the breeze, the ocean and the rustling palms as you walk hand in hand to celebrate your eternal love. The celebration experts at the resort will ensure your dream day is made a reality with a touch of the Maldivian traditions. With the mesmerizing blues creating the perfect backdrop, your happily ever after is sure to be a day to treasure and relive.
Excursions (box)
Sunset cruise
Dolphin cruise
Sunset fishing with 'kakka' (cooking)
Sunrise fishing
Big game fishing
Jigging and casting fishing
Submarine dive
Male' tour
Full Day Island hopping with BBQ
Local island exploration
Banana garden tour
Day visit to Birds' Island with BBQ lunch
Follow BOTT on LinkedIn, Facebook, Twitter & Instagram
Subscribe BOTT Channels on WhatsApp & Telegram to receive real time updates