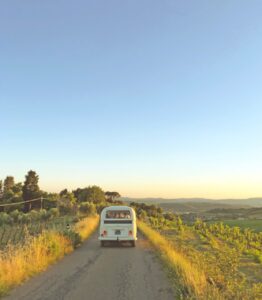 Road trips make you more of a traveller than a tourist since you unravel the places on your own without relying on maps and tourist guides. Simply packing your bags and whizzing away is the best way to explore the unexplored.
Here are the list of the best 6 road trips in India: 
Delhi To Agra To Jaipur – The famous Golden Triangle road makes up for one of the best road trips in India. And not just the road, but the three culturally and historically rich cities offer a great many vistas for travelers, including the Taj Mahal at Agra and the numerous monuments at Jaipur. From Jaipur, you will cross several hamlets and you can stop over to try some delicious Rajasthani cuisines. The Yamuna Expressway (NH 93) is a massive stretch of smooth, clean roads and one would find no hindrances as such.
Time: 6 hours 58 minutes
Distance: 449 km
National Highway: NH 93 & NH 8
Mumbai to Goa – One of the best road trips in India to make your own version of 'Dil Chahta Hai'. The preferable route is Pune-Kolhapur as it is safer and smoother for cars. For the adventurous ones, travelling with friends on a bike can take the Chiplun-Ratnagiri Route which gets rocky, tricky and narrow in many places. You can also take a tour of the Karnal Bird Sanctuary on this route. The best time to take this road trip is between December and January.
Time: 10 hours 41 minutes (via the Pune-Kolhapur Route) & 11 hours 52 minutes (via the Chiplun-Ratnagiri Konkan route)
Distance: 590 km (via the Pune-Kolhapur Route) & 577 km (via the Chiplun-Ratnagiri Konkan route)
National Highway: NH 4 or NH 66
Darjeeling to Pelling – From tea gardens to lofty mountains, this is one of a kind road trip. You can make multiple stops during this road trip and sip on some aromatic refreshing tea and enjoy the natural beauty on all sides. The best time to take this road trip is between March and June & then between September and December, as the roads may get blocked during the winter and rainy seasons. The roads are in great condition and make up for a smooth ride.
Time: 2 hours
Distance: 72.8 kms
National Highway: NA
Bangalore to Coorg – A road trip from Bangalore to Coorg is an absolute delight for nature lovers. From the concrete jungles of Bangalore to the pristine hills of Coorg will make you fall in love with the place at first sight. The view of the scenic vistas that surround the landscapes will soothe your eyes. You might find a few patches on the road; however, the majority of the stretch is smooth. The best time to plan this road trip is between November to March.
Time: 5 hours 26 minutes
Distance: 242 kms
National Highway: NH 275
Guwahati to Tawang – The road trip offers breathtaking views of snow-clad mountains and if you're fond of hills,  you will love this road trip. As you enter Tawang, you can witness the peaceful Buddhist culture of monks & morning prayers. However, one must have very good driving skills for this road trip to avoid any risk. You can plan the trip between March and October. In the winter, the roads are mostly blocked due to heavy snowfall. Tawang is one of the best places to visit in India that one must include in their bucket list.
Time: 14 hours 27 minutes
Distance: 566 kms
National Highway: NH 52 & NH 229
Chennai to Yelagiri – This is a fairy-tale-like road that is filled with natural beauty. You will find verdant greenery, beautiful hills, and several water attractions on this route. Courtesy of the numerous forested hills and dangerous-looking trekking trails, the road trip is very popular amongst bikers. Taking this route during monsoons can be very risky since the chances of landslides and roadblocks are very high. The ideal time to plan a road trip for this route is between October and February.
Time: 4 hours 36 minutes
Distance: 230 kms
National Highway: NH 46
Follow BOTT on LinkedIn, Facebook, Twitter & Instagram
Subscribe BOTT Channels on WhatsApp & Telegram to receive real time updates