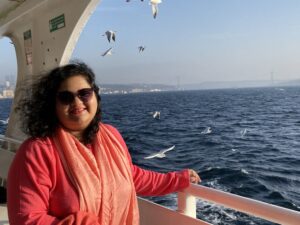 Dear Friends,
The Big Fat Indian Weddings is an age old saying that just seems to be getting stronger with time.  A staggering 1 crore weddings take place in India every year and the wedding industry is growing at 25 – 30% annually. People across the world dream of attending one, and people in the country go to extreme ends to have one! As per reports and analysis, India has 50 crore unmarried people with annual seekers of over 6 crore. Even if 20 percent of it materializes per year, that gives a sustainable market of 1.1-1.3 crore weddings in the country per year. The wedding industry is estimated to grow from its current US$100 billion to probably become a US$ 0.5 trillion sector in the next 10 years or so.
But keeping these facts and figures aside, Indian Weddings are all about rituals, traditions, dazzling dresses, mesmerising jewellery, breath-taking décor and scrumptious food… From starry Sangeet Nights to Colourful Haldi mornings, the Weddings Shenanigans are designed to keep the family on foot, while ensuring that they enjoy every minute of it. But planning a wedding is no easy task – and one of the key ingredients required to make this dish a success is the Perfect Venue.
With the craze of Destination Weddings fast catching up, from big lavish 5-stars to small boutique properties – all are finding its takers. Some today are even opting for small Cruise trips to say 'I-Do' and then there are some, who would transport the entire Band Baaja Baraat oversees and have their nuptials in the serene foreign locales. With the growing Bollywood craze and large disposable incomes, the trend of Destination Weddings is indeed a new rage.
Keeping all these factors in mind, BOTT is delighted to bring forth to you its Wedding Special issue, which touches upon various aspects of Weddings. In this issue, we have highlighted why some destination are popular for weddings in in India while also highlighting the popular and plush venues in those states catering to the wedding business. We talk how some international destinations are dressing up pretty and attracting the big fat Indian wedding business to their country and since it's wedding special, how can we not have an article on the recent favourite honeymoon destination for all – Maldives!
So friends, read all this along with our regular articles, interviews in the July Issue of BOTT Magazine and do share your feedback with us at priyanka@bottindia.com
Follow BOTT on LinkedIn, Facebook, Twitter & Instagram
Subscribe BOTT Channels on WhatsApp & Telegram to receive real time updates