Shreya Shimpi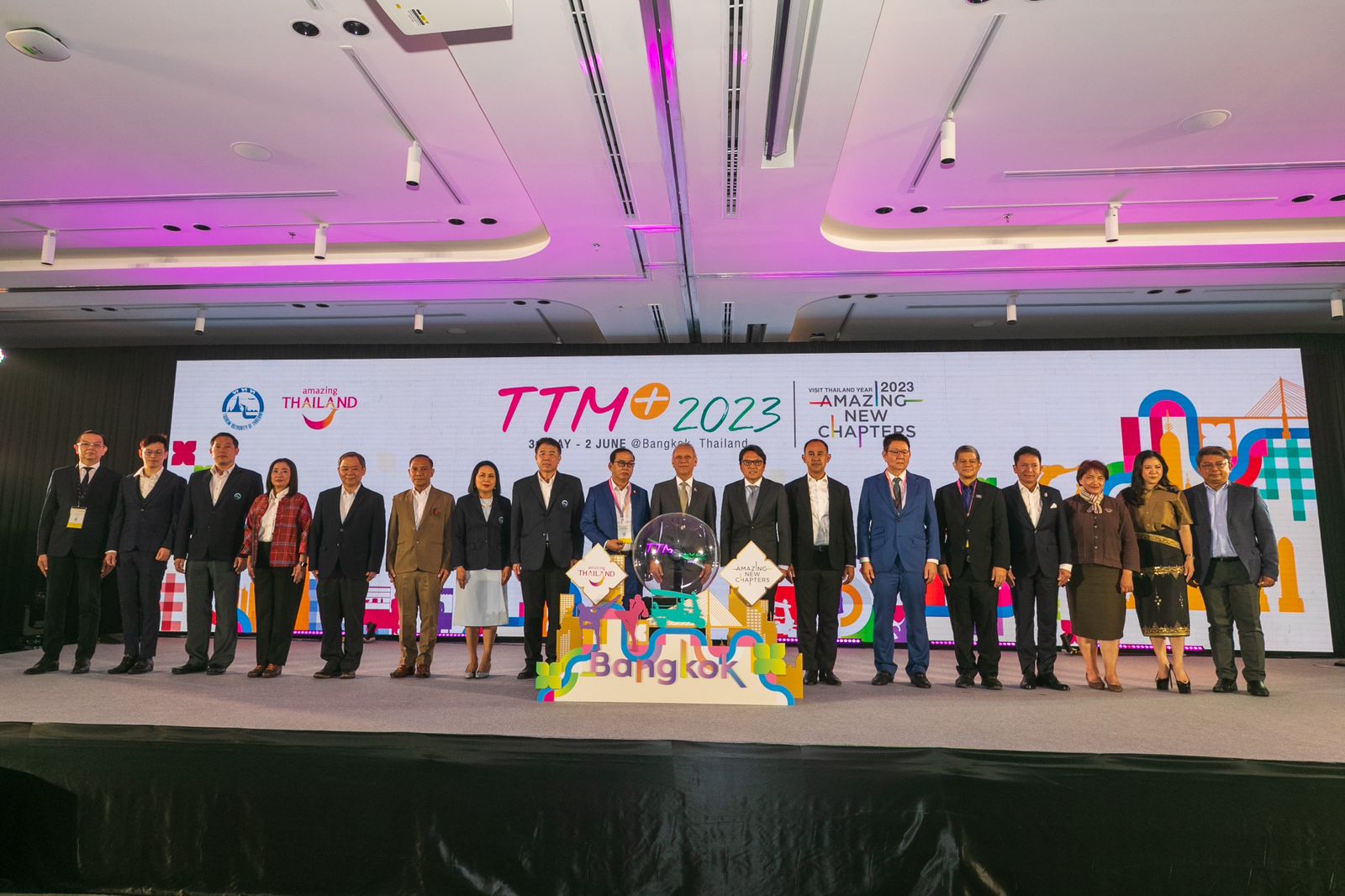 The opening day programme included a Thailand product update and TTM Talk, and the Greater Mekong Sub-region (GMS) product update presented by Cambodia. The TTM Talk on the subject of 'Building A Sustainable Future for Tourism with Innovation Technology' was presented by Google Cloud Thailand. The TTM+ which was previously held in Chiang Mai, Pattaya, and then Phuket was now hosted in Bangkok to highlight the infrastructure, business prospects and the various changes that have taken place in the sector of tourism after the pandemic to the overseas buyers and media. The theme for TTM+ 2023 is 'Visit Thailand Year 2023: Amazing New Chapters' as the Tourism Authority of Thailand (TAT) is taking substantial efforts towards meaningful, responsible and sustainable tourism and is integrating the brand seamlessly into the slice of a tourist's life. TTM+ 2023, comprised 374 buyers from 50 countries, 435 booths of sellers from across Thailand and the Greater Mekong Sub-region, and 112 media from overseas and in Thailand. Keeping up with the times, rapid digital transformation and the use of technology will help tourists have a seamless travelling experience in Thailand.
This year 'Amazing Thailand Culinary City' was also hosted alongside the TTM+ 2023 with over 30 booths showcasing the various dining experiences, culinary schools as well as live food counters putting the spotlight on Gastronomy Tourism in Thailand. Thailand aims at promoting tourism through its five strong pillars- Food, Film, Festival, Fight and Fashion. This year from January 1- May 27, 2023, Thailand received over 10.37 million international tourists with Malaysia, China, Russia, South Korea and India being among the top five markets. The Tourism Authority of Thailand aims at achieving high value, sustainability and city marketing by projecting Thailand as an all-year-round destination. They also aim at targeting all segments such as sports tourism, families, medical and wellness tourism as well as digital nomads, remote working individuals and luxury tourism.
Presiding over the opening ceremony, H.E. Mr. Phiphat Ratchakitprakarn, Thailand's Minister of Tourism and Sports, said "The TTM Plus 2023 is a showcase of the Amazing New Chapters of Thailand's tourism towards sustainability and being a quality destination. While continuing to be an important platform for all participants to foster a long-lasting business relationship, the event is also envisioned to highlight the leveraging of sustainable standards, technology and Thai soft powers to transform Thailand's tourism sector."
Mr. Tanes Petsuwan, TAT Deputy Governor for International Marketing – Asiaand the South Pacific,said, "The TTM Plus is one of Thailand's most significant B2B travel trade events and has gained its own a 'must-attend' on the annual travel trade calendar. This year's event marks the 20th time that it is being held and continues to maintain Thailand's market position, as well as help promote travel within the ASEAN region." The opening event concluded with a reception cocktail-dinner event for all the buyers, sellers and media with amazing food, drinks and a live music band.
Sukanya Sirikanjanakul, Executive Director, ASEAN South Asia and South Pacific Region addressed the journalists from India and Sri Lanka and shared her insights about the growth of inbound tourism, change in travel patterns, efforts towards sustainability and much more.
"This year the TTM+ 2023 witnessed a positive growth in the number of buyers compared to last year. Last year there were 250 buyers but this year there are 374 buyers as well as more sellers. This year we have also added more events such as the culinary event as well as the domestic event in the same place. Last year, we had about 11 million tourists in the whole year but this year from Jan 1 to May 2023 we have already received over 10 million international tourists," she said.
Travel in Thailand is safe and hence the tourists have opted for Thailand after the pandemic."The Indian market is important to us and we believe that we can reach our target this year. In 2019, before the pandemic, Thailand received almost 40 million tourists out of which 2 million were from India which is five per cent because of which it is one of the most significant markets for Thailand. This year we set up a target of 2 million but since we have some limitations of the air-seat capacity and with airfares still being high, we try our best to achieve the target despite these challenges," she added.
Speaking about their India-centric plans to achieve that target she said, "These two years will be the resumption period for us. This is just post-Covid and we have just opened the country last year and the number of Indian tourists is growing rapidly. From 1st Jan this year until yesterday, we received nearly 600,000 tourists."
The resumption is about 77 per cent compared to the pre-Covid 19 for the Indian market.Highlighting the wedding segment she said, "We have some promotions to encourage the wedding segment in Thailand. We just launched some benefit schemes. Our focus is on both, the wedding planners as well as the wedding groups as we have incentives for both of them. We have many hotels across various destinations and especially beach destinations. We have Indian chefs as well as our staff is well acquainted to handle Indian weddings. Villas have become popular among luxury travellers. We are also looking forward at exploring the Cruise segment. Before Covid-19, tourism contributed to nearly 18-20 % of the GDP of the country and so we need to speed up the resumption. After Covid-19, tourism will be a significant tool as before. We are lacking manpower in hotels and aviation just like the world but we are sure people will come back to the service industry soon and tourism will be a significant contributor to the economy. This year in 2023, we hope for a resumption rate of 80 per cent as compared to 2019.MICE tourism is doing well as we are giving good benefits. The average group size is 150-10,000. Recently we had a group of 10,000 people. Chiang Mai is one of the newly emerging destinations along with Ayutthaya. We also plan to incorporate some cultural routes and community-based tourism."
Throwing light on Sports Tourism she added, "Golf has been one of the significant segments for us since we have over 250 golf courses in Thailand. It is not just about playing golf here but the service after that is also equally important. Our unique point is that we have very professional and knowledgeable lady golf caddies."
Speaking about the change in the trends of travel after the pandemic she said, "There is more FIT and more of solo travellers who look for remote areas or new destinations which are not as crowded. Of course, the popular destinations continue to remain popular among the tourists but they are looking for newer destinations as well. The length of stay too has increased. In terms of weddings, the TAT-Tourism Authority of Thailand would like to focus on sustainability and that is why next year, the Executive Director wishes to focus on high value and sustainability. We have also come up with 'Celebrate with Care' which means the focus of the wedding group should be on sustainability. From our supply side, we wish to provide them with something which is more environmental-friendly and we shall recruit a hotel which can manage weddings in a much more environmentally-friendly way by creating live food stations and using food waste to make fertilizers in their properties."
Follow BOTT on LinkedIn, Facebook, Twitter & Instagram
Subscribe BOTT Channels on WhatsApp & Telegram to receive real time updates