Engagement programs like Corporate Think Tank sessions assist in setting the ground for quick recall and are particularly aimed at capitalizing on the growing demand for MICE tourism. It serves as an add-on to the tourism board's well-developed strategy and allows them to directly communicate with the decision-makers responsible for their company's corporate travel purchasing and address their needs. Organized by OptiMICE Events Pvt Ltd, these sessions have been specifically curated to be interactive and encourage a healthy free flowing exchange of ideas amongst the attendees and South African Tourism.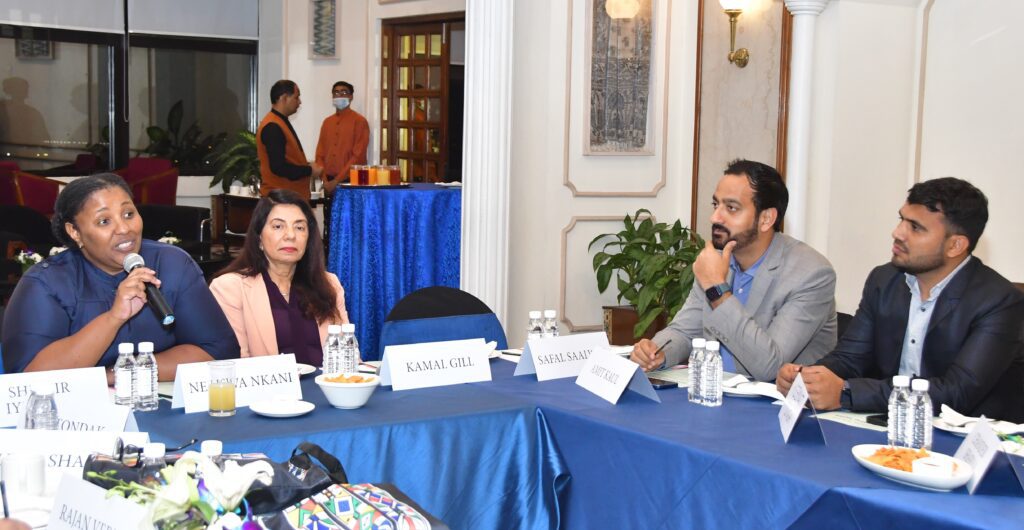 Led by Ms. Neliswa Nkani, Hub Head – Middle East, India and South-East Asia, South African Tourism, the interaction with corporates focused on exploring novel opportunities within the destination for hosting MICE travellers. Further, it provided an in-depth understanding of the overall MICE market, an evolved sense of purchaser needs and expectations, and most importantly helped educate the decision-makers on various business-oriented facilities that the destination has to offer.
Moderated by Ms. Kamal Gill, Director, OptiMICE Events Pvt Ltd the discussions covered a wide range of subjects including the upcoming employee engagement cycle, USPs of South Africa for MICE groups, the support offered by the tourism board as well as the activities that can be explored by potential MICE groups in the new era.
Ms. Neliswa Nkani, Hub Head – Middle East, India and South-East Asia, South African Tourism said, "Corporate India's increasing interest in hosting global meetings, key conventions and important exhibitions in South Africa is a testament towards the world-class business facilities the country has to offer. The Rainbow Nation has evolved as a destination with winning combination for India's business and MICE travellers owing to the affordability and engagement opportunities available. It is heartening to see more and more corporate houses choosing South Africa as the preferred destination for addressing their business needs."
"The strengthening economic ties between both nations presents us with a great opportunity to capitalise on the increasing demand for MICE tourism. Keeping in mind the ever-growing size of the Indian economy, we are aiming for a 35% growth in MICE travellers from India in 2023", she added.
Post the pandemic, India moved up two spots to become the 6th largest international source market for South Africa.In 2022, the Rainbow Nation witnessed over a 200% surge in travellers from the country and welcomed nearly 50,000 Indians till November. With over 1 in 4 Indian arrivals to South Africa motivated by MICE, the country continues to remain amongst the top-3 focus markets for South African Tourism.
Raising its targets for this year, the tourism board is aiming for a 35% increase in MICE travellers from metros and tier-2 markets in 2023 and will continue to interact with potential audiences through such highly engaging events.In line with its corporate engagement schedule, the tourism board is all set to host its corporate MICE program in Mumbai, Pune, and Bangalore between 16thto 24th March 2023.
Follow BOTT on LinkedIn, Facebook, Twitter & Instagram
Subscribe BOTT Channels on WhatsApp & Telegram to receive real time updates