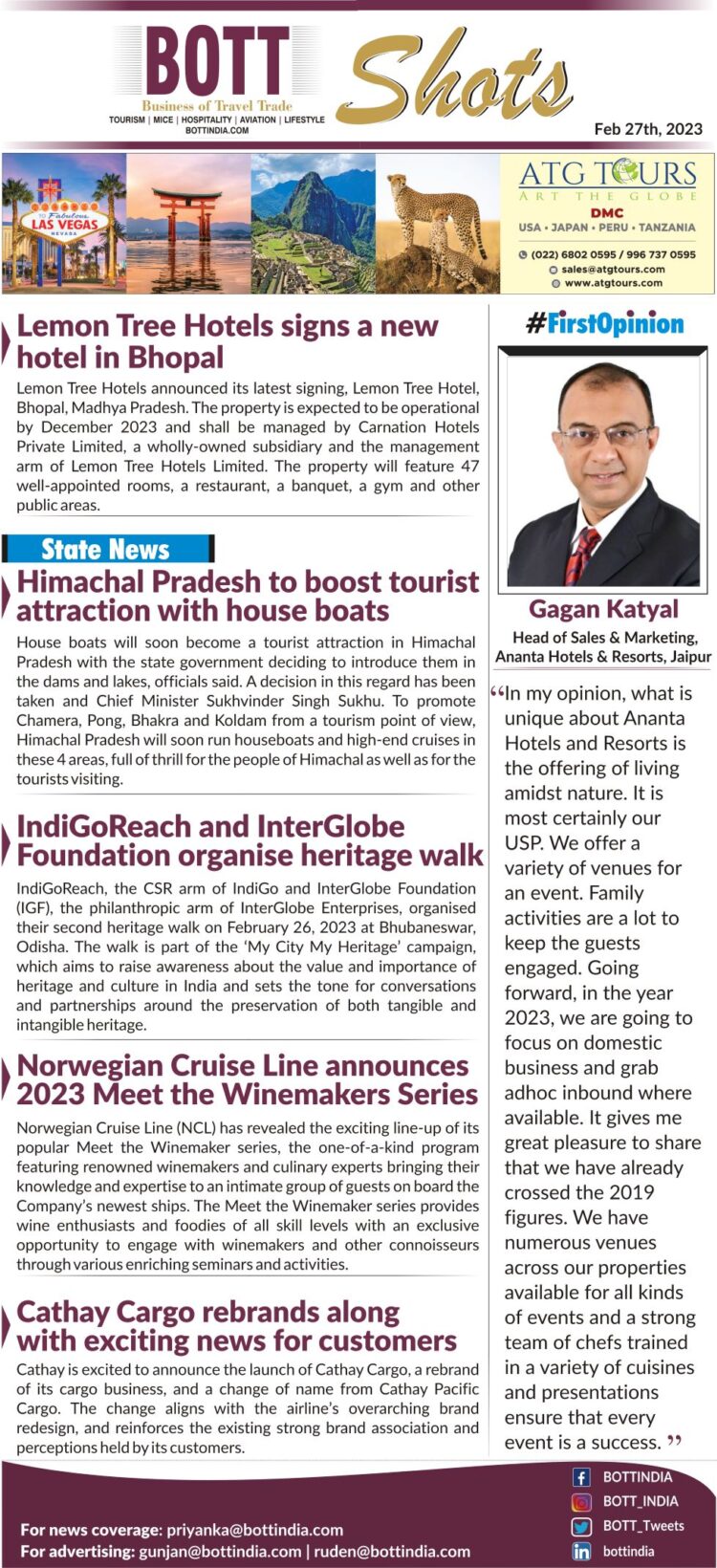 Lemon Tree Hotels signs a new hotel in Bhopal
Lemon Tree Hotels announced its latest signing, Lemon Tree Hotel, Bhopal, Madhya Pradesh. The property is expected to be operational by December 2023 and shall be managed by Carnation Hotels Private Limited, a wholly-owned subsidiary and the management arm of Lemon Tree Hotels Limited. The property will feature 47 well-appointed rooms, a restaurant, a banquet, a gym and other public areas.
State News
Himachal Pradesh to boost tourist attraction with house boats
House boats will soon become a tourist attraction in Himachal Pradesh with the state government deciding to introduce them in the dams and lakes, officials said. A decision in this regard has been taken and Chief Minister Sukhvinder Singh Sukhu. To promote Chamera, Pong, Bhakra and Koldam from a tourism point of view, Himachal Pradesh will soon run houseboats and high-end cruises in these 4 areas, full of thrill for the people of Himachal as well as for the tourists visiting.
IndiGoReach and InterGlobe Foundation organise heritage walk
IndiGoReach, the CSR arm of IndiGo and InterGlobe Foundation (IGF), the philanthropic arm of InterGlobe Enterprises, organised their second heritage walk on February 26, 2023 at Bhubaneswar, Odisha. The walk is part of the 'My City My Heritage' campaign, which aims to raise awareness about the value and importance of heritage and culture in India and sets the tone for conversations and partnerships around the preservation of both tangible and intangible heritage.
Norwegian Cruise Line announces 2023 Meet the Winemakers Series
Norwegian Cruise Line (NCL) has revealed the exciting line-up of its popular Meet the Winemaker series, the one-of-a-kind program featuring renowned winemakers and culinary experts bringing their knowledge and expertise to an intimate group of guests on board the Company's newest ships.The Meet the Winemaker series provides wine enthusiasts and foodies of all skill levels with an exclusive opportunity to engage with winemakers and other connoisseurs through various enriching seminars and activities.
Cathay Cargo rebrands along with exciting news for customers
Cathay is excited to announce the launch of Cathay Cargo, a rebrand of its cargo business, and a change of name from Cathay Pacific Cargo. The change aligns with the airline's overarching brand redesign and reinforces the existing strong brand association and perceptions held by its customers.
#FirstOpinion
"In my opinion, what is unique about Ananta Hotels and Resorts is the offering of living amidst nature. It is most certainly our USP. We offer a variety of venues for an event. Family activities are a lot to keep the guests engaged. Going forward, in the year 2023, we are going to focus on domestic business and grab adhoc inbound where available. It gives me great pleasure to share that we have already crossed the 2019 figures. We have numerous venues across our properties available for all kinds of events and a strong team of chefs trained in a variety of cuisines and presentations ensure that every event is a success."
Gagan Katyal, Head of Sales & Marketing, Ananta Hotels &Resorts, Jaipur
Follow BOTT on LinkedIn, Facebook, Twitter & Instagram
Subscribe BOTT Channels on WhatsApp & Telegram to receive real time updates