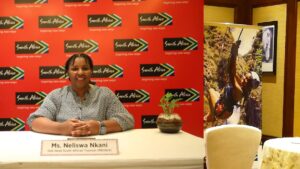 The influencers and filming crew will travel across 3 key South African Provinces – KwaZulu-Natal, Mpumalanga and Gauteng over 16 days, as they explore the Rainbow Nation's rich culture and immerse themselves in adventures. From shark-cage diving and skydiving to Big-5 safaris, sky adventures to sundowner cruises, culinary tours to bungy jumping, the content will capture the exploration and expression of fun and adventure that South Africa has to offer.
With women travellers and millennials being a key target group for the tourism board, the content will allow potential Indian travellers a glimpse of the undiscovered through a spectrum of visuals, adventures, tastebuds, ethnicity, soundscapes and emotions.
Speaking about the content creation trip, Ms. Neliswa Nkani, Hub Head – Middle East, India and South East Asia, South African Tourism said, "We understand that to relate with Indian audiences, we need to speak with them in a manner that resonates deeply and strikes a personal chord. We want to, hence, showcase the spirit and story of South Africa through the eyes of two adventurous, young Indian women. India and South Africa have a shared history and roots that intertwine inseparably; in fact, the largest Indian diaspora is in the city of Durban in KwaZulu-Natal. This market is immensely special to us, and we hope that Indian audiences will be inspired by the unexplored South Africa that will be represented in the visual content. We hope that they will consider South Africa to be their own second home."
Earlier this year, the tourism board outlined a strategic roadmap to garner a 64% YoY increase in Indian visitors in 2022. With over 17,627 Indian visitors travelling to South Africa between January to May 2022 itself, the tourism board is well on track to achieve or even surpass their yearly targets of 28,890 for this year.
At present, the destination enjoys great connectivity with extremely short layovers across most major international airlines. Travellers from India to South Africa are not required to produce either a vaccination certificate or a negative PCR (polymerase chain reaction) test. While the e-visa link is temporarily closed, travellers can apply via VFS, where the visa processing time is extremely short, with visas available within 5-7 working days from the date of application.
Follow BOTT on LinkedIn, Facebook, Twitter & Instagram
Subscribe BOTT Channels on WhatsApp & Telegram to receive real time updates