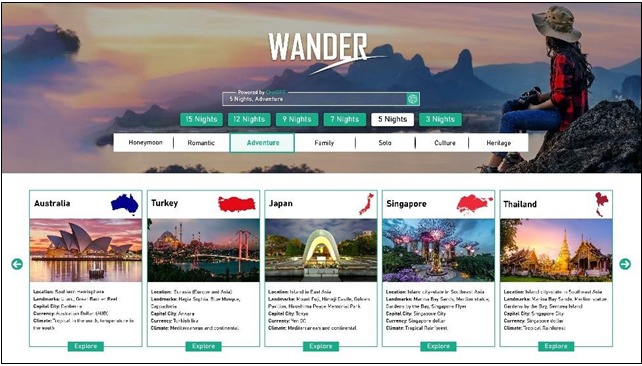 QuadGPT is designed to make travel planning easy, convenient, and stress-free. Whether planning a solo adventure, a family vacation, or a romantic getaway, QuadGPT has got it covered. Here are some of the benefits and features that are coming soon:
Personalized Recommendations: QuadGPT uses advanced AI algorithms to recommend destinations, activities, and accommodations that are tailored to customer's preferences. Whether they are looking for adventure, relaxation, culture, or cuisine, QuadGPT will suggest the best options based on their interests and previous travel
Easy Booking: Once you have created the itinerary, QuadGPT makes it easy to book flights, hotels, and activities in just a few clicks. No more browsing through multiple websites or dealing with confusing booking processes – QuadGPT simplifies the entire travel booking experience.
QuadGPT is the ultimate travel companion for anyone who wants to experience the world on their terms. With its innovative technology, personalized recommendations, and easy booking process, QuadGPT will make travel dreams a reality. Stay tuned for its upcoming release and get ready to experience a new level of travel planning!
"I am thrilled to announce the launch of QuadGPT, our cutting-edge travel product that offers a personalized and real-time travel experience like no other. At QuadGPT, we are committed to making travel planning and booking easy, convenient, and enjoyable for everyone. We believe that travel should be about experiencing new places and cultures, not about the stress of planning. QuadGPT is powered by ChatGPT & designed to help the customers plan and book their travel effortlessly, allowing them to focus on creating unforgettable memories", said Mr. Gaurav Chiripal, CEO of QuadLabs Technologies Pvt Ltd.
QuadLabs Technologies headquartered in India is a premier travel technology company with a focus on delivering world-class technology products to the travel industry. We specialize in intelligent & highly scalable solutions which have a high degree of adaptability to distinct business processes within the travel domain. The product is a proven platform with several deployments across the Middle East, Australia, Europe, USA, Asia, Africa, and Latin America and is highly adapted by each market.
Follow BOTT on LinkedIn, Facebook, Twitter & Instagram
Subscribe BOTT Channels on WhatsApp & Telegram to receive real time updates