By Shreya Shimpi
The OTOAI ( Outbound Tour Operators of India) Members Meet took place in Mumbai in association with the Saudi Tourism Authority. It was attended in large numbers by members of the tourism fraternity. OTOAI President Riaz Munshi addressed the gathering urging members to come together for the welfare of the tourism industry. He mentioned the removal of the requirement of pan card for foreign remittance. Efforts have also been made with the embassy for the Gratis Visa which was applied for, by the tourists before the pandemic, but could not be used due to the travel restrictions. He also spoke about the agreement with LVG, a learning and networking platform for tourism, which will be free for all OTOAI members. It provides information regarding various tourist destinations.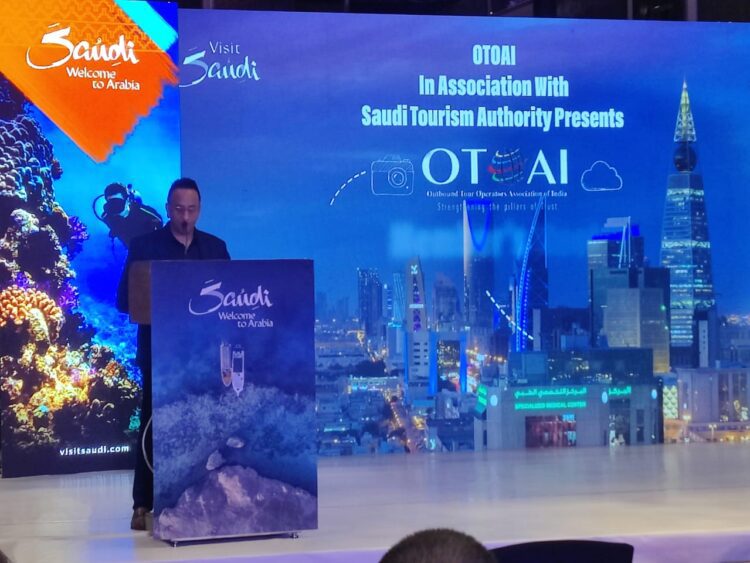 Saudi Tourism Authority Official spoke about the vision of Saudi Arabia Tourism for 2030. She presented a virtual journey of Saudi Arabia showing the various UNESCO Heritage sites such as Hima, Al Hasa Oasis, famous tourist destinations, varied landscapes, and upcoming projects. Tourism in Saudi Arabia at present accounts for 5.3% of the GDP. They aim to increase it to 15% by 2030.
Various points were highlighted regarding the E-Visa which is currently provided to 51 nationalities. Though E-Visa is not granted to Indian travelers at present, an announcement is expected to be made soon. However, if an Indian tourist has a US, UK, or Schengen Visa, and it has been used at least once in the previous year, then he is eligible for a Visa on Arrival. As per a new regulation, an Abaya or a hijab is no longer mandatory for women travelers in the Kingdom. Saudia, the national carrier of Saudi Arabia has good connectivity and connects seven Indian states to its capital, Riyadh. With 9 International Airports and over 13 key tourism destinations to explore, it is becoming one of the most sought-after tourist destinations. It also makes for a great stopover for tourists traveling to Europe. Another good news is that the city of Medina is open to tourists including non-Muslims. Entry to the mosque, however, is restricted.
Saudi Arabia is a great destination that can be explored throughout the year, but the best time would be from September end to the end of March. Six Flags, a renowned adventure park is soon to set foot in Qiddiya. It will be the first Six Flags park outside the United States. Jeddah is another city worth exploring and is known for its multiculturalism. One exciting news for travelers who love cruises is that the MCS Cruise will set sail from the 23rd of November 2022 to 12 April 2023 across the Red Sea. You can explore the timeless beauty of Jeddah, Egypt, and Jordan through this seven-night cruise which will truly be an experience to remember.
The Red Sea Development Project is slated to begin early next year. It promises indulgent experiences to travelers tailor-made to their requirements. A lot of new properties which will be using renewable sources of energy are under construction for the same. This project aims at sustainability.
Another must-visit place in Saudi Arabia is The Kingdom Centre which is famous for its aerial bridge on the 99th floor and offers mesmerizing views of the city. The Yellow Lake in the Eastern Province is also a unique lake worth visiting.MDLBeast Soundstorm music festival, a three-day musical extravaganza is considered to be one of the best in the world.
Follow BOTT on LinkedIn, Facebook, Twitter & Instagram
Subscribe BOTT Channels on WhatsApp & Telegram to receive real time updates