By Rai Umraopati Ray
"Interactive forums like these helps the government in more effectively playing its role as a facilitator. Now, is the time to plant the full eco-system of civil aviation firmly in the ground. Growth opportunities for airlines are tremendous as passenger volume will double from 200 million currently to 400 million over the next 7 to 10 years", said Jyotiraditya M. Scindia, Union Minister for Civil Aviation & Steel at an ASSOCHAM Event on CEOs' Roundtable discussion.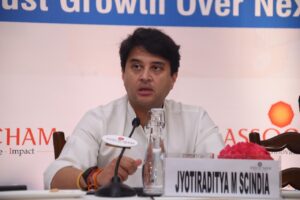 "Aviation competing closely with the railways in the air-conditioned segment. The railways today carries 125 million passengers in 1st and 2nd AC, airlines on the other hand carried 144 million domestic travelers before the pandemic and in the next 5 to 10 years, civil aviation will carry the bulwark of transportation for this limited section. Railways is growing at 5.6% CAGR while civil aviation is growing at 10.3% CAGR," the Union Minister said.
"From a fleet size of roughly 400 aircrafts in 2013-2014, it has grown to about 700 aircrafts now and we are adding a delta of almost 15% per annum, which means fleet size will grow to 1200 in the next 5 years. We had just 74 airports in 2013-2014, we have added 67 airports in the past 8 years alone. Much of the growth in the future is going to come from the regional airports, the growth rate in metro airports is about 7.8% in 2010-2015 and has remained in that vicinity. Growth in non-metro airports has jumped from 10.8% in 2010-2015 to 31% at present. The government is continuously working to put in place new policies and removing impediments to enable faster growth of the industry," he added.
 Speaking in the interactive session, Ajay Singh, Senior VP ASSOCHAM & CMD Spicejet said, "The government and Civil Aviation minister has been very proactive in engaging with the sector, they have given us their time and have been aggressively espousing the requirements of the sector. We have been talking about this whole concept of taxes on fuel for the longest time and it is Mr. Scindia who has reached out to the states and got many of them to reduce the VAT on fuel from 25-30% to 0-5%. The success of the Regional Connectivity Scheme, success of the Air India divestment too can be attributed to the minister."
Deepak Sood, Secretary General ASSOCHAM delivering his welcome speech said, "This platform is crucial for the aviation sector as an enabler of growth and aviation will play a significant role in the development of India as a nation. The sector is hit hard by the pandemic and is currently under stress, but it has shown resilience and has regained the growth trajectory."
Industry leaders attending the roundtable engaged the Union Minister in a series of interaction sessions where pertinent topics like 'International Aviation, Hubs & Super Connectors', 'Regional Connectivity' and 'Skill Development' were deliberated upon. A compilation of industry recommendations which includes inputs from various stakeholders was also submitted to the minister for his consideration.
Ashmita Sethi President and Country Head, Pratt and Whitney said, "There still is a huge untapped potential in regional connectivity. Understanding the nuances of regional aircrafts and regional jets is the first and foremost step in understanding how we can support this geography and the government plays a vital role in this by including key societal mission into regional connectivity".
The CEO's roundtable brought together key industry leaders from the aviation sector such as William Campbel CEO Air India, Sanjiv Edward, CCO and EVP, Delhi International Airport Ltd, Rajiv Kumar Jain, CEO, Adani Airports Holdings, Ragini Chopra, EVP Corporate Affairs, Interglobe Enterprises, Ashok Gopinath, CEO, GMR Aero Technic, Alok Anand, Chairman and CEO, Acumen Aviation, Murali Ramachandran, CEO India, Celebi Aviation, R. V. Sheshan, CEO, GMR Goa Intl Airport Ltd, Harsh Vardhan Sharma, Director, Himalaya Heli Services and others.
Follow BOTT on LinkedIn, Facebook, Twitter & Instagram
Subscribe BOTT Channels on WhatsApp & Telegram to receive real time updates