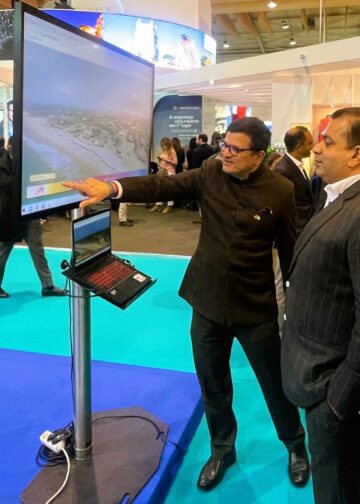 The new interactive 360-degree video integration can be accessed through the existing goa-tourism.com website.
Being the Hon'ble Minister for Information Technology and Tourism, Shri Rohan Khaunte has integrated his two key portfolios to create a new industry benchmark that gives visitors a world-class virtual experience making this project the World's first.
The visitor has many options to interact with this new tab. They can either click on a pop-up menu to a particular spot listed on the landing page or through hotspots that automatically pop up as you look around in 360 degrees. Video walkthroughs of key monuments and museums have also been integrated into the experience, with arrows to move in and out.
Another highlight of the new 360 videos interactive website is the VR toggle option if viewed from a VR headset. This enhances the visual experience many times, instilling the urge to visit the spot/destination.
In order to achieve a level of smoothness in visitor interactivity with the portal, a high-end dedicated S3 server has been selected with full SSL certification and complete security and boasts a bandwidth of about 1000 GB.
Shri Rohan Khaunte, said, "We wanted to create a unique interactive method for the potential tourist to engage with our product offerings and hence left no stone unturned in coming up with the World's first 360-degree interactive video experience. Besides, the product offerings have been extended to include the hinterlands, eco-tourism, and other unexplored facets of Goa."
A total of over 180 spots have been mapped on this new website, and visitors can visually explore and shortlist the places of interest as per the type of holiday sought and the time required to tick off the spots from their bucket list.
As and when introduced, new services can also be mapped and integrated into this new 360-degree video interactive website.
Research titled Exploring the Persuasive Power of Virtual Reality Imagery for Destination Marketing showed that VR heightens the sense of presence, and people feel more involved and engaged than they could by reading a simple tour brochure. This research also showed that people were more likely to share their VR travel experience on social media, thereby creating organic growth in destination reach.
Follow BOTT on LinkedIn, Facebook, Twitter & Instagram
Subscribe BOTT Channels on WhatsApp & Telegram to receive real time updates