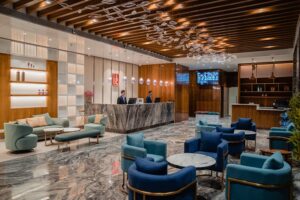 This 3 Star property is well set on the 13th floor of the magnificent Runway Heights. There are 32 contemporarily styled rooms maintained with high-end amenities; including Wi-Fi, ideal necessities for a modern-day stay.
Mr. Dharmesh Jiwani, owner of Lords Inn, Rajkot, who's also the proud owner of the Lords Eco Inn Shapar was overwhelmed by this alliance and expressed "Lords has always been a part of our vision and this is our 2ndproperty in Rajkot. We are delighted and excited with this new property and look forward to showcasing a flavour of what the magnificent city of Rajkot and our hotel can offer. I invite each one of you to be our esteemed guests and enjoy the enhanced experiences our team has curated just for you".
This true value offering is also fashionably designed with a banquet hall that is open to the sky and an AC restaurant. There is also the L Café on the ground floor, an ideal space for a quick snack and a catch-up with friends or associates.
Mr. Vikas Suri, Vice President Corporate is enthusiastic with Lords Inn opening soon in Rajkot and said that "the success of the other 2 hotels in Rajkot has provided Lords the much-needed impetus to consolidate and expand its brand. This is in line with the company's strategy to develop and consolidate a strong brand presence in all of its key source markets. This launch demonstrates our vision and confidence in the buoyancy of the hospitality market in India."
Mr. Depan Shah, Regional Director expressed joyfully, "it's a great business launch where we are further maximizing our growth and expansion opportunities. We are indeed delighted to consolidate our presence in Rajkot further. The hotel will be the 3rd property of Lords group in this region that will provide quality accommodation and services at the best rates. We hope to ensure a pleasant stay for all our guests travelling to this region."
Coming 5th November, Lords Inn Rajkot will welcome guests to experience its exhilarating hospitality. It's a festive gift from Lords Hotels and Resorts to patrons from all over India; including adjoining areas like Bhavnagar, Jamnagar, Junagadh & Amreli.
Follow BOTT on LinkedIn, Facebook, Twitter & Instagram
Subscribe BOTT Channels on WhatsApp & Telegram to receive real time updates